Description
Meet ASX and NSX listed companies, learn what makes their business compelling, ask their CEOs and executives the questions you want to know, to get the leading edge, make better informed decisions and learn about market opportunities.
The Finance Network and its event partner, preeminent investment house Shaw and Partners, run regular Investor Events that unite companies, investors and stockbrokers.
To keep your finger on the pulse and stay abreast of opportunities, secure your seat at our next event. Register below, bookings are essential.


Martin Crabb, Chief Investment Officer
Martin will provide a short update on the current state of equity markets from a Shaw and Partners perspective.
---
Presenters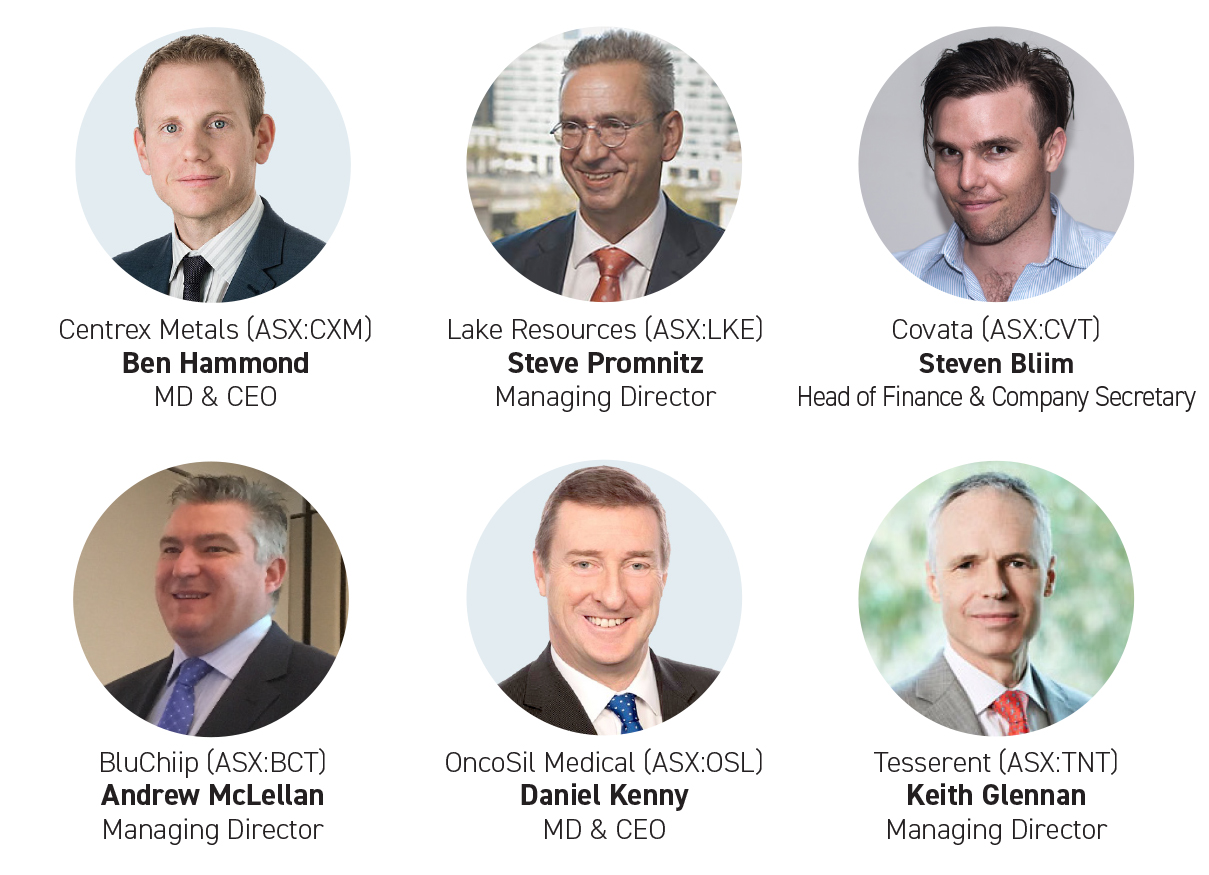 ---
Company Profiles
BluChiip Limited (ASX:BCT)
Bluechiip is a developer of IT-based temperature and identification tracking solutions for biosamples in the health and life sciences industries. Bluechiip's patented system represents a generational change from current methods such as hand written and printed labels, barcodes and Radio Frequency Identification (RFID).
The Bluechiip system uses a highly miniaturised smart chip that is attached to or moulded into a storage product. The chip enables the Bluechiip chain-of-custody system. Every time a smart chip ID is read, an instantaneous temperature is measured. This is time-stamped and recorded. This process allows an accurate temperature history to be created to provide a complete chain of custody. The smart chips survive and operate in temperatures as low as -196°C, such as cryogenic storage. The chips withstand gamma and e-beam radiation making them suitable for sterilisation processes.
---
Centrex Metals Limited (ASX:CXM)
Centrex Metals Limited (CXM) is focused on the development of the Ardmore Phosphate Rock Project in North West Queensland. Ardmore is one of the few remaining undeveloped high-grade phosphate rock deposits in the world. CXM has a current Mineral Resource for the project of 14 million tonnes at 29% P2O5.
The deposit is very shallow and can be mined via open cut without the need for blasting. Processing for the project is simple with single stage crushing of the weak ore, followed by attritioning and deslime. This compares to most phosphate rock developments that require expensive flotation plants. Ardmore will produce 800,000 wet tonnes per annum of premium 35% P2O5 grade concentrate with ultra-low cadmium levels. Australia and New Zealand currently import 1 million tonnes of phosphate rock mainly from North Africa. Ardmore product will be sold into domestic markets as well as for export in the region where it has a significant freight advantage over existing exporters.
Pilot trials for the project are complete and a Feasibility Study is due for completion in mid-2018. The project has access to existing infrastructure to rail the product to the Port of Townsville for shipping. The existing infrastructure and simple mining and processing mean it has one of the lowest capital intensities of proposed phosphate rock developments in the world.
---
Covata Limited (ASX:CVT)
Covata Limited (ASX:CVT) is a global technology company providing data-centric security solutions that help businesses and governments identify, protect, and control access to sensitive information. At Covata, we approach data security through the lens of the attacker – the starting point is the user device and data is the endpoint. By restricting access to sensitive content up to and including the IT Administrators, the Covata Data Security Platform makes for information harder to steal or misuse rather than hardening the devices where information is stored. With offices in Australia, Europe and the United States, organisations around the world trust Covata to secure their most sensitive data.
---
Lake Resources Limited (ASX:LKE)
Lake Resources NL (ASX:LKE, Lake) is a lithium exploration company undertaking an aggressive programme to explore prime lithium basins and lithium pegmatites in Argentina, among some of the largest players in the lithium sector. Lake holds one of the largest lithium tenement packages in Argentina (~165,000 Ha), controlled 100% by Lake.
Mining leases and applications are located in the Lithium Triangle which accounts for 49% of current lithium production. Lake completed the acquisition of an early mover in Argentina, who had secured three prime lithium brine projects in an extensive strategic package of ~90,000 Ha, prior to a significant 'rush' to secure projects by major companies in the sector. Recently an option agreement was entered into over lithium pegmatites covering a belt of ~75,000 Ha in Catamarca, next to Latin Resources (ASX:LRS).
Upcoming exploration in lithium brine basins, one which is adjacent to some of the leading lithium producers/developers, including Orocobre (ASX:ORE) in Olaroz, and the Cauchari development project of Lithium Americas (TSXV:LAC) and SQM, may provide several catalysts for growth as the areas are assessed for major discoveries.


---
OncoSil Medical (ASX:OSL)
OncoSil Medical Ltd is a Sydney-based medical device company focused on interventional oncology in the pancreas.
2004 - OncoSil(TM) was originally developed as BrachySil(TM). pSivida grants exclusive worldwide royalty-bearing license agreement with Enigma Therapeutics for the development of BrachySil.

All preclinical and early phase clinical work conducted under the sponsorship of pSivida

February 2013 - Enigma Therapeutics was acquired by NeuroDiscovery Ltd

June 2013 - NeuroDiscovery Ltd changed its name to OncoSil Medical Ltd and focused on developing OncoSil(TM)

Oncosil Medical Ltd is an ASX-listed Medical Device Biotechnology Company headquartered in Sydney, Australia with global representation
---
Tesserent (ASX:TNT)
Tesserent provides a comprehensive suite of products and services to keep our customer's networks secure. We do this by providing world-class perimeter protection, internal monitoring and alerts, secure internet connectivity and co-location.