Description
Listen to ASX-Listed company CEOs as they present their investment opportunities.
Finance News Network and its event partner, preeminent investment and wealth management firms Shaw and Partners are proud to launch a series of regular investor events.
---
Market Update

Martin Crabb, Chief Investment Officer
Martin will provide a short update on the current state of equity markets from Shaw and Partners perspective.


---
Presenters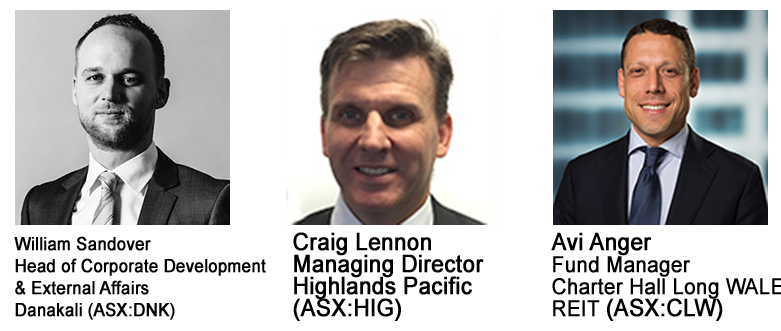 Company Profiles
MMJ Phytotech
MMJ Phytotech Limited (ASX: MMJ) is a medical cannabis company, which aims to commercialise medical cannabis and high value cannabis-based therapeutics to the rapidly growing international market with regulated medical cannabis laws.
Perth-based MMJ PhytoTech Limited (ASX: MMJ) is focused on becoming a leading, large-scale cannabis producer, targeting direct supply to the growing Canadian medical and recreational markets which will have an estimated combined value of C$8-9 billion by 2024. MMJ holds one of only 52 licences (at August 2017) issued by Health Canada, allowing for the production of medical cannabis. MMJ expects to be well positioned as a first mover in this emerging recreational market in the near-term.
---
Australian Mines
Australian Mines Limited is an ASX-listed resource company pursuing a dominant position in the production and supply of battery and technology metals to global markets. The company is developing world-class cobalt-scandium-nickel projects in Australia to meet demand created by the global shift to cleaner, more sustainable energy sources.
Australian Mines was formed in 2001 with nickel exploration and production as its initial focus. The Company is an experienced miner, having owned and operated the Blair underground nickel sulphide mine in Western Australia.
---
CML Group
The strength of Australian businesses is reflected by the strength of their owners. That is what makes these businesses bold, innovative, energetic and sometimes unconventional.
For us, it all started out in Queensland over 30 years ago. Cashflow Finance began back then with the same philosophy we have today – to listen to Australian business owners and offer solutions based on understanding and innovation.
Many cash flow finance providers offer financial packages not suited to the changing needs of your business. Business finance can seem complex but too often, traditional finance providers try to simplify it by offering set packages that really don't represent a good fit.
At Cashflow Finance, people are the driving force behind our business. We listen to you, then adapt our services to fit your needs. There are no set packages. We offer:
Debtor Finance

Trade Finance

Equipment Finance
---
Danakali Limited
Danakali Limited (ASX:DNK) is focussed on the development of the Colluli Potash Project. The project is located in the Danakil region of Eritrea, East Africa and is 100% owned by the Colluli Mining Share Company (CMSC). CMSC is a 50:50 Joint Venture between Danakali Limited and the Eritrean National Mining Company (ENAMCO).
Since drilling commenced at Colluli in early 2010, over 1 billion tonnes of potassium bearing salts suitable for the production of potash have been identified. The potassium bearing salts of the Danakil have the unique capability of producing a diverse range of potash types including muriate of potash (MOP or potassium chloride), sulphate of potash (SOP or potassium sulphate), and sulphate of potash magnesia (SOP-M or potassium magnesium sulphate).
---
Highlands Pacific Limited
For more than 20 years Highlands Pacific Limited (ASX:HIG) has been successfully operating in Papua New Guinea. It is now arguably PNG's premier minerals explorer, developer and producer, advancing some of the country's most important copper, gold and nickel assets. The PNG incorporated company, listed on the ASX and POMSoX Exchanges (under the code HIG) provides investors with leverage to the country's significant mineral resource endowment.

Approximately 30% of Highlands Pacific share register is held by the PNG Government and PNG based funds with the rest by international investors. Highlands Pacific is a joint venture partner in the massive Frieda River Copper-Gold project in the East Sepik Province, holds exploration ground 20kms north of the Ok Tedi mine in the Star Mountains which is prospective for copper-gold, has an investment in the producing US$2b Ramu Nickel-Cobalt Mine near Madang, and exploration ground on Normanby Island targeting nickel laterites.
---
Charter Hall Long WALE REIT Limited
Charter Hall Long WALE REIT (ASX:CLW), is an Australian Real Estate Investment Trust ("REIT") listed on the ASX. The REIT is focused on providing investors with stable and secure income and the potential for both income and capital growth through an exposure to long WALE properties. The REIT is actively managed to grow the portfolio through direct and indirect investments across multiple real estate sectors. The REIT is focused on assets that are predominantly leased to tenants with strong covenants on long term leases.

Charter Hall Long WALE REIT is managed by Charter Hall Group, one of Australia's leading fully integrated property groups, with over 25 years' experience managing high quality real estate on behalf of institutional, wholesale and retail clients. As at November 2016, Charter Hall has $19.8 billion of funds under management and manages 329 properties across the office industrial and retail sectors.

Charter Hall's interests are strongly aligned with the REIT's management and performance. The REIT will also benefit from access to Charter Hall's proven track record in sourcing investment opportunities for its funds, with $12.6 billion of transactions executed over the last five years, including $9.3 billion of acquisitions and $3.3 billion of divestments.