The FINANCE & ACCOUNTING FORUM is for finance professionals that meet monthly to share knowledge, collaborate, network and refer business
About this event
FINANCE and ACCOUNTING FORUM EVENT
DATE Last Tuesday of the Month
START TIME 8:30 AM
END 10:30 AM
We will keep the room open for about 30 minutes after the formal close, to allow members and guests to network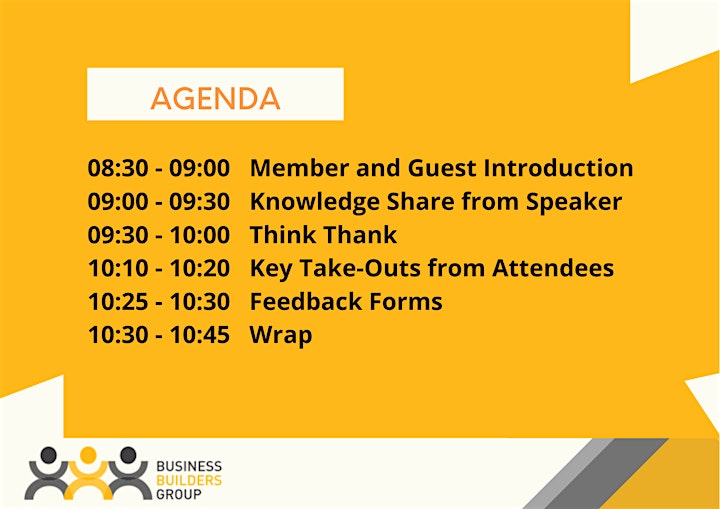 Referral App - Provided to All Attendees - Free
Members and their guests will be given free access to a 'best of breed' Referral App, Referron that makes it easy and seamless to create, refer and track warm referrals.
This is the forum event that Accountants, and professionals in the Finance Sector, and Business don't want to miss !
This event is sure to be a highly informative, engaging, and collaborative.
Booking early is essential as tickets are limited.
We look forward to seeing you there.
Judith Rose Max
Facilitator
Connect with me: Judith Rose Max- Profile on LinkedIn
-----------
Please note
Registration for this event will close one day before the event at 2 pm.
The event will take place via the Zoom Platform
Joining instructions will be sent by email to the address you used when registering ahead of the event (if you don't receive anything, please check your junk folder)
The information you provide will be retained by BBG to contact you in regards to this event, and any future BBG communications that may be relevant to you. Please indicate on the registration if this is something you do not wish to do.
If the event is oversubscribed, BBG reserves the right of entry and to limit the number of tickets allocated. By registering, you are agreeing to your email address being shared with other people who have registered to co-ordinate attendance.

Organiser of FINANCE & ACCOUNTING FORUM powered by BBG (Business Builders Group)
Each month, Our BBG group hosts a Forum, where we have a Speaker or Panel of Speakers, followed by a #bbgthinktank and the 'unpacking' of the #bbgthinktank.
The #bbgthinktank, comprises of smaller groups of 5-7 individuals where we will explore how we can implement the learnings from this panel into our own organisations. These insights will be 'unpacked' and discussed.
Our members are a group of business owners and leaders who have a common goal to connect, collaborate and contribute on a continuous basis to build a "cohesive community" through collaboration, learning and growth.