We invite you to celebrate at our 77th screening. Show the love for filmmaking by enjoying amazing, fun, weird and urgent short films.
About this event
Filmonik is 8 years old in May. Every Filmonik screenings are non-competitive with an audience hungry for comedies, drama, suspense, animation, docos, experimental, trash, action, and everything in between in generally equal doses just by sheer luck of the spontaneous, open-screen submission process.
FILMS UNRATED (therefore 18+ by default)
COVID-SAFE : QR code sign-in into the venue's COVID register required. Current covid restrictions have relaxed but bring a mask.
EVENT RECORDING NOTICE: By attending this event, you agree to be photographed for the online photo album and filmed for possible replay online.
FILMMAKERS : It's open-screen / BYOfilm; bring on a USB drive your most recent film with a running time of 5 min and under and we'll try to screen it. Limited screen availability and cutoff time 8:45pm. Best practice now is submitting in advance at https://filmonik.com.au/submit-your-film/ or at least announce to info@filmonik.com.au. Spontaneously submitted short films of any genre and of all filmmaking levels have been creating awesome and balanced screenings for the public. A quick QA with Iphy the host follows each film. Organize your own premiere with us or run a cheeky pre-premiere of your festival film. Guidelines here: http://filmonik.com.au/how-to-screen/.
Filmonik is part of the worldwide Kino movement active in 35 countries around the world (http://www.kinomontreal.com/kinoworld/).
8:30pm to have a chat and submit a film - 9:00pm screening starts - 10:30pm networking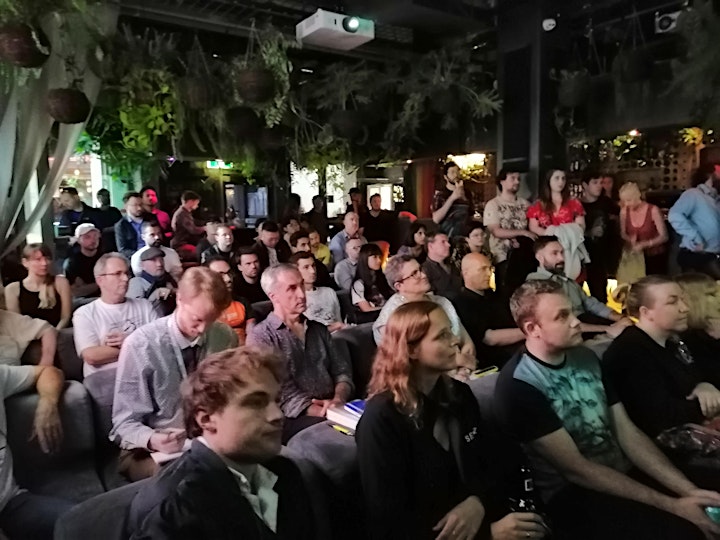 Organiser of Filmonik Melbourne Short films night #77
Filmonik Melbourne is a filmmaking group in Melbourne established in 2013. Filmonik is a non-competitive and open platform for both experienced filmmakers and those just finding their feet as storytellers. Filmonik Melbourne is part of the worldwide Kino Movement that started in Canada in 1999 and is now active in more than 60 cities in the Americas, Europe, Africa, Asia and Australia. The binding philosophy is the belief in filmmaking with minimum resources, in an inclusive, collaborative environment.
"Do well with nothing, do better with little, and do it now!"
Filmonik Melbourne mostly produces two types of events.
- Monthly - Filmonik has a monthly, open-screen screening of short films, of any genre, that have a duration of 5 minute or less
- Annually - In line with the global Kino cells, Filmonik organises yearly events that are called Kino Kabarets, where directors, actors, writers, musicians and technicians meet, create and screen short films in a short amount of time.