The Filmonik Kabaret is our yearly all-you-can-film buffet of creativity where everyone collaborate on as many films as they can.
About this event
A single ticket for everyone; directors, cast, crew or any other type of film artisan. Ticket includes:
Access to our collaborative space at Siteworks from the evening of Friday April 16 to Sunday April 25.
Entry to the Wednesday April 21 screening.
Entry to the Sunday April 25 screening.
Screening of a short film at one of the screenings.
We gather at Siteworks for the first production meeting on Friday April 16, present ourselves, start shuffling ideas around and organise shoots for the weekend. Saturday some will be writing and planning while others will be shooting already. On Sunday some will be shooting while others will work on post-production. The first screening is Wednesday April 21. A second session of filmmaking starts on Thursday April 22 for a Sunday April 25 gala screening. Don't worry if you can only participate Saturday and Sunday on one weekend, it's still a significant filmmaking session with lots of opportunites. Some amazing work will be done in under 48-hour while others will have the opportunity to spread their work over more days and/or on more productions. It's a celebration of film, not a competition. No creative restrictions, no set teams.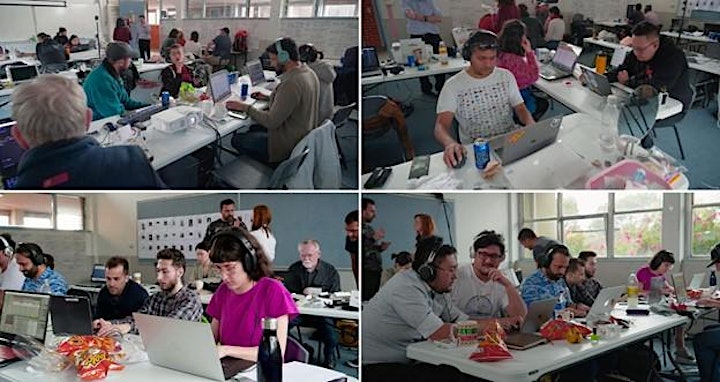 SOMETHING FOR EVERYONE
- Writers: Show up at the Kabaret production meeting with a script and pair with a director to direct or co-direct your vision, or show up empty-handed and jump into any chat to brainstorm with directors who don't yet have any specific project. Get credited with your "Original idea" by spreading your ideas around and see where they get traction. Get involved in even more projects as script doctor.
- Directors: We think that the Kabaret experience is best enjoyed improvised by using actors, crew, props and locations that suddenly become available to you and creating around it. You can choose to show up with a nearly completed script or heaps of ready-to-use ideas too. It is okay to use the Kabaret to cast and get a crew together for an existing script or project but be sure to stay nimble. If it is your first short film it will help if you arrive with some ideas of the story that you want to tell and everyone will assist so you make it to the end with a finished film. It's also best to keep it simple to be able to make it to the finish line by refining your concepts.
- Actors/actresses: Some will participate by playing in as many films as possible, their aim being to get a ShowReel together quickly - others will try to find one or two projects that really connect with them. If you are trying acting for the first time, team up with a director who will use your casting features efficiently and let you improvise without drowning you in a long rigid script.
- Musicians: If you want to get your music in films, this is the time. Compose an entire score. Use your back catalog to save some time and socialise. Run around the Kinolab to create unique sound effects. Chill out in the Kinolab playing music and get cast in an improvised project for your music talent. Get someone to record you just for fun and your archives. Connect with filmmakers for videoclips and other collaborations in the future.
- D.O.P.s and Post-production artisans: Chances are you will shoot, edit, do special effects or any other post-production job for your portfolio & reel and with full credit in mind. Have fun, make contacts for future projects.
- Other participants: Get your special skill or talent out there; costumes, dance, production management, props, access to special locations. Get to see how people work on set by helping around. Get inspired to make short films yourself by learning about the process by being around as a background actor. Take pictures of sets so that the crew can share that moment with others. Just hang around and have a few beer
Organiser of Filmonik Kabaret 2021: filmmaking unleashed
Filmonik Melbourne is a filmmaking group in Melbourne established in 2013. Filmonik is a non-competitive and open platform for both experienced filmmakers and those just finding their feet as storytellers. Filmonik Melbourne is part of the worldwide Kino Movement that started in Canada in 1999 and is now active in more than 60 cities in the Americas, Europe, Africa, Asia and Australia. The binding philosophy is the belief in filmmaking with minimum resources, in an inclusive, collaborative environment.
"Do well with nothing, do better with little, and do it now!"
Filmonik Melbourne mostly produces two types of events.
- Monthly - Filmonik has a monthly, open-screen screening of short films, of any genre, that have a duration of 5 minute or less
- Annually - In line with the global Kino cells, Filmonik organises yearly events that are called Kino Kabarets, where directors, actors, writers, musicians and technicians meet, create and screen short films in a short amount of time.