About this Event
Description
Figurative Drawing – This short course looks at how to start drawing the human form. We will have some fun doing quick sketching from life while we will look at proportions, perspective, making the most of light and shadow and of course the face. We will be using a mixture of live and photographic sources. Those with an interest in animals are welcome to focus on their furry friends too!
Dates
This workshop is a six week course, running every Tuesday morning from 9am to 12:00pm. The dates are as follows:
13/10/20: 9am - 12:00pm
20/10/20: 9am - 12:00pm
27/10/20: 9am - 12:00pm
03/11/20: 9am - 12:00pm
10/11/20: 9am - 12:00pm
17/11/20: 9am - 12:00pm
Materials are not included in this class. To view the materials list please click here.
Don't want to pay online? Give us a call on 07 4632 2727.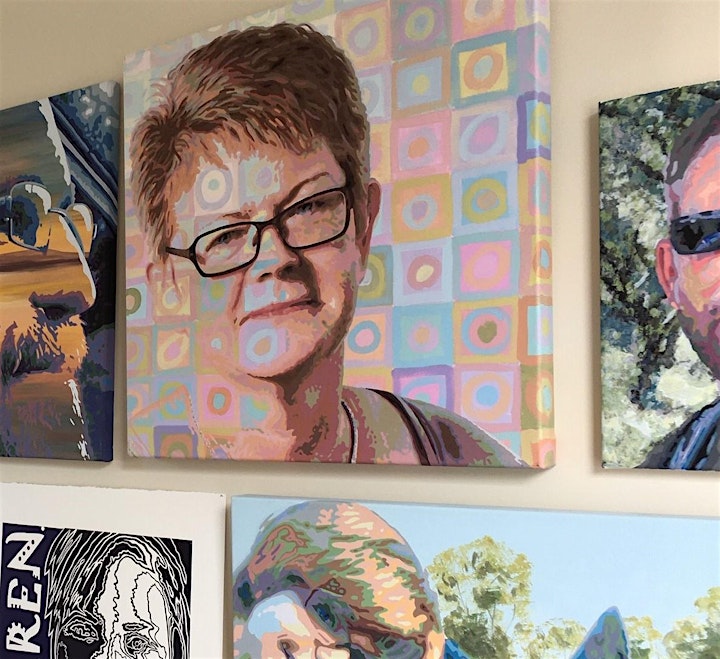 About the Tutor: Sue McMaster
I have been practicing art for as long as I can remember, drawing, painting and colour mixing have long been the language I use to communicate. (don't get me wrong … I'm a good talker too!). I started drawing seriously in my teens and discovered portraiture while I was still at school. After dabbling in oils for a while I eventually discovered pastels and worked exclusively in that medium for 12 years. For the last decade I have been working in acrylics and am still in love with that medium.
As a painter though, it is very apparent that drawing is the starting point for everything I do. I'm a firm believer in catching them young and have been teaching pre-schoolers art for years. After volunteering in classrooms for 6 years I started an education degree which eventually morphed into a Creative Arts degree. I continue to teach children's art but more recently began running Fundamental Drawing workshops for adults. Surprisingly the initial content is the same. Everyone needs to start with the same basic building blocks of experience when learning to draw.
I've done a bit of everything from book illustrating to portrait commissions, from group exhibitions to solo shows, from kids parties to serious one on one instruction. I love to share my knowledge and experience with others and enjoy helping each class member find their style, their "voice" so to speak, because drawing is a way of communicating and each person has their own way of making marks.
MyArt Studio Workshop booking and cancellation policy
The 16 Duggan Street entrance to the classroom will be opened 15 minutes prior to commencement of the class. Students are responsible for their own artists materials unless otherwise stated. A materials list is available for each class and will be emailed to you once your booking is confirmed. Materials lists are also available on our website. Tea and coffee will be provided, and students have access to the kitchenette and toilet facilities. No parking facilities provided. Street parking is time limited and shopping centre parking is at your own expense. Classes with outdoor activities are attended at your own risk.
Fees
Please book into a workshop at least one month prior to its commencement if possible. This will secure your spot in the class and allow us to confirm tutor bookings. If there are insufficient number workshops may be cancelled.
Cancellation of enrollment by you
If you choose to withdraw from a course or workshop up to one month before its commencement, you will be charged a $25 administration fee. The remainder (minus Eventbrite fees) will be refunded. If you choose to withdraw from a course or workshop within 1 month of its commencement, you will be charged a $25 administration fee and the remainder (minus Eventbrite fees) will only be refunded if the position can be filled.
Missed Classes
Once a workshop has commenced there are no refunds. MyArt Studio cannot accept responsibility for changes to students' personal circumstances that prevent attendance. Classes missed are the student's responsibility and are non-refundable. Students are not entitled to a discount or 'make-up' class if they miss a class for any course they are enrolled in.
Cancellations of workshops by us
In the event of a class being cancelled due to insufficient enrollments, a full refund will be given.