Fighting the fakes: Presented by RMIT and the Walkley Foundation as part of...
Description
Fighting the fakes
Presented by RMIT and the Walkley Foundation as part of Storyology
An entire verification ecosystem has sprung up to fight the problem of misinformation (y'know, "fake news"). From tech solutions to business models and strategies, hear from some of the superheroes focused on rebuilding trust in journalism and facts. Our panel, a veritable justice league for journalism, are fact-checkers, verifiers, debunkers and educators employing an arsenal of new tech solutions and old-fashioned journalistic techniques. They'll talk about how the role for media is changing: in a world where everyone is a witness, should journalists be more focused on confirming and contextualising? They'll outline how they and others are battling lies, misinformation and propaganda with tools such as fact-checking, verification and scoring the quality of news outlets' work. Our expert panellists are deeply engaged in the world of fact-checking and verification – including RMIT ABC Fact Check, a university-based fact-checking unit that will revolutionise the way students will learn about this cutting-edge journalism practice.

Gordon Farrer, chief academic investigator, RMIT ABC Fact Check
Frederic Filloux, editor, Monday Note & John S Knight fellow (FRA/US)
Irene Jay Liu, Asia-Pacific lead, Google NewsLab (Hong Kong)
Kate Torney, CEO, State Library of Victoria
Moderator: Russell Skelton, RMIT ABC Fact Check
---
Speaker details
Gordon Farrer, chief academic investigator, RMIT ABC Fact Check
Gordon Farrer is chief academic investigator for RMIT ABC Fact Check and a lecturer in the RMIT School of Media and Communication's journalism program. Before moving into academia he was a journalist for more than 25 years, having worked in the magazine and newspaper industries in production, editing and writing. During more than 13 years at The Age newspaper, in Melbourne, he held roles such as editor of Green Guide, Technology editor, Focus page editor, Opinion and Letters editor and Graphics editor. Gordon's academic research focuses on fact-checking operations as an expertise-based expression of a professional philosophy of journalism (the subject of his in-progress PhD).
Frédéric Filloux, editor, the Monday Note & John S. Knight Fellow
Frédéric Filloux is currently International Fellow at the John S. Knight Fellowships at Stanford University. He is also the editor of the Monday Note, a newsletter / blog that covers digital business models and technology since 2007. His co-author is Jean-Louis Gassée, a tech investor based in Palo Alto. The Monday Note is now hosted by Medium and republished by Quartz. It reaches about 30,000 media professionals each week. During his time at Stanford, Frederic initiated the News Quality Scoring Project which is aimed at surfacing quality journalism from the web, in real time, at scale and automatically. By whitelisting numerous news sources and authors, NQS will also address the fake news problem. Prior to that, Frederic spent four years as head of digital for Groupe Les Echos, France's main business news provider. From 2007 until 2010, Frédéric Filloux was a working as an editor for the international division of the Norwegian media group Schibsted ASA. In 2002, he was part of the managing team that launched the free daily 20 Minutes, which became the most read newspaper in France. Before, he spent 12 years at Liberation, one of the most innovative French media at the time, successively as a business reporter, New York correspondent, editor of the multimedia section, manager of online operations, and finally, editor of the paper. Frederic is a board member of the Global Editors Network and Reporters sans Frontières (Reporters without Borders).
Irene Jay Liu, APAC lead, Google News Lab
Irene Jay Liu leads Google News Lab in the Asia-Pacific region. She was previously an investigative reporter and data editor at Reuters, where she was a 2017 Pulitzer finalist in the national reporting category. Earlier, she worked at the South China Morning Post and as a political reporter with the Times Union in Albany, New York. She has reported on global human smuggling networks, how China's political elite gain access to lucrative deals in state-controlled sectors, and led development of Reuters' Connected China, an immersive news app that tracks and visualizes China's elite power structure. She teaches data-driven investigative journalism at the University of Hong Kong and Chinese University of Hong Kong. Irene joins us in Brisbane, Melbourne and Sydney with the support of Google.
Kate Torney, CEO, State Library of Victoria
Kate Torney was announced as the new Chief Executive Officer of the State Library of Victoria in July 2015. SLV is Victoria's oldest cultural institution and Australia's busiest public library with around 1.9 million visitors each year over 4 million visits online. Kate is the Deputy Chair of National and State Libraries Australasia (NSLA) and Co-Chair of GLAM Peak which leads collaboration between galleries, libraries, archives and museums sectors in Australia to enable people to access, use and build on our national collections. From April 2009 Kate was Director of News at the ABC, leading 1400 journalists and production staff around Australia and in 11 international bureaus. Kate was a member of the ABC's executive leadership team and reported to the managing director. Kate led the News Division through a period of transformational change in the global news industry, including the launch and growth of News 24 and the rapid expansion of the ABC's online and mobile news services. As a result, ABC News is now at the forefront of innovation in digital news delivery, with cross-platform news teams including ABC Fact Check and an interactive digital storytelling unit. Before taking up the position of Director of News Kate was head of the Asia Pacific News Centre. She previously worked as a reporter, producer, executive producer and editor.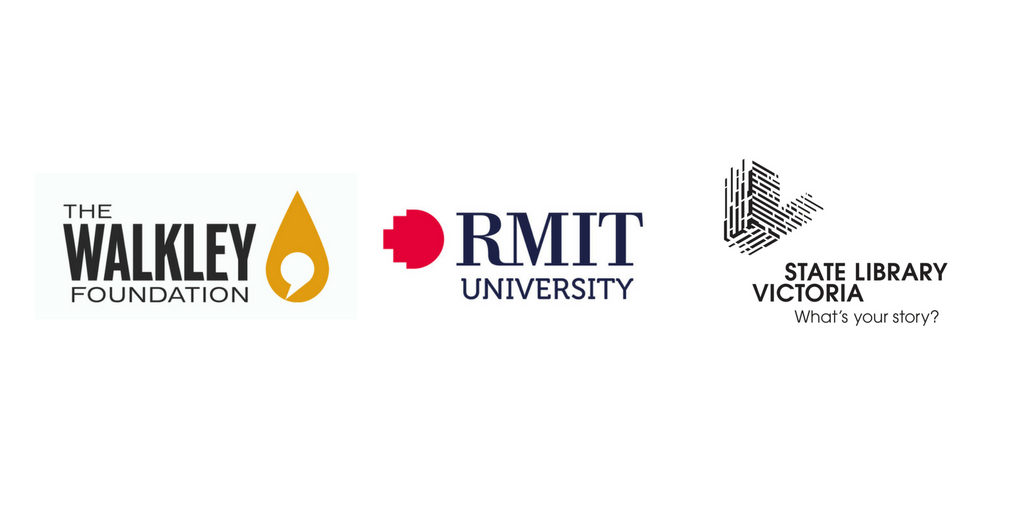 Organiser of Fighting the fakes: Presented by RMIT and the Walkley Foundation as part of Storyology
The Walkley Foundation is at the heart of the Australian media. In addition to celebrating and promoting the most skilful, impactful and captivating Australian stories, our role is to foster resilience and growth in the industry in practical, measurable ways. The Walkley Awards were founded by Sir William Gaston Walkley in 1956. Now, the annual Walkley Awards are the pinnacle of achievement for every Australian journalist. Peer-judged and renowned for integrity, they recognise the impact of journalism and build public trust in good reporting.