Description
PerkinElmer would like to invite you to a half-day technical seminar to discuss the latest analytical solution to fast, accurate and actionable GC-MS analysis by the world's smallest hand-portable GC-MS - Torion T-9.
For anyone charged with protecting the public from VOCs in the air, water and soil, time is the essence. So the big question becomes: how do I get accurate - and actionable - results even faster than before? With the Torion T-9 portable GC-MS, you do your testing where the hazardous event occurs, and get your results there, too.
√ No sample transportation or degradation.
√ No processing, packaging, and prep time.
√ You simply respond, collect, analyze, and identify, right there on the ground.
Program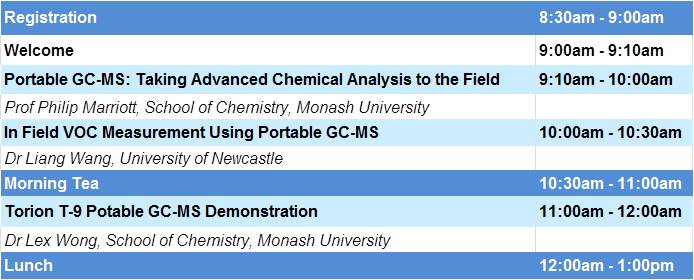 Guest Speaker: Prof. Philip Marriott, School of Chemistry, Monash University
Prof. Philip Marriott has broad experience in gas chromatography and mass spectrometry. His major research is in multidimensional chromatographic separation in GC, employing a combination of columns with mass spectrometry. The driving force for this is to achieve superior separation of complex samples. A further key interest is in fast GC analysis. The Torion GC-MS is an example of fast GC-MS, since retention times are normally about 3-4 min, which is achieved by narrow bore columns and fast temperature program rates. The principles supporting the Torion technology will be outlined, with selected applications from environmental (water and air), plant (essential oils), and hazardous waste fields.