Description
Trading success starts at the Jim's TradeNet's Festival of Trade
The Discerning Trade Expo 2017!
Presenting Jim's TradeNet premier event of the year!
Celebrate the power a trade exchange can bring to your business.
What's on tap...
Premier Business Speakers

Trade Festival & Expo

Entertainment, Food & Drink

Shopping
Speakers include:
Jim Penman: (Founder of Jim's Group) Learn how he grew a $400 million company and hear about his latest venture into TradeNet.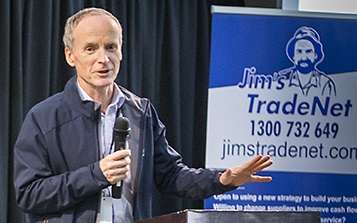 Wondering how you can help your business turn into a cash flow machine?
Are you open to new ways to do business?
Is your business poised for growth?
Are you looking for a way to grow your market share?
Then you need to join us:
Tuesday 18 July 2PM to 6PM
Waterfront Venues Melbourne
Venue location: Level 1,88 Newquay Promenade Docklands
Level 1, corner of Doepel Way & Newquay Promenade Docklands
An afternoon Trading Festival with incredible stalls showcasing our TradeNet member's their services and offerings.
Book your ticket today to reserve your place.
Limited Stalls available inquires through Dave via tradenet@jimstradenet.com or call 1300 732 649
Drinks and food sponsored by Jim's TradeNet. Meet other TradeNet members and other businesses for an afternoon of celebration and socialisation.
Book today before the tickets are gone, we look forward to seeing you there!