Description
Master Boon will share with you her knowledge and secrets that goes far beyond popular culture.
So you think you've heard all there is to know about Feng Shui? Unless you have been through formal training, we think not.
You may have heard that Feng Shui refers to 'Qi' energies in our environment that can impact human lives for better or worse. Or you may think it is nothing more than "bamboo and wind chimes". In fact, Feng Shui goes far further to embrace the wisdom knowledge itself, the science of diagnosis and the art of harmonising Qi. It is an ancient Chinese science.
The consequences of following good Feng Shui principles (or not) are practical and immediate:
Your home can be the reason for good and bad changes in your life or the lives of your loved ones. Have you experienced or witnessed someone who either suffered misfortune or benefited from improved health, when they renovated or moved house?

As a developer, an architect or an interior designer your work is directly responsible for the physical, mental and emotional health of the occupants of the buildings you build or space you design. Speaking to our own self-interest, if we observe good Feng Shui principles our developments will go more smoothly, be easier to sell and ultimately be more profitable. As a real estate agent, you stand a better chance of selling a property that has good Feng Shui and at a good price.
As an employer, your employees' welfare depends on the workspace you put them in. As an employee you may have inexplicably lost your job or been promoted when you moved office.
As a business, ensuring good Feng Shui in the workspace ensures an environment of cooperation and goodwill where improved performance and less absentees translates to greater revenue.
What better time than in the spirit of Chinese New Year to learn more about Feng Shui, a 5000-year-old ancient wisdom that has even more relevance today.
Come and join us to hear how Feng Shui can enrich lives and bring about meaningful changes to your prosperity. Book your ticket to secure your space. The experience could enrich your life!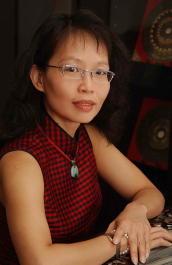 Our speaker, Master Boon will fascinate you with the power of Feng Shui and share with you her knowledge and secrets that goes far beyond popular culture. She comes from an esteemed lineage, trained and apprenticed in the original wisdom tradition with more than twenty years of experience.
Find out how to check if your home has good Feng Shui. If not, there are ways to transform your space into a prosperous place. Master Boon will show you simple ways to harness good Feng Shui and avoid the bad. She will share with you real case studies that has transformed lives and businesses and give you a sneak peek at building her own perfect Feng Shui home in Northland with Sang Architects.
FAQs
How can I contact the organiser with any questions?
We welcome your enquiries - meilinglee@sangarchitects.com
---
Master Boon Yap is an internationally renowned Traditional Chinese Feng Shui Master. She enriches peoples' lives by transforming spaces into prosperous places for organizations and residences.
Master Boon Yap has provided indispensable Feng Shui advice to property developers, corporations, professionals and individuals over five continents. She is also an enlightening guest speaker at international seminars and property events, and a highly regarded teacher. She has been featured and interviewed in national newspapers and lifestyle magazines internationally, and has contributed numerous articles on Feng Shui.
Master Boon Yap is a formal lineage holder of Grand Master Yap Cheng Hai, a world-renowned scholar, teacher and practitioner of Traditional Chinese Feng Shui and Martial Arts who happens to be her father. Master Boon Yap is a fully ordained Master of Feng Shui and holds a 7 Duan Certification (Instructor Level) in Southern Shaolin Five Ancestors Martial Arts.
Academically trained in the biomedical sciences, she holds BSc Hons, MSc and MBA degrees from Australia's premier universities. A career spanning two decades enhancing patients' lives commenced as an R&D scientist developing improved blood products and then as a business strategist in her own international consultancy introducing stem cell and other high-end biomedical therapies.
With this unique combination of skills and competencies, Master Boon Yap successfully integrates the knowledge of the East with the analytical approaches of the West and continues to advance a more profound understanding of the timeless wisdom traditions of Feng Shui and Martial Arts in her practice.
She works with any built space, from individual homes, office spaces, residential apartments, commercial real estates, property developments through to urban planning and landscape architecture.
A global citizen, Master Boon Yap travels the world for work and pleasure, and while calling Malaysia and Australia home for four decades, she is currently building her 'perfect Feng Shui home' in New Zealand as her new home base.
She enjoys intrepid travels to pristine wilderness of Antarctica, mountain cultures of Western China and the Himalaya, and scuba-dived South East Asia, Australian waters and the Pacific. She satisfies her artistic leanings with photography and Chinese brush painting and relaxes by playing the piano and listening to music. For enlivening the mind, body and spirit, she enjoys learning about the mind, meditates, and practices Martial Arts and Neigong.
For more information on Master Boon Yap http://masterBoon.com/media/media.html