Fem Fale presents the return of Cyber Cxnt 2.0
About this event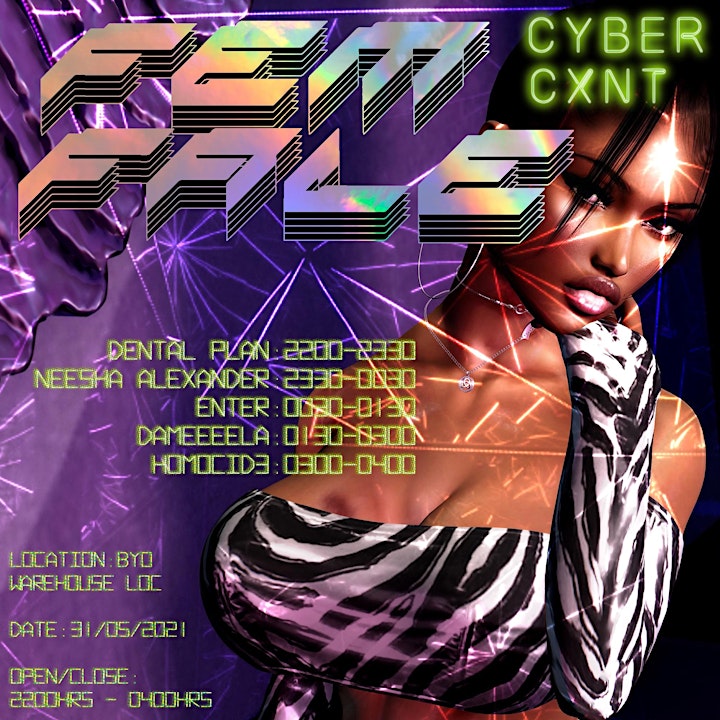 Cyber cXnt 2.0
Loading...
Calling the Army of Dolls, Gender Diverse Rebels and Freedom fighters of all paths.
The Resistance needs you to rise up and fight!
Evil Cyborgs of Skynet won't stop until we're wiped from the face of the earth.
Rendevouz at the following coordinates.
27.4707° S, 153.0279° E
Date: 31/07/2021
Opening: 2200HRS
Closing: 0400hrs
Your leaders of The Resistance:
Dental Plan - 2200 - 2330
Neesha - 2330 - 0030
Enter - 0030 - 0130
Dameeeela - 0130 - 0300
Homoc1d3 - 0300 - 0400
This is Judgment day.
It's time to unite and rave as 1!
Artwork by @7thgrl & @brandonleemichaels
--
Fem Fale acknowledge the traditional custodians of the stolen land we gather on. We acknowledge their ongoing resistance against colonisation and pay respects to their elders past, present and emerging. Sovereignty was never ceded.
--
This venue is not wheelchair accessible, for further accessibility info please email david.4d.events@gmail.com