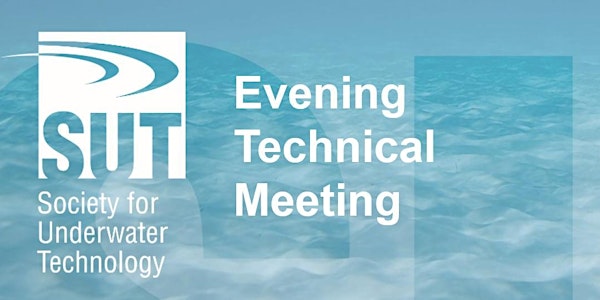 February 2022 ETM: Recent advances in floating vessel response predictions
Location
Parmelia Hilton Perth
14 Mill Street
Perth, WA 6000
Australia
Refund policy
Refunds up to 30 days before event
The Society for Underwater Technology invite you to the first Evening Technical Meeting of 2022.
About this event
The Society for Underwater Technology invite you to the February 2022 Evening Technical Meeting:
Offshore Hub UWA- Recent Advances in Floating Vessel response predictions
Recently completed industry focused research initiative tackled a spectrum of challenges currently faced by offshore engineers. This ETM will focus on outcomes of the wave-structure interaction research at the ARC Industrial Transformation Research Hub for Offshore Floating Facilities (https://www.offshorehub.edu.au/)
The evening will focus on the following three topics:
Tackling gap resonance during side-by-side offloading
Presented by Wenhua Zhao & Ian Milne (UWA)
Prelude FLNG is a large turret moored production and storage facility designed to offload to an LNG carrier, which is moored alongside in an open ocean environment. In certain sea-states, wave resonance can occur within the gap between the two vessels, causing increased water motion in the gap, which needs to be planned for operationally. The OFFshore Hub have used an extensive experimental campaign (both 2D and 3D) and a series of numerical simulations (potential flow and CFD) to improve the fundamental understanding of this phenomenon (gap resonance), and to ultimately improve the prediction of operating conditions. The outcomes of this research is relevant for other common scenarios e.g. ship to ship transfers, offshore heavy lifts, walk-to-work vessel services, and moon-pools in floating vessels.
Integrated offshore floating system response
Presented by Ian Milne (UWA) & Matt Zed (Woodside)
Taking an integrated approach to system response can yield significant benefits. The conventional approach to assess the operability of floating facilities is typically based on wave height and not the wave-induced responses which form the basis of the operating envelope. The OFFshore Hub challenged this paradigm through the creation and validation of a new software tool which predicts vessel motions, velocities or accelerations from a fully described sea state. Pairing this with Bayesian statistical uncertainty methods has transformed decision making in the field, increasing the efficiency and safety of offshore operations.
Data informed decisions
Presented by Hugh Wolgamot (UWA) & Yuriy Drobyshevski (Shell)
Predicting the heading response of a large weathervaning facility such as Prelude is a crucial input to key offshore operational decisions. Heading prediction has been a topic of interest in the OFFshore Hub, where a group of academics have worked closely with Shell colleagues on identifying and understanding the uncertainties in heading prediction. Using numerical ocean models, field data and customised field trials, simplified heading models and statistical approaches, the project has identified key drivers of uncertainty in input forecast and heading calculations and worked to reduce their impact in response calculations.
Programme:
5.30 pm - 5.55 pm Registration
6.00 pm - 7.30 pm Presentations
7.30 pm - 8.30 pm Networking drinks & nibbles
For more information about the event visit our website- https://www.sut.org/event/perth-february-evening-technical-meeting/ 
Contact: SUT (08) 9481 0999 or perthevents@sut.org
Sponsorship opportunities are available for this event - please contact perthevents@sut.org
Terms & Conditions for this event:
SUT Evening Technical Meeting registrations are online and will be sold on a first come, first served basis.
To confirm your place at the above SUT Evening Technical Meeting, you must register and pay online prior to the event. As this event series has previously sold out, early registration is recommended. Please note, online registration closes at 2pm on the day (unless sold out prior).
Payment during the registration process (via credit card or invoice) is required in order to secure your place/s. If using credit card it will be deducted at the time of registration and an email confirmation and email receipt/tax invoice from Eventbrite will be forwarded to the stipulated email address. If invoice requested, it will be sent to your email address at time of registration and payment will be required within 14 days from receipt of invoice. If payment is not received within this time your registration may be cancelled.
Evening Technical Meetings cost:
Early Bird (For bookings up to 9th February 2022)
$35 SUT Members
$55 for Non-members.
$130 for Individual Member 5 Ticket Season Pass*
$230 for Individual Non Member 5 Ticket Season Pass*
$130 for Corporate SUT Member 5 Tickets**
$255 for Corporate SUT Member 10 Tickets**
  * This is registration for 5 consecutive Evening Meetings. You will automatically be registered for this ETM plus the following 4 Evening Meetings so further registration is not required. Should you be unable to attend one of these meetings then registration is transferable to another SUT member. To transfer a registration please email perthevents@sut.org with any changes to attendees.
  ** This is registration for 5 or 10 places at this ETM.
Regular Registration (For bookings from 10th February 2022 until 2pm on 16th February 2022)
$45 SUT Members
$65 for Non-members 
Late Registration (For bookings after 2pm on 16th February 2022)
$50 SUT Members
$70 for Non-members
*Registrations are editable online via your Eventbrite registration link until 2pm on the day. 
Registrations are fully refundable up until  30 days prior to the event. 
Venue COVID-19 Vaccination Disclaimer
Based on the latest updates from the WA Government and Health Authorities, every person aged 16 years and over who attends a function at Parmelia Hilton Perth must:
• Provide proof of double vaccination against COVID-19 upon arrival
• Check-in using the SafeWA app or a manual contact register
• Wear a mask
Please note: unvaccinated people are not permitted to enter the hotel, unless they have a medical exemption and proof of it.
Should our event be postponed due to government regulations surrounding COVID-19, attendees will have the option to have their ticket transferred to the postponed date or receive a full refund.
We request that everyone plays their role and cooperates to ensure a safe environment for all attendees and staff.
To confirm if your organisation is a Corporate Member please check the event flyer or visit www.sut.org/sut-pages/
1.5 CPD hours can be claimed for this event. Please keep the flyer and receipt for auditing purposes.
Should you have any questions please contact SUT on the above listed contact details.