Event Information
Location
Bruny Island
Bruny Island
Hobart, TAS 7150
Australia
Refund policy
Contact the organiser to request a refund.
Eventbrite's fee is nonrefundable.
A wonderful day out for the whole family. Join Jo for an inspiring day out on her farm on Bruny Island
About this event
Join Jo for an inspirational & educational farm tour. Our farm tours have been created for you and your family. A day on Bruny Island to experience a working permaculture inspired farm whilst being outdoors surrounded by bush. A lovely nurturing and relaxing day.
Come and see how Jo and her partner have transformed a capeweed paddock into a thriving market garden which nourishes not only themselves but their community.
Also see how they are undertaking a massive project of transforming the capeweed paddocks into a nourishing and thriving native therapy garden for all to enjoy.
Experience how a dream and passion for holistic health and wellbeing and sustainability has been transformed into a holistic wellbeing farm. A farm where people come to rest, be nurtured, nourished and leave feeling passionate towards making a difference not only in their own lives but for the life of mother nature.
You will join Jo on her beautiful farm, 'Katandra' - Katandra is an aboriginal word meaning 'song of birds', and this is something that can be truly noticed when you walk onto the farm and hear the outside noise melt away. Bruny Island is known for some magic endangered birds, one being the 40 spotted pardalotte. Jo has seen them visit the farm; along with goshawks and wedge tailed eagles. I wonder if we might see more on the tour.
The farm is family friendly. Your children are very welcome. It is really nice to see them interacting with the chickens who roam freely on the pasture. The 15 geese who love coming to say hello; and see your children's faces as they pick fresh berries off the vine at the peak of the season.
The day is for anyone who cares for food, growing food, health and wellbeing and sustainable and natural living. It is a fun day in nature.
A little history.
Jo and her partner left a two bedroom unit in the city and moved from the city to an island. Not having any experience they bought an off the grid 10- acre home / farm. They now produce 90% of all their fresh produce. Jo established Bruny Island Market Garden in 2020 and she sells it through her sister business Bruny island Market Garden and also up on their farm stand. On the farm Jo has also created a holistic wellbeing farm where she runs yoga, meditation and natural living workshops and retreats.
She also runs gardening workshops in collaboration with another fellow gardener called "The Art of Growing your Own food' This workshop runs four times a year helping people to grow food all year round. As part of the farm tour, Jo will condense some parts of the workshop into the four hours that you are here to help you learn valuable tips to feel comfortable growing food back home.
The farm tours are also an opportunity to ask Jo what is it like living on an island, on a off grid farm living the way she and her family does; or If you ever wanted to own some property, take the plunge and grow your own food its a valuable chance to ask Jo and get the raw, honest authentic feedback. There are a lot of things to consider before taking the plunge, but the plunge is worth it!
Also on the farm tour Jo will walk you through some key concepts of the way she gardens. As a self taught gardener who had zero skill in growing food, Jo will show you how she gardens using the no-dig system and walk you through the simple and manageable steps of growing a food garden. Whether that is for yourself or for your family and friends.
Once the tour is over yourself and your family can sit and enjoy some delicious herbal teas picked fresh from the garden and or enjoy a coffee whilst sitting and chatting to new friends as well as eating delicious homemade cakes made by our dear friends Bruny island Wild.
As part of the ticket price we will be inviting each attendee to plant a tree on the farm to honour the reconnection, engagement and care for self and for our planet. (see below for more details)With every ticket purchased we commit to donating $5 per ticket towards a new tree for our farm. We have set a target of 5000 trees by 2026 to help the fight against climate change. Each farm tour the trees will be purchased for planting on the day by the attendee. and have your name attached to the tree. This is one way we feel that each person can make a difference to our world and to reconnect, engage and care.
If available fresh organically grown produce can be purchased to take home as well as preserves made from the gardens and on the farm.
Jo and her family really look forward to welcoming you onto their farm for a day of inspiration, education, nature and time. Whether thats for yourself or time spent as a family in nature.
Strict covid rules apply entering the farm. Unfortunately there are no refunds on your ticket. Tickets can be transferable to another person.
I acknowledge with deep respect the traditional owners of the land on which I live and work. I acknowledge that it is a privilege to stand on Country and walk in the footsteps of those before me. I pay my respects to elders past and present, and to the Tasmanian Aboriginal community that continue to care for Country.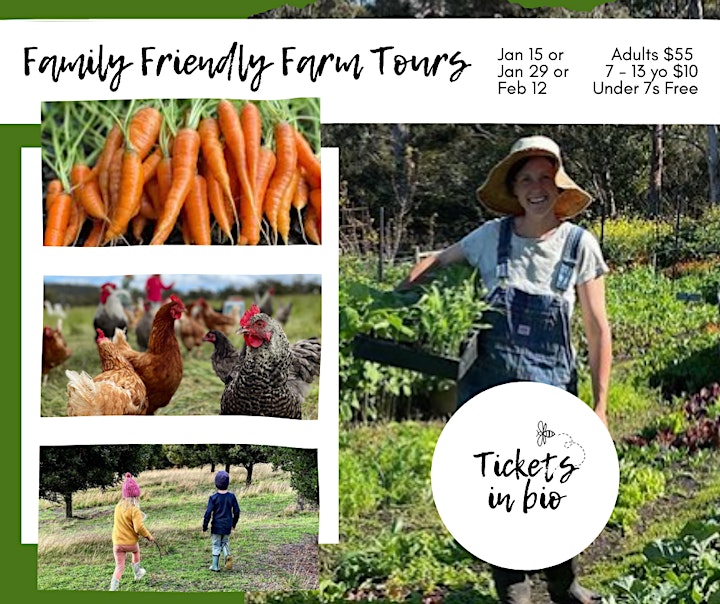 Date and time
Location
Bruny Island
Bruny Island
Hobart, TAS 7150
Australia
Refund policy
Contact the organiser to request a refund.
Eventbrite's fee is nonrefundable.