Description
Carl Vine (b 1954): Fantasia (2013) for piano and strings
Carl Nielsen (1865-1931): Wind Quintet Op.43 (1922)
Maurice Duruflé (1902-1986): Prelude, Recitatif et Variations Op.3 (1928)
Wolfgang Mozart (1756-1791): Clarinet Quintet in A K581 (1789)
The free-flowing Fantasy is related to the more structured Variations form, and both are explored through a sumptuous variety of styles in this program. Carl Vine's beautifully crafted Fantasia for Piano Quintet exploits ever-changing, subtle permutations of a music kernel heard in the opening of this masterful work. Permutations provide the basis of the variations form, explicitly apparent in the theme and variations of the neo-classical Wind Quintet of Carl Nielsen – one of the best compositions of its ilk. Meanwhile the lush French sound-world of Maurice Duruflé acts as a delicious contrast to the humour and delight found in Mozart's famous Clarinet Quintet.
---

Music has the power to propel us to unimagined places and transport us to many states through myriad emotions. To this end our 2017 season, Voyages, ventures through a diverse array of such musical excursions, establishing a strong sense of place while enjoying the local colours and flavours of music from particular national schools. Our season of voyages moves through Russian folklore,sweeping us on to the New World and delights of America, and delving into the sounds of the cinema screen. We are immersed in Fantasy and Variation with quintets of Vine, Nielsen and Mozart, and the titanic Schubert Octet, concluding our year's travels with a sequence of postcards from exotic destinations, ending back in Europe with Tchaikovsky's Souvenir de Florence.
Join us in setting sail on our exciting musical Voyages in 2017.
---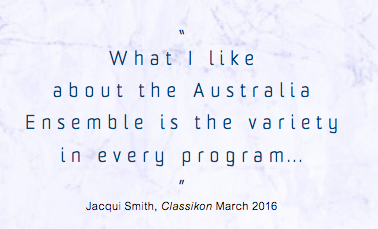 ---




---