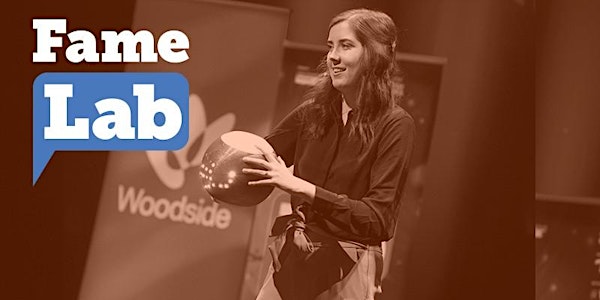 FameLab Science Communication Workshops - Bring Your Research to the Stage
Location
Queensland Museum and Science Centre (meet at Whale Entrance Level 2)
Corner of Grey Street and Melbourne Street
South Brisbane, QLD 4101
Australia
Learn how to bring your research to the stage for the leading global science communication competition - FameLab!
About this event
Early Career Researchers are invited to attend free training designed to build science communication skills.
Eligible FameLab Contestants are able to join this session delivered by leading science communication experts Dr Merryn McKinnon and Dr Will Grant from the Australian National University's Centre for the Public Awareness of Science
Merryn and Will have developed and delivered science communication workshops for a range of Australia's leading science organisations, universities and research institutes, government departments and scientific societies around the country.The training programme will be a free workshop for eligible FameLab contestants in each participating state.
- Researchers or post-doctoral fellows working in STEM within universities, research institutes, government bodies and industry who have completed a PhD within the last five years
- Students who are currently undertaking MSci or PhD qualifications in STEM
- Please check full eligibility at www.fwam.com.au/famelab
The science communication training is a workshop process based on improvisational theatre games underpinned by the latest research, providing a fun, highly interactive and engaging environment. The emphasis is on participants practicing skills, there and then, with lots of opportunities for advice and feedback based on evidence-based best practice.
After the workshops participants will:
- Identify the components of a story and apply these to their own story development;
- Effectively use real world examples and language appropriate to a generalist audience to convey complex scientific information in an engaging manner;
- Successfully apply strategies and techniques to convey the story or 'so what' of their research;
- Understand and apply appropriate techniques to support their FameLab video submission and media interviews.
The National Training Delivery is a partnership with the Australian National University Centre for Public Awareness of Science.
This training session is delivered in partnership with the Office of the Queensland Chief Scientist under its Partner Up Queensland program.