Description
Our F45 Challenge gives you the exact steps to get amazing results ... within 8 weeks.
If you want help you stay motivated, feel confident, or even if you just want to change your life, then this is the most important event you'll attend all year!
Here's why...
Because in today's fitness world, knowing how to train and what to eat can mean the difference between getting a result or staying the same!


Natalee lost 12.8 % Bodyfat in 8 weeks and 11kg incredible....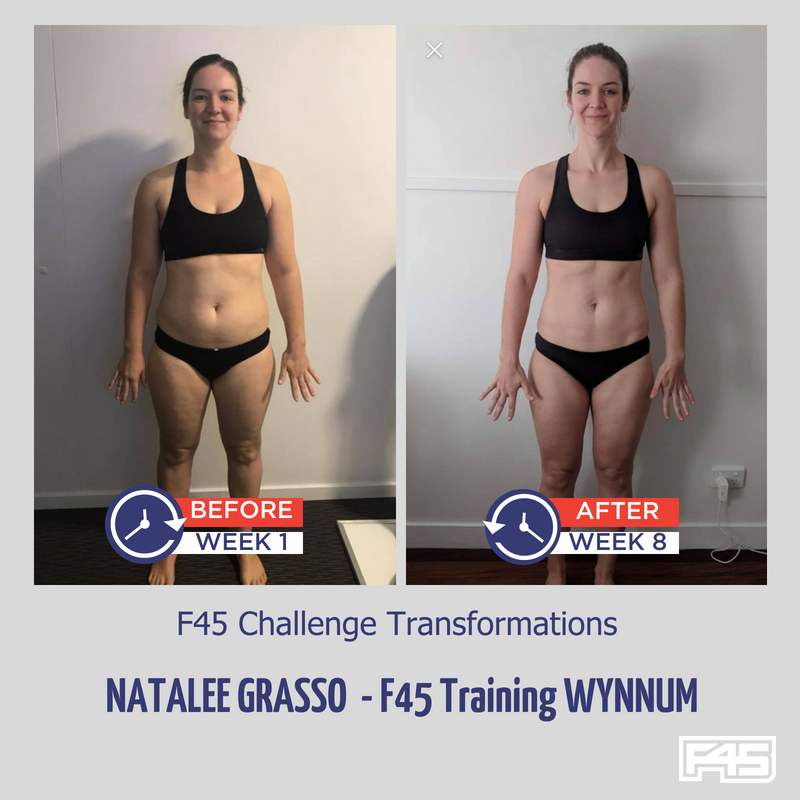 Here's how and why we can make you this promise...
My name is Bailey and I'm an expert in helping you transform your life.

I've lost 22 kilos personally as well as overcome anxiety and depression for most of my life to become an athlete and entrepreneur living a good life.

This challenge is going to give you everything you need to help you become a fitter and healthier you.

Here are some more transformations from people just like you who got results with us.
Shane lost 7.6 % Bodyfat in 8 weeks and 8.9kg amazing....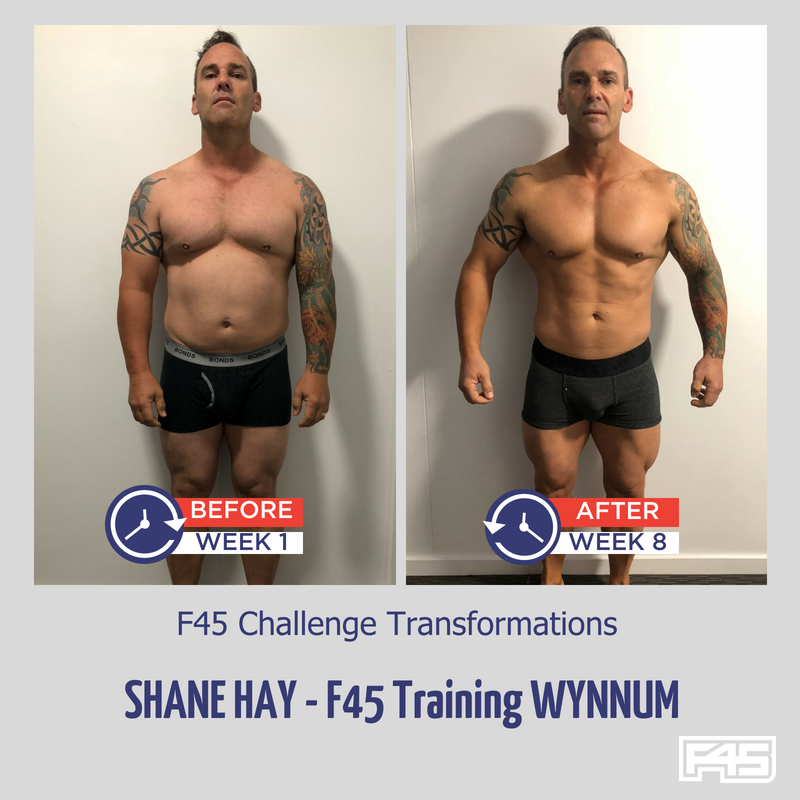 In Fact, Here's Just The Tip of The Iceberg of What You Get When You Join The Challenge...
* You'll discover exactly how to get the best results with our fat loss program

* You'll train more efficiently in 45 minutes per day

* You'll know exactly how to train and eat right - even being nervous or just starting out - and who to get help from if you have questions

* You'll have a lots more energy and start feeling more confident.
66 days to form a habit.
On average, it takes more than 2 months before a new behavior becomes automatic — 66 days to be exact. And how long it takes a new habit to form can vary widely depending on the behavior, the person, and the circumstances.
* When you get the result, think about how amazing you'll feel when you've successfully achieved your goal and created new habits

* When you start to see results, you start to get excited and it builds more confidence to keep going.

* Join thousands of other F45ers who have transformed their life in 8 weeks.
So, Here's The Bottom Line With
F45 Challenge
You get the F45 challenge nutrition program and world class training that will walk you step-by-step through the entire process from start to finish. You'll transform your life and learn how to create habits from a team of coaches to help you get to results fast. You get the exact blueprint you need to succeed!
Come along to the FREE info night so you know everything that will happen throughout the 8-week challenge, and share with any friends or family who you know would like to come along!

To your success,

Coach Bailey
FAQs
What if I'm already a paying member?
We'd love to have you come along - and bring anyone with you who would love to join the challenge. You'll get any information on the new challenge as well as plenty of motivation and inspiration on the night.
What if I've been to an info night before, do I need to come again?
Yes! If you are serious about doing the challenge, kicking your goals, and getting great results but you don't think you need to come to the info night, you're not really serious. This night has all the info you need plus some really great motivation to kickstart your 8 weeks. It's different every challenge so make sure you come along!
What are my transport/parking options for getting to and from the event?
We have plenty of on street parking on Edith St, Bay Terrace and the other surrounding streets.
The train station is at the end of Edith St and just a short 2 minute walk to the studio.
How much does the challenge cost?
The challenge is completely free for F45 members. If you're not a member yet, membership options will be explained on the night.
There are also additional extras to help you out with the challenge - including InBody Scans, Lionheart heartrate monitors, official F45 Challenge singlet.
What is I can't make it on the night but I want to join the challenge?
It would be great for you to be there on the night because you'll leave motivated and inspired to kick off the challenge. But if you can't make it, we'll make sure to get the main details to you via email.
How can I contact the organiser with any questions?
Please email us wynnum(at)f45training.com.au if you have any questions about the event, but please bring any challenge related questions on the night!