Description
Roll Up! Roll Up! For a night of salacious performance with a dark twist brought to you by Eyrie Entertainments.
The Freaks are in town for one night only to delight and amaze you! Featuring local and interstate burlesque performers this will be a show like no other.
Electro Swing After Party is being DJ'd by local sensation The Ugly Bunyip Band featuring live horn players.
Warning this production contains *freak* content that may disturbing to some viewers.
Limited Earlybird $18+bf/ Standard Tix $23+bf / Show + After Party $29+bf / Just After Party $19+bf / @ The Door $35
EARLY BIRD = show+after party (if wish to attend the show only the price is the same but please inform the door person upon arrival)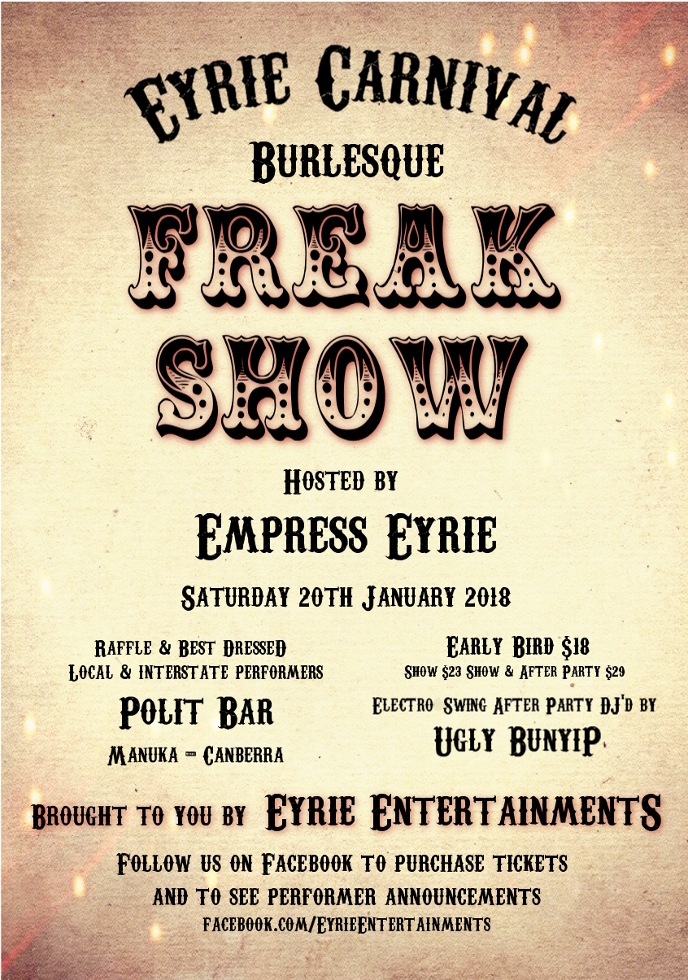 ***
Please note this is a burlesque show and may contain some partial nudity. In accordance with ACT Liquor Licence regulations, it will NOT contain any explicit or full nudity.
This is a performance by independent artists. Please note that everything the performers do is play. Like naughty children they may tease you gently. That is the nature of the show. Nothing is designed or intended to offend.
If you think you may be offended by any aspect of this show, including partial nudity, gentle teasing, sexual or suggestive jokes or anything at all, we recommend you do not attend this show and welcome you at any other time.
SEXUAL HARRASSMENT IN ANY FORM IS NOT CONDONED.
The performers are providing a show for your enjoyment. The show is not an invitation for guests to touch the performers or to make lewd or suggestive comments. Do not offer to place 'tips' on, under or around performers' clothing. Sexual harressment of any kind will not be tolerated and you will be asked to leave immediately.
The performers would be delighted if you'd like to tip them, and ask that all tips be placed in the Burlesque Tip Jar, which will be shared among all the performers at the end of the show.
Thank you for your understanding.
***