About this Event
Who says that we cannot have a career that brings us deep fulfilment and even joy? Are you tired of just turning up without really being 'in the zone'? Well, my advice is to get clear on setting your own navigational points.
In this online conversation and masterclass we will explore:
Impact: What is your effort to Impact ratio
Influence: Who is in your sphere (and perhaps more importantly who is missing)
Intention: Making every move Count
Ideation: Creating your creative space
Our 4i's also help us to understand how others are seeing us. We need others to help us progress on our path to success, and we also need to ignite our own career strategy.

I truly believe in Igniting our Career - why leave our success and joy to others to manage? This is a job best driven by ourselves as Pilot and to engage with strategic partners such as having a co-pilot, chief engineer and executive team around us.
Ask Yourself ....
How is your navigational compass set?
What impact are you having on people? In your team? Across whole of our organisation? Within your industry? Across your peer group? Even the world?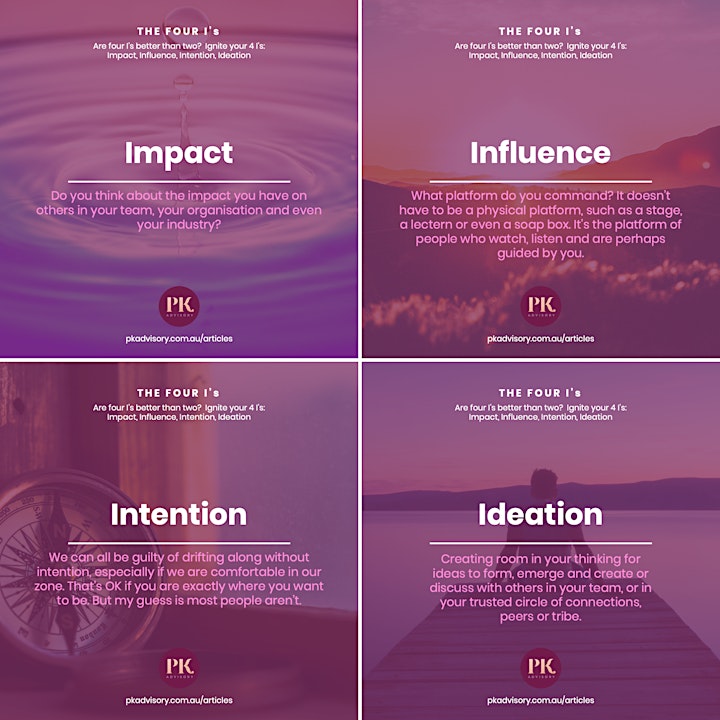 Who is this for?
Anyone who wants to manage a strategic career path
Anyone with eyes set on an executive position
Anyone who wants to improve their leadership of self and others
Any business owner who is concerned with getting their message landing
Anyone investing in their self brand and keen to grow their sphere of influence
Anyone worried about future-proofing themselves, to be relevant today and tomorrow

What you will learn.
IMPACT.
Do you think about the impact you have on others in your team, your organisation and even your industry?
As leader of others, and also of our own businesses, we need to consider our image, and how our behaviour, language and attitude affects others. This is not about changing who we are, but about understanding how others react to us and knowing if and how we might modify our behaviour and approach to get the best results.
INTENTION.
We can all be guilty of drifting along without intention, especially if we are comfortable in our zone. That's OK if you are exactly where you want to be. But my guess is most people aren't.
This is why we need to focus energy on reaching goals that align with our strategies and values. I consider we can all achieve a level of success simply by being in the right place at the right time – perhaps being one of the fortunate people who has or had a great mentor in their career/business when it mattered.
I believe there is a natural ceiling to how much success we can reach under our own steam and to unlock the next level requires a plan, intent and usually coaching, advisory and mentoring from others.
INFLUENCE.
What platform do you command?
It doesn't have to be a physical platform, such as a stage, a lectern or even a soap box. It's the platform of people who watch, listen and are perhaps guided by you.
You don't need to be a performer as such but look for any of the many ways you can put yourself in a position as a thought leader, a voice for your industry or a beacon to drive a passion project.
IDEATION
Creating room in your thinking for ideas to form, emerge and create or discuss with others in your team, or in your trusted circle of connections, peers or tribe.
We know that yesterday's thinking is not going to serve us for exploring tomorrow's challenges. Yes, our foundations are strong, built upon years of experience, lessons, wins and 'fails'.
We need more than just relying on our foundations, we need to push, explore and consider possible problem solving skills that we may not have seen before and this requires new thinking and sandpit testing and brainstorming the ideation process.