Event Information
Location
Education Centre (near p10f carpark) in Bicentennial Drive, Bicentennial Park, Sydney Olympic Park
Walk 200 metres into the park from p10f carpark and you'll see us on the right!
Sydney Olympic Park, NSW 2127
Australia
Description
The kids will have a blast in this school holiday workshop where they put their imagination to the test constructing all sorts of contraptions. We'll investigate the design and structures of towers and bridges to understand what give them the strength to hold up, we'll create complex machines using common materials and undertake a challenge in making a spacecraft survive a landing!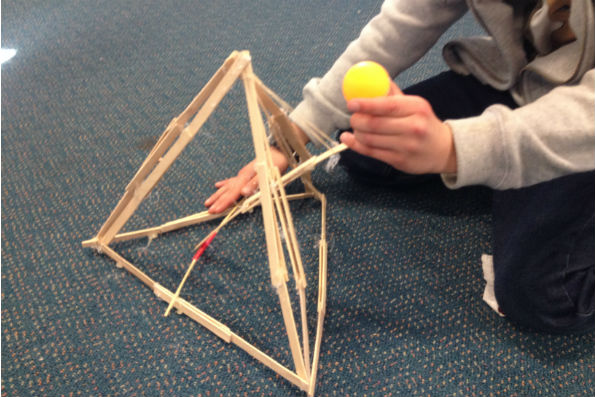 So much fun!
Ages: 7-14 years.
This program is presented by Fizzics Education as part of the Sydney Olympic Park Kids in the Park program of activities.Please bring a snack, a drink and a hat with you on the day!





Check out our other awesome holiday workshops on offer at Sydney Olympic Park!

Frequently Asked Questions
Where is the program being held?
The Education Centre is located within Bicentennial Park in Sydney Olympic Park. To get there, enter the park via the Australia Avenue gates and follow the signs around to the p10f carpark (it is almost at the park exit). Once you reach p10f, you'll see signs to the Education Centre! If you're arriving by train, Concord West train station is closer to the venue than Olympic Park train station.
My child is 4/5/6/7 years old, can they attend with their older sibling?
No. The minimum age of this program is set to ensure that children attending have the fine motor and spatial skills to successfully build the catapults and keep up with the pace of the program. Younger children tend to fall behind and can end up frustrated which can have an impact on the rest of the class.

Where can I find any updated information?
Check out our Facebook page for updates and fun facts!
Refunds Policy
Fizzics will provde a full refund only if the event is rescheduled or cancelled. We cannot refund tickets, but name changes on tickets are acceptable. Fizzics reserves the right to review all requests for refunds on a discretionary basis.
Conditions of Workshop:
A Parent or Guardian is required to sign the child in upon arrival and then sign them out when picking them up after the workshop.
Date and Time
Location
Education Centre (near p10f carpark) in Bicentennial Drive, Bicentennial Park, Sydney Olympic Park
Walk 200 metres into the park from p10f carpark and you'll see us on the right!
Sydney Olympic Park, NSW 2127
Australia