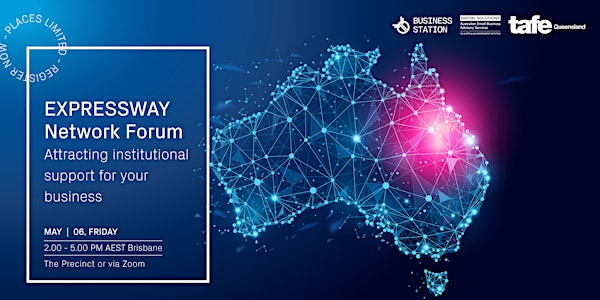 EXPRESSWAY Network Forum-Attracting institutional support for your business
Location
The Precinct stairs stadium on level 2. and /or via ZOOM. If attending physically, follow The Precinct signage to enter via the main lifts in the T.C. Beirne Building) If via Zoom, a link will be sent to you.
Level 2 T.C. Beirne Building Brunswick St Mall
Fortitude Valley, QLD 4006
Australia
The EXPRESSWAY Network connects commercially focused innovation businesses across Queensland.
About this event
EXPRESSWAY™ Network Forum
Attracting institutional support for your startup or innovative small business
Friday 06th May 2022
2.00pm – 5:00pm
Free for owners and managers of Innovative Queensland innovation enterprises.
The Precinct, Level 2 Stadium or via ZOOM
The Precinct is located in the T.C. Beirne Mall Fortitude Valley (between Brunswick St Mall and Chinatown Mall). Access to the Level 2 is via the lifts in the Precinct lobby at the China Town Mall end of the TC Beirne mall (to the left of the coffee shop).
If you are unable to attend physically, please indicate you will be attending the video stream (a ZOOM link will be provided to you prior to the event)
If it is not COVID safe to hold a physical forum, a ZOOM Link will be provided to all speakers and registrants and the forum will be conducted in the virtual world.
The EXPRESSWAY Network connects commercially focused, like-minded Queensland people, with the objective of creating a Queensland wide innovation network that encompasses all industry sectors, regions and stages of business.
EXPRESSWAY offers opportunities for the management teams of high growth businesses to connect with each other to share ideas, form collaborations and find out about services available from government, education and NFP business support agencies.
This months topic is... Attracting institutional support for your Startup or Innovative Small Business
Taking new innovative products and services to market can often require moving heaven and earth.
However, it needn't always be that way if we first identify, align & co-create initiatives with relevant key stakeholders from relevant institutions.
Creating a stakeholder group and working backwards from what they collectively want/need is the name of the game.
In this session, we will run through how to identify, align and co-create with the right stakeholders for your business... getting this right can often be the difference between abject success and failure.
Guest Speaker 1
Tristan Senycia, Digital Solutions Advisor, Business Station | Digital Solutions
Tristan will provide his 'laundry list' of all the different institutions in the Australian Small Business & Startup ecosystem he has worked with in partnership, how he has leveraged their greatness through co-creation and how you can do the same.
He will also explain how partnering with powerful institutions strengthens the core of your business model.
Guest Speaker 2
Sharon Hunneybell, Chief Executive Officer, Gold Coast Innovation Hub in Varsity Lakes
Sharon will provide you some insights into how the Gold Coast Innovation Hub leverages strategic partnerships with both domestic and international institutions.
She will also unpack how the GCHub adds significant value to the Small Business and Startup ecosystem system through their various programs and initiatives
Case Study
Tailored Artworks & The Mural Shop
Sharron Tancred , Founder & CEO of Tailored Artwork/The Mural Shop, has recently participated in the Strategy / Innovation Stream of the Commonwealth Governments' Digital Solutions program.
Sharron will explain:
(1) What Tailored Artworks & The Mural Shop are
(2) The impact that Business Model Clarification/Optimisation has had on her strategy moving forward
Q&A Session
Guest speakers will be invited to answer your important questions.
Support Segment
Representatives from the government agencies, educational institutes and not-for-profit business support organisations will provide information, connections and updates about programs and services available to help your enterprise.
Networking
Refreshments are provided while we network at the start and conclusion of the forum.
Regional program via ZOOM
If your enterprise is regional or you are otherwise unable to attend on the day, please register for this event and select the regional ZOOM program. You will be provided a link prior to the event. ZOOM attendees will be able to interact with the ACE administrators, speakers and audience during the forum.
Recording
This forum will be recorded and posted to the EXPRESSWAY LinkedIn group
Cost
FREE for directors and senior management teams of innovative businesses or representatives of an agencies and organisations that supports innovative business commercialisation, growth and investment.
EXPRESSWAY LinkedIn Group
Join the over 650 member EXPRESSWAY LinkedIn group now at linkedin.com/groups/6502092/
This moderated group is open to the managers and leaders of Queensland based innovation enterprises, partner organisations, investors and representatives of government, education, not-for-profit and private sector organisation that support innovation enterprises. Members can submit pre and post forum questions, articles, good news announcements and information that will benefit innovative Queensland businesses. This group is moderated.
Content posted that is considered to be advertising, spam, discrimination, abusive or political will not be tolerated. Offenders may be removed from the group without notice.
Register
Enjoy this event by registering now. All welcome.
TAFE Queensland, Small Business Solutions, Business Station | Digital Solutions are proud to be EXPRESSWAY Network partners.
Our thanks to Daryl and Beth Severn from EXPRESSWAY member firm Darbeth Business Technology and Communications for recording and livestreaming services.
The Precinct is a Queensland Government initiative and the home of EXPRESSWAY!
If you have any questions, please contact:
Facilitator