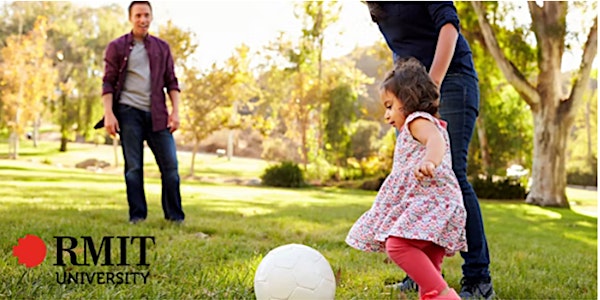 Expression of Interest - 2022 RMIT Parents and Carers Coaching Program
Join Parental Resilience Coach Debbie Marks in learning more about managing the many responsibilities of a carer during this time.
About this event
Whether you are a parent, grandparent, carer of children, carer for elderly relatives, carer for someone with a disability or another need, RMIT aims to support you to balance your life and work responsibilities.
With hybrid working, caring, schooling and many other responsibilities all happening in the same space - we recognise that this time might feel overwhelming – but you are not alone.
These sessions are designed to provide an opportunity to work through these current challenges with other parents and carers, facilitated by Parental Resilience Coach Debbie Marks.
About the sessions
These sessions are open to all RMIT staff with parenting and caring needs, and will be held virtually.
About Debbie Marks
Debbie has been working with the parents and carers of RMIT since 2014. She has a broad insight into the pressures and juggling that being a working parent at RMIT entails and from being a Working Mum herself. Debbie is a qualified Coach and Trainer who will bring openness, honesty and energy to the sessions. She is committed to supporting you to live your best life, not trying to give you yet more models and instructions on how to live in this crazy world!
Session times
Sessions have been scheduled over the coming weeks throughout July and August, each being 1.5hours long. Session times below:
Friday 22nd July - Workshop 1: How has Hybrid Working impacted work life balance
Friday 29th July - Workshop 2: What about me? How do I maintain my energy whilst supporting others?
Friday 5th August - Workshop 3: Values
Friday 12th August - Workshop 4: Lifestyle Recipe
** We would ideally like participants to sign up to all 4 workshops as they will build on each other to help participants walk away with a more decisive view on their hybrid working carers lifestyle. Please however feel free to opt in and opt out as topics suit you through out the life of the program.
If none of the times fit your schedule, contact Diversity.Inclusion@rmit.edu.au to find other opportunities.
Accessing the live event
A link to the online meeting will be sent to those who register ahead of the session and also shared on the RMIT Parents and Carers Yammer Channel the day prior.
For more information on parenting and caring at RMIT, see: https://www.rmit.edu.au/staff/service-connect/benefits-salary/flexible-working/parenting