Artist, Jan Lawnikanis, introduces you to the joys of Colour Pencils. This is a 2 day workshop for adults.
About this event
Description
This weekend workshop will provide a wonderful introduction to the joys of using coloured pencils as a fine art medium. Jan has been using and teaching coloured pencils in classes for the past 24 years and she will generously share with you all the information she has garnered from her experience.
On day 1, you will learn how to layer, blend, burnish and under paint. You will see examples by master artists and learn about their techniques, tools and materials and where to access ongoing information and instruction. You will be surprised by the endless possibilities this medium has to offer! A step-by-step project will reinforce your new skills.
Day 2 will start with learning extra techniques. Individual guidance will be given to students to help them complete an artwork of their preference. Jan has an array of assignments to choose from.
This is a structured workshop with exercises and projects, but will include time to create an artwork of your choice. Although the workshop is designed for beginners in coloured pencils, those with some previous experience are welcome. Jan will work with you to help improve your skills, techniques and compositions etc. Creative options will also be available.
You will be surprised by the endless possibilities this medium has to offer!
This workshop is a 2 day workshop from 9am to 4pm on Saturday 22nd May 2021 and Sunday 23rd May 2021.
Don't want to pay online? Give us a call on 07 4632 2727.
Materials are not included in this class, to view the materials list please click here.
*** Murray's Art and Framing has a full selection of art supplies, if you need them for your materials list ***
Murray's Art and Framing and Myart Studio comply with the Government contact tracing requirements for more information go to:
https://www.covid19.qld.gov.au/updates/important-changes-to-record-keeping-for-contact-tracing
Participants will be required to sign in.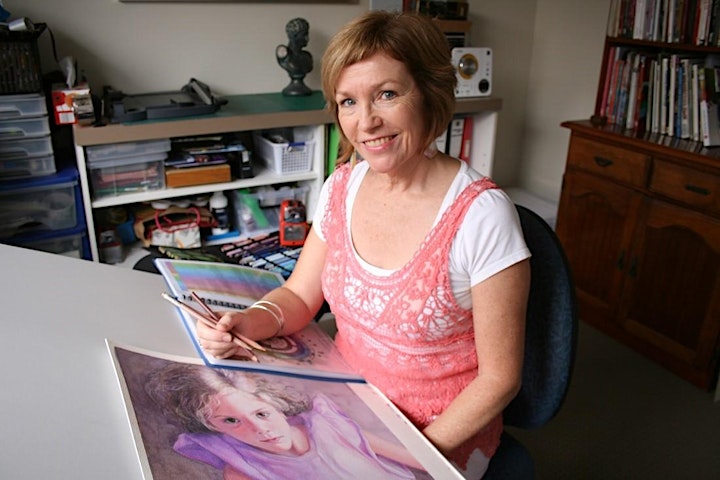 About the Tutor: Jan Lawnikanis
Jan Lawnikanis has taught regular art classes on the Gold Coast for the past 25 years and tutored over 120 workshops in various locations around Queensland and NSW. She has been a regular tutor for Murray's Art Workshops and at the McGregor Art Retreats in Toowoomba. Students in all mediums have praised Jan for her teaching skills and this has gained her an excellent reputation with all ages.
In her personal art career, Jan's beautifully presented work in various mediums has won many first prizes and other awards. Her commissions range from school theatre sets to a set for the QLD Conservatory of Music, 40 artworks for an apartment building, 15 artworks for an office floor, paintings for a restaurant as well as school murals and private works for client's homes.
Jan has been the featured artist in Australian Artist Magazine, with 5 full-length articles on using coloured pencils. Other publications include the Paradise Magazine-GC Bulletin, Art Newsflash, the International Watercolour Institute catalogue, the Coloured Pencil magazine, Art Edit magazine, the Australian Coloured Pencil Network and Artwise textbook for the Australian Curriculum.
www.janlawnikanis.com jlawnikanis@gmail.com 0410 819926
MyArt Studio Workshop booking and cancellation policy
The 16 Duggan Street entrance to the classroom will be opened 15 minutes prior to commencement of the class. Students are responsible for their own artists materials unless otherwise stated. A materials list is available for each class and will be emailed to you once your booking is confirmed. Materials lists are also available on our website.Tea and coffee will be provided, and students have access to the kitchenette and toilet facilities. No parking facilities provided. Street parking is time limited and shopping centre parking is at your own expense. Classes with outdoor activities are attended at your own risk.
Fees
Please book into a workshop at least one month prior to its commencement if possible. This will secure your spot in the class and allow us to confirm tutor bookings. If there are insufficient number workshops may be cancelled.
Cancellation of enrolment by you
If you choose to withdraw from a course or workshop up to one month before its commencement, you will be charged a $25 administration fee. The remainder (minus Eventbrite fees) will be refunded. If you choose to withdraw from a course or workshop within 1 month of its commencement, you will be charged a $25 administration fee and the remainder (minus Eventbrite fees) will only be refunded if the position can be filled.
Missed Classes
Once a workshop has commenced there are no refunds. MyArt Studio cannot accept responsibility for changes to students' personal circumstances that prevent attendance. Classes missed are the student's responsibility and are non-refundable. Students are not entitled to a discount or 'make-up' class if they miss a class for any course they are enrolled in.
Cancellations of workshops by us
In the event of a class being cancelled due to insufficient enrollments, a full refund will be given.