This webinar, presented by historian Benjamin Hollister of History Helper in S.A., will reveal FREE methods of researching family history.
About this event
This webinar — a Be Connected Get Online Week exclusive — will delve into family history and how to get online to explore free and paid resources. We will include a broad explanation of what is available online (and what isn't) and where to start, and why it is important to use digital resources. Free databases touched upon include Trove, NLA, NAA, FamilySearch, FreeCen, FreeReg, FreeBMD, PapersPast, and more. Paid online services Ancestry, FindMyPast, and British Newspaper Archives will be included, as will search tips for all databases. We'll also go over how to use a genealogy program (online or offline); the benefits of DNA testing and what info you get in a DNA test result. We will also review the Be Connected suite of free online ancestry tools.
When you register, attend, sign up as a learner on the Be Connected portal and complete our survey at the end of the webinar, you'll be automatically entered into a DRAW TO WIN AN ANCESTRY DNA KIT!
Also, when you register for Be Connected, you'll have access to a FREE e-book called "Meet Your Ancestors". Download it here:
https://beconnected.esafety.gov.au/topic-library/online-hobbies/researching-family-history
The presenter, Benjamin Hollister, will be taking questions, so please come ready to ask away!
Session hosted by Catalyst Foundation
Presented by Benjamin Hollister, History Helper S.A. Historian
About the presenter:
Mr. Hollister has been a professional historian since 2007, and a historical researcher since 1997. He currently owns and operates History Helper, a historical research business. His research work focusses on German-Australian migration research, general family history services, and specialist family history services for adoption and Stolen Generation cases. He also offers education, mentoring and publishing services to other researchers, and historical tours/presentations and digital literacy mentoring to the general public. Ben has provided professional services to the AIATSIS Family History Unit and the US production of 'Who Do You Think You Are?'
Ben was the co-convenor of the Germanic & Continental European SIG of Genealogy SA from 2014 – 2019 and also founded and served as Executive Officer of the German-Australian Genealogy and History Alliance, a network of societies, archives and researchers. He was a director of the Association of Professional Genealogists (APG) from 2016 - 2020.
Ben is a Certified Professional with the Australian Library and Information Association and a Fellow of the Institute of Managers and Leaders. He holds tertiary qualifications in business administration, information management, educational management, and applied history, and vocational qualifications in business management and event management/design. He also speaks and teaches regularly at a state, national and international level, including the International German Genealogy Conference, Family History Down Under events, APG Professional Management Conference and Legacy Family History Webinars.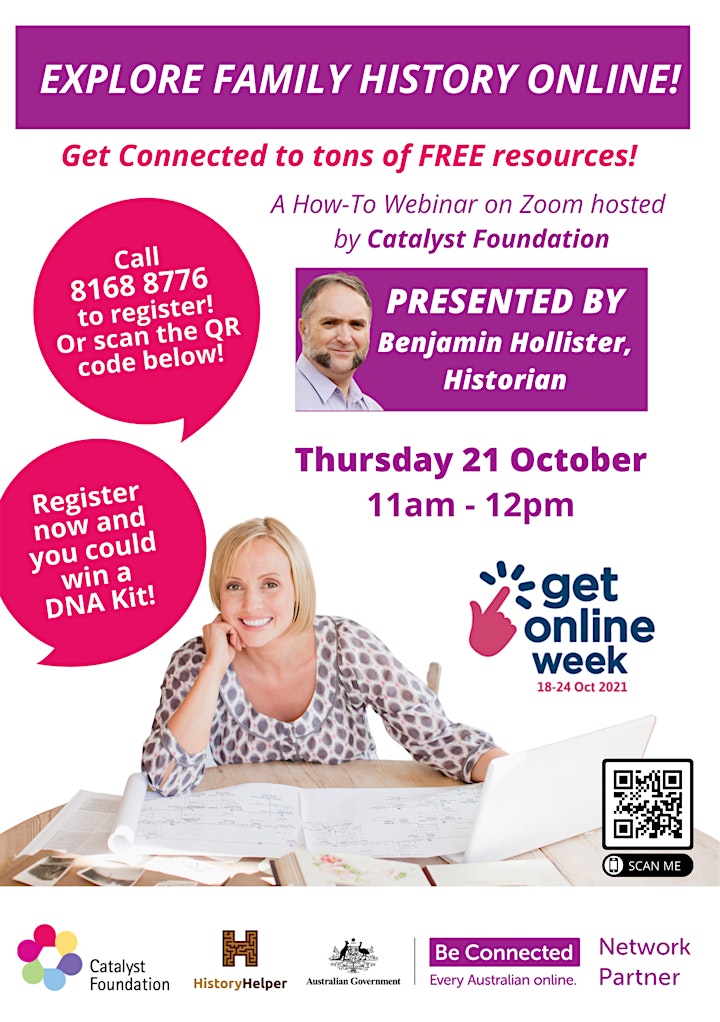 Organiser of Explore Family History Online: A Get Online Week Exclusive
Catalyst Foundation is an inclusive, independent and charitable organisation seeking to improve the lives of all South Australians in the areas of Ageing, Disability, Lifestyle and Learning. For the past 25 years our work has and continues to reflect our belief, that people from all walks of life, service providers, families and carers should have access to the information and services they need in order to make informed choices.