Explore Chippendale: Architectural Walking Tour and Lunch at Din Tai Fung
Description
Join Chippendale Creative Precinct and the University of Sydney School of Architecture, Design and Planning Alumni Association as we explore four iconic Chippendale structures at the forefront of contemporary design. In ten years, Chippendale has transformed from an impoverished conurbation to Sydney's Cultural Mecca. This extraordinary metamorphosis was championed by innovative minds and bold choices made by Chippendale's internationally acclaimed architects and developers. Learn from those who worked closely with Pritzker Prize winning architects Jean Nouvel, Frank Gehry and Sir Norman Foster to develop Sydney's most striking new structures.
Join us in September as we tour:
11:00-11:30, The Goods Line: Talk by John Choi from CHROFI
11:30-12:00, Dr Chau Chak Wing School of Business: Talk by Craig Lord
12:00-12:20, HALO, Central Park: Talk by Jenny Turpin of Turpin and Crawford
12:20-12:40, Central Park: Talk by Ben Green of Tzannes Associates
12:40-1:00, Kensington Street: Talk by Tim Greer
1.00- 3.00pm, Lunch at Din Tai Fung
Meeting Point: The Goods Line, Outside the Dr Chau Chak Wing School of Business entry way facing the Goods Line.
We invite alumni from the University of Sydney and their friends to learn about Frank Gehry's first Australian building, the iconic Dr. Chau Chak Wing School of Business at UTS, with a talk by the building's General Manager Craig Lord who witnessed the construction of this Sydney landmark. Following Craig, CHROFI's John Choi will break down the design of the sun-soaked boardwalk and cycle-path The Goods Line and deeper into Chippendale, learn details about the construction of Central Park's mesmerizing sculpture Halo from co-creator and artist Jenny Turpin of Turpin + Crawford.
Next up, hear from Ben Green, director of Tzannes the company responsible for the structurally stunning and environmentally exquisite Central Park Mall. To complete the tour, head Architect Tim Greer from Tonkin Zulaikha Greer will join us to deliver insight into the company's development of every foodie's favourite strip, Kensington Street.

A Lunch Invitation
After the tour, indulge in famous dumplings from Taiwan's own Din tai Fung, Central Park. We invite you to relax, eat, drink and be merry after a fascinating tour over delicate dumplings and wine amidst the greenery at the sustainable Living Mall.
Menu-
A banquet of Din Tai Fung's house specialities including:
Entree-
Delicious pork, shrimp and vegetarian dumplings, pork buns, shrimp and pork wontons with hot and sour soup with shredded pork.
Main Course-
Sweet and sour pineapple chicken, green beans with minced pork and dried shrimp, beef with honey, egg fried rice with chicken fillets and a free flow of Chinese tea.
+ complimentary wine!
(Vegetarian menu available upon prior request)
---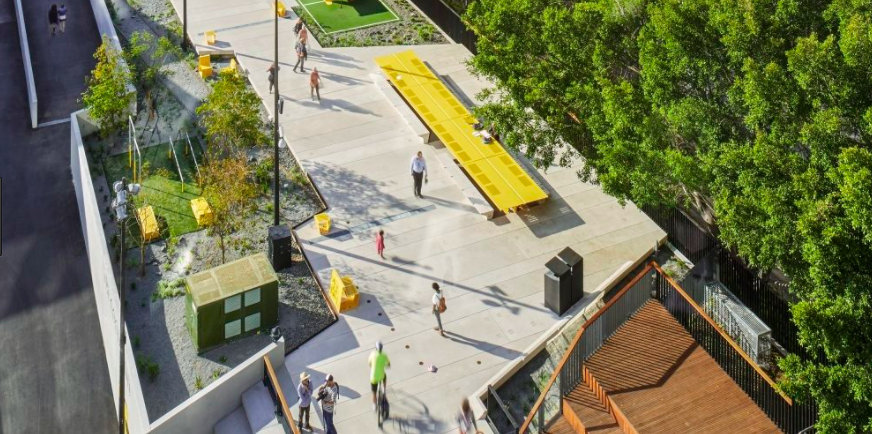 John Choi on THE GOODS LINE
The Goods Line, a project by ASPECT Studios with CHROFI is a shared pedestrian and cycle path that connects Ultimo to Darling Harbour. The line provides a traffic-free, accessible thoroughfare. It's surrounded by some of Sydney's most important cultural, educational and media institutions, such as the ABC, UTS, TAFE and the Museum of Applied Arts & Sciences (Powerhouse).

John Choi is a University of Sydney alumnus and founding partner of CHROFI. The practice is internationally recognised for their competition winning design of TKTS booth at the centre of Times Square in New York. John is Adjunct Professor of Architecture at University of Sydney, member of Sydney Olympic Park Authority Design Review Panel and serves on the board of 4A Centre for Contemporary Asian Art.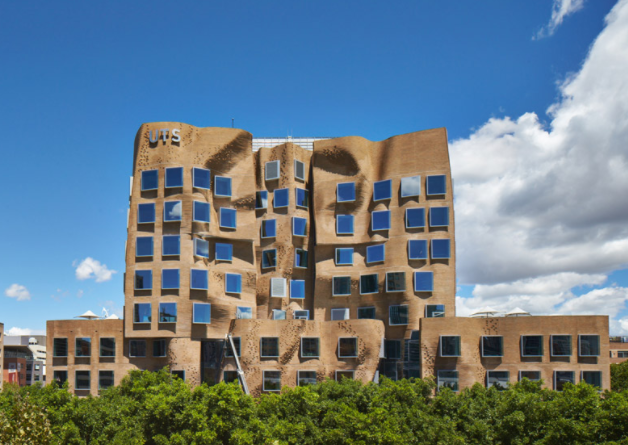 Craig Lord on DR CHAU CHAK WING SCHOOL OF BUSINESS
Designed by Internationally acclaimed architect Frank Gehry, the building's remarkable exterior is the result of its two distinct facades – one composed of undulating brickwork, referencing the dignified sandstone of Sydney's urban heritage, and the other of a glass 'curtain wall' that mirrors fragments of the building's contemporary city surrounds.
Craig Lord is General Manager of the Frank Gehry-designed Dr Chau Chak Wing Building – now home to the UTS Business School. He has extensive experience in new business development and implementation, marketing, organisational change, performance turnaround and human resource management.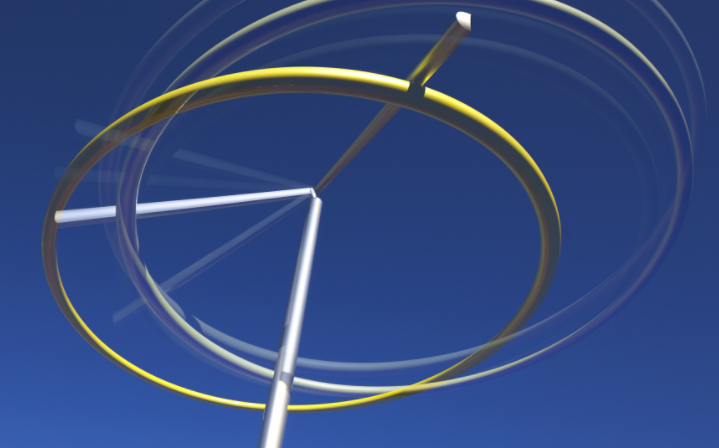 Jennifer Turpin on HALO
Jennifer Turpin leads the award winning public art practice, Turpin + Crawford Studio, with fellow artist, Michaelie Crawford. Their work focuses on the design and production of site-specific artworks in the public domain, creating pieces at the interface of art, science, nature and the built environment. They have participated in multidisciplinary design teams and have worked collaboratively on projects in Sydney, Melbourne, Brisbane and Singapore.

In 2012, Turpin + Crawford designed and created HALO at Central Park - a wind activated kinetic sculpture. Turning and tilting with the energy of the wind, Halo hovers in finely tuned counterbalance. The structure consists of a giant, glistening tapered yellow ring measuring 12 metres in diameter attached to a 6 metre long silver arm.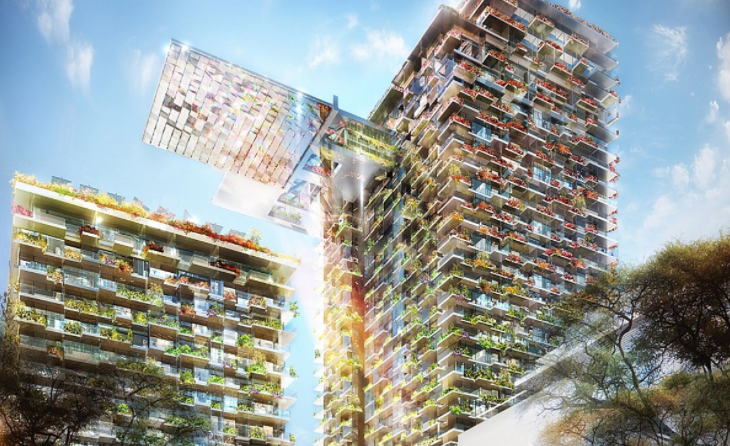 Ben Green on CENTRAL PARK
Ben Green has been a director of Tzannes since 2013. Ben was instrumental in the company's development and research for Central Park, Alec Tzannes describes the company's involvement in the project as "an opportunity to blend new and old architecture – a brief from heaven.." For Tzannes, Ben leads on the research, integration and development of the practices CAD systems and its technologies for visual communication.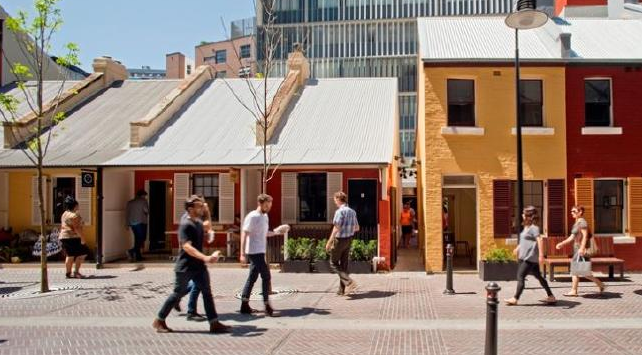 Tim Greer on KENSINGTON STREET
16 heritage listed terrace houses that were homes of brewery managers in the past have been converted by Tonkin Zulaikha Greer Architects for Greencliff into this iconic Sydney street that houses several restaurants, a hawker style area, salons, shops, bars and hotels. Tim Greer, founder of Tonkin Zulaikha Greer has an interest in existing urban fabric and the cultural elements it embodies, treating each project as an individual opportunity to create fresh contemporary forms. His extensive experience includes the fields of theatre design, retail, acoustic control, restaurants, housing, industrial design and institutional building.Recent multi-award winning projects under Tim's directorship include Carriageworks at Eveleigh: Contemporary Performing Arts Centre; Scots Church Redevelopment Apartment Building known as 'Portico'; The Paddington Reservoir Gardens, Cloudy Bay Shack and The Glasshouse Arts Conference and Entertainment Centre.
Chippendale Creative Precinct is a not for profit organization that curates key cultural experiences in Chippendale, the creative heart of Sydney. Through the Explore Chippendale: Architecture Walking Tour we hope to bring together the minds of Sydney's leading designers, engineers and architects behind Chippendale's structural rejuvenation.
Chippendale Creative Precinct is excited to collaborate with the University of Sydney School of Architecture, Design and Planning Alumni Association for the first time on this exciting tour. Through this partnership, CCP aims to celebrate the creative spirit of Chippendale and showcase Chippendale's world class architecture to the University of Sydney alumni network and beyond.