Join us as we come together to care for local waterways and discover the wildlife at this beautiful site!
About this Event
It's time to discover who or what lives at School House Creek and get your green thumbs out to help our new plants after the break!
School House Creek is a little haven for wildlife in Penrith. Last year volunteers planted 250 plants to restore the banks and bushland of the creek, tested water quality, remove weeds around our new plants. After the break the weeds have sprung and we need help managing them to give the new plants a chance to grow.
In the morning we will have a short guided walk by Adrian from Cumberland Plain Restoration, through the creek to discover more about the native wildlife in the creek and learn how this ecosystem works.
We will then spend some time caring for the 250 new plantings and bushland, watering, weeding, testing water quality and checking how much they have grown.
Morning tea will be provided in the shade.
See you there!!
To stay up to date on future events follow Penrith Landcare and Bushcare on Facebook. Any questions about this event or HNLN, please contact the Local Landcare Coordinator at landcare@hrcc.nsw.gov.au.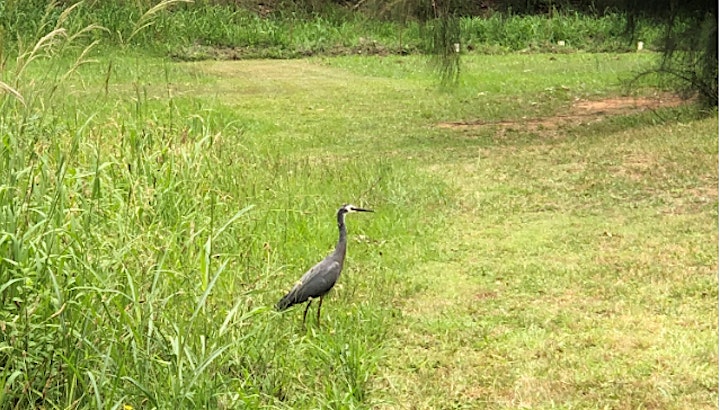 These events will be run by Hawkesbury-Nepean Landcare Network (HNLN) with generous funding and participation from OzFish Unlimited (Hawkesbury Nepean Chapter), Hawkesbury-Nepean Landcare Network (HNLN) and Penrith City Council's Bushcare.
We implement Covid-safe measure, encourage good hygiene and social distancing. Please stay home if you are feeling unwell or have come in to contact with anyone found positive for Covid in the last 14 days.
Above: White faced Heron
More about School House Creek:
School House Creek is connected to the Nepean River and is downstream from Glenmore Loch, with the River Flat Eucalypt Forest adjacent to the creek playing an important role for filtering urban runoff and reducing erosion, and sedimentation of the watercourse. The new shrubs and tress we planted last year will increase invertebrate numbers that provide food for native fish in the waterway while also providing shade.