Speakers: Georgie Pinn & Robert Walton
About this Event
This month's artists are encouraging audiences to step into someone else's shoes through performative art-making and live interactive practice. Incorporating elements of facial tracking technology, responsive animation and interactive app design, both artists invite individuals to drive their own experience and explore new narratives. By mixing the physical with the digital, these unique works are provoking a deeper understanding of the self and of others.
Georgie Pinn's interests are in immersive, interactive practice. Her award-winning work 'ECHO' is an interactive installation that uses facial tracking technology, animation and sound to explore notions of empathy and shared identity. Her parallel project, 'Z-Access', explores the design and facilitation of immersive technology based education programs that diversify participation and explore unique forms of expression through interactive animation, light and sound.
Robert Walton's practice expands traditional notions of theatre, with recent projects including Vanitas, an artwork for smartphones and cemeteries, and 'Child of Now', a new project about the mass imagining of the next century incorporating innovative scanning techniques, virtual and augmented reality, and performance that will be co-created with contributions from 15,000 Victorians.
Georgie Pinn has 2 decades of experience working as an artist, director and producer of public cultural events, interactive installations, film, fashion, animation, theatre and sound.
Her creative practice is underpinned by her long-term research into empathy as a creative force for making connection across cultural, age and gender divides.
Her projects have been presented in a range of international sites/events such as Ars Electronica(Austria), Federation Square, drive (berlin), Robotronica, WhiteNight, The Cube, ISEA (africa), Pause fest, the MCG and sheffield doc fest (UK).
Her parallel project, Z-Access, explores the design and facilitation of immersive technology based education
programs that diversify participation and explore unique forms of expression through interactive animation, light and sound.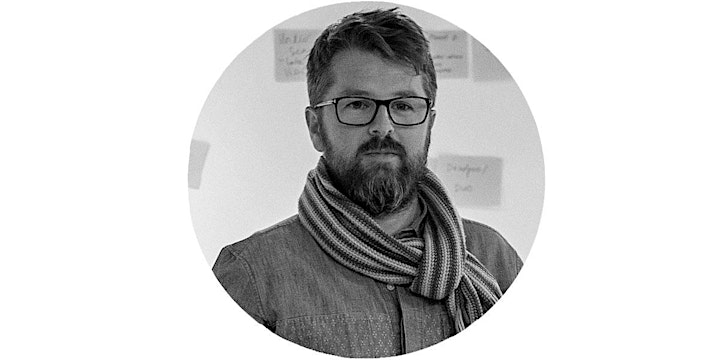 Robert Walton (Aus/UK) is a conceptual, media and performance artist whose work includes theatre, choreography, installation, writing and interactive art. Over the last two decades he has led interdisciplinary teams around the world fostering new forms of expression and creating extraordinary artworks that defy easy categorisation. Robert trained as a theatre maker at Dartington College of Arts (England) and as a technologist in The University of Glasgow's Master of Science in Information Technology (Software and Systems) programme. Robert co-founded two Scottish arts organisations, Reader Performance Group (2001-5) and Fish & Game (2005–), his work has been presented in the UK, USA, Europe and Australia. In 2004 he created the world's first social networking site for artists with New Work Network funded by Arts Council England.
In 2010 he co-created the world's first piece of iPad Theatre, Alma Mater funded by Creative Scotland. He moved to Australia in 2011 to join the Theatre Department at the Victorian College of Arts, University of Melbourne. Robert co-curated the Australian dance and performance works for Culture 2014, The XX Commonwealth Games (Glasgow). In 2015 Robert initiated In Your Hands, a three-year project with four teams of artists and app developers funded by The Australia Council's Digital Theatre Initiative. He is the co-creator of Vanitas with Jason Maling, nominated for best Art and Experimental Mobile App at the 2018 Webby Awards and two 2019 Greenroom Awards. In 2018 Robert was the Australia Council Artist in Residence at Blast Theory (UK). In 2019 he was commissioned by the City of Chicago to create a new work for the Year of Chicago Theatre Festival through a series of residencies including being the Jackman Goldwasser Resident Artist at Hyde Park Arts Center and developing the final performance in residence at Chicago Cultural Center. He is currently seconded to the University of Melbourne's Faculty of Engineering, School of Computing and Information Systems as artist in residence to develop Child of Now, a public art work of scale.

Experimenta Social is a series of talks, discussions and demos designed to provide proximity to some of Australia's most adventurous contemporary artists, researchers and creative technologists.
This artist-led series is curated by Experimenta Media Arts explores practices at the nexus of art and technology, science, culture and design. You will hear from artists sharing their latest projects and researchers presenting projects that grapple with the concerns of our time. Beyond inconsequential debates over the role of media arts in a post-media world, Experimenta Social will combine activated audiences drawn from contemporary art, social research, electronic art and non-professional spheres for lively debate and discussion. Free drinks and refreshments are available.
Experimenta Social is a free event, taking place every third Wednesday of the month. 21 August, 18 September, 16 October, 20 November 2019
www.experimenta.org/experimenta-social
Experimenta Social is presented in partnership with ACMI X, and supported by Marc Besen AC and Eva Besen AO.
ACMI X - VENUE ACCESS:
The venue is wheelchair accessible. Enter the Australian Ballet Centre building from Kavanagh St, into a lobby with elevators. Take the elevator to Level 4. ACMI X is further up the corridor and on the left. Amenities with wheelchair access are available on Level 4. There is on-site parking with elevator access.
Alternatively you can also get to ACMI X via St Kilda Rd, across the pedestrian bridge behind Arts Centre Melbourne to Australian Ballet Centre. ACMI X is located immediately to the right of the entrance.
For more info on how to get there, visit: https://www.acmi.net.au/acmi-x/#location
Please note that your email address will only ever be used to communicate with you regarding Experimenta Social events. Your information is strictly confidential and will never be shared with any third party organisations.
Image Credit: Still captured from Georgie Pinn's interactive installation 'ECHO'