EXPERIENCE THE WIM HOF METHOD WEEKEND IN MELBOURNE. Don't Miss Your Chance to Gain the Amazing Health & SUPER HUMAN Performance Secrets.
About this event
Don't Miss Your Chance to Gain the Amazing Health and Innovative Super Human Performance Secrets with Sam Javed (Head Of Wim Hof Method in Australia & Certified WHM Instructor)
✔️𝙃𝙚𝙖𝙧𝙙 𝙊𝙛 𝙒𝙃𝙈 ✔️𝙎𝙖𝙬 𝙏𝙝𝙚 𝙑𝙞𝙙𝙚𝙤𝙨 ✔️𝘿𝙞𝙙 𝙏𝙝𝙚 𝘽𝙧𝙚𝙖𝙩𝙝𝙞𝙣𝙜 ✔️𝙒𝙃𝘼𝙏𝙎 𝙏𝙃𝙀 𝙉𝙀𝙓𝙏 𝙇𝙀𝙑𝙀𝙇. Super Natural Powers Of Mind & Body
A Special and Life Mastering Live In "One Weekend " Learning Experience In Victoria
From Saturday 19th FEBRUARY ( 9.am ) to Monday 21st FEBRUARY ( 7.am) 2022 - Very Limited Places Available
Does it feel like your world has gotten smaller in the past year?
Do you feel like you've stopped allowing yourself to think ahead, plan for your future, or even dream about what you might want next for your life?
You're not alone.
These uncertain times have put most of us in defense mode: How do I safeguard what I have? How do I avoid too much loss? How do I keep myself safe?
But the time is NOW to go on offense.
It's time to stop wondering what's going to happen next and begin CREATING THE LIFE YOU WANT, starting TODAY.
On November 19-21st 2022, I want YOU to join me for the WIM HOF Method Weekend retreat in Victoria
Over the course of 2 magical days, I'm going to hand you the same proven tools and life-changing process of the Wim Hof Method that has transformed thousands of lives. For over a decade that I spent learning, teaching all over the world with Wim Hof The ICEMAN himself.
You'll get content customized and contextualized for this unprecedented time, so you can transform your life, too.
Just like it has for so many individuals like you, The Wim Hof Method Retreat can help you now, more than ever, to…
⭕ Reframe your losses, reclaim your strength, and transform your story into something beautiful
⭕ Create a new Blueprint for Happiness
⭕ Workshop goals and establish rituals that will set you up for an incredible future
⭕ Use these challenging times as an opportunity to pivot in ways you've always wanted to
⭕ Build an incredible peer group of like-minded people all over the world to support you along your journey
⭕ Discover the secret to being HAPPY, HEALTHY & STRONG every day, regardless of your circumstances
⭕ Claim your Core Confidence once and for all, and learn a process that you can take with you after the Retreat and replicate over and over, to get the same transformational results on your own.
Over the course of 2 immersive days together, you'll experience:
daily coaching with me
life-changing BREATHING SESSIONS, visualizations
in-depth Q+A sessions with me
daily workouts and yoga with world-famous ICE BATH
powerful gratitude sessions led by me in person and much more
A Proven Process to Achieve Your Dreams in a Time of Uncertainty
𝐅𝐫𝐢𝐞𝐧𝐝, 𝐈 𝐝𝐨𝐧'𝐭 𝐡𝐚𝐯𝐞 𝐭𝐡𝐞 𝐚𝐧𝐬𝐰𝐞𝐫𝐬 𝐚𝐛𝐨𝐮𝐭 𝐰𝐡𝐚𝐭 𝐰𝐢𝐥𝐥 𝐡𝐚𝐩𝐩𝐞𝐧 𝐢𝐧 𝐭𝐡𝐞 𝐟𝐮𝐭𝐮𝐫𝐞. 𝐁𝐮𝐭 𝐈 𝐃𝐎 𝐡𝐚𝐯𝐞 𝐚 𝐩𝐫𝐨𝐜𝐞𝐬𝐬 𝐭𝐡𝐚𝐭 𝐢𝐬 𝐭𝐞𝐬𝐭𝐞𝐝 𝐚𝐧𝐝 𝐩𝐫𝐨𝐯𝐞𝐧 𝐭𝐨 𝐠𝐞𝐭 𝐫𝐞𝐬𝐮𝐥𝐭𝐬 𝐢𝐧 𝐚𝐧𝐲 𝐬𝐞𝐚𝐬𝐨𝐧 𝐨𝐟 𝐥𝐢𝐟𝐞. 𝐎𝐧𝐞 𝐭𝐡𝐚𝐭 𝐰𝐢𝐥𝐥 𝐚𝐥𝐥𝐨𝐰 𝐲𝐨𝐮 𝐭𝐨 𝐧𝐨𝐭 𝐣𝐮𝐬𝐭 𝐬𝐮𝐫𝐯𝐢𝐯𝐞 𝐭𝐡𝐢𝐬 𝐬𝐞𝐚𝐬𝐨𝐧 𝐰𝐞'𝐫𝐞 𝐢𝐧, 𝐛𝐮𝐭 𝐭𝐨 𝐥𝐞𝐯𝐞𝐥-𝐮𝐩 𝐲𝐨𝐮𝐫 𝐥𝐢𝐟𝐞 𝐚𝐧𝐝 𝐚𝐜𝐡𝐢𝐞𝐯𝐞 𝐲𝐨𝐮𝐫 𝐝𝐫𝐞𝐚𝐦𝐬 𝐍𝐎𝐖 𝐰𝐢𝐭𝐡𝐨𝐮𝐭 𝐰𝐚𝐢𝐭𝐢𝐧𝐠...
Overcome overwhelm, unleash your core confidence, expand your world, and build a remarkable life. You'll get every tool and all the support you need at The Wim Hof Method Weekend Retreat. And I'll be your partner, there for you every step of the way.
👉 Claim your seat NOW and I'll see you on November 6th!
ALL INCLUSIVE-ACCOMMODATION & FOOD INCLUDED IN THE TICKET PRICE
If You Only Ever Did One Training Your Whole Life This Should Be It
• Boost Your Immune System to Bulletproof Yourself Against Sickness
• Become A "Super" Version of Yourself
• Learn Ancient Techniques in Combination with Modern Cutting Edge Strategies
• Increase Your Health and Well being
• Hack Your Body to Feel Energized During the Day, While Sleeping Like a Baby At Night
Medically Verified and Validated
The Wim Hof Method Is Based On Powerful Pillars
COLD THERAPY
Learn how to tap into the power of the "cold" to burn fat, boost your immune system, improve sleep quality, increase hormone levels, reduce inflammation and increase the "feel good" chemicals in the brain called endorphins (nature's own mood boosters).
BREATHING
The majority of us breathe shallow throughout the day resulting in ill health and low energy levels. The scientific breathing techniques you will learn in this course will significantly improve your energy levels, detox the body and release toxins, relieve stress and tension, and strengthen your immune system.
COMMITMENT
The techniques within the cold and breathing effectively need commitment. With this you can go into any depth of your physiology. It is your choice now.
Sleep Like a Baby
Reduce Inflammation
Boundless Energy Levels
Feel More Creative
Reduce Your Stress Level
Mood Improvement
Recover Faster
Burn Fat
Enhance Athletic Performance
For Health and Healing Nothing Can Match The Wim Hof Method
Backed By Valid Scientific Research
Some of What You Will Learn In This Training:
How to Train your cardiovascular system for better blood flow and circulation
How to Use the power of cold water to maximize your energy levels
How to Lower your heart rate, banish stress and feel more relaxed
How to Build courage as you embrace and overcome the fear of the unknown
How to Get rid of cold hands and feet
How to Experience deeper higher quality sleep at night & awaken full of energy
How to Boost your immune system, feel stronger, and become an enhanced version of yourself
Power Breathing Exercises
How to Reach profound levels of relaxation and peace of mind
How to Feel energized and full of life within minutes
How to Boost your body's alkalinity and reduce inflammation for super fast recovery
How to Release nature's own "Prozac" AKA "happy hormones" through deep breathing techniques
How to Experience deep meditative states of mind quickly and easily
How to Get rid of stress and relieve worries
How to Get a flexible, lean, and strong body
How to Optimize the blood flow throughout your muscles and joints
How to Improve flexibility, strength, balance, and posture
Learn specialized exercises to "hack your body" for deep inner and outer physical, mental, and emotional growth
How to Activate the body to free the mind and experience deep inner peace
How to alleviate physical blockages that may have been draining your energy and causing sickness.
This two-day, in-depth session will be jam-packed with insights, scientific explanations and advanced techniques to help you master the groundbreaking breathing, focus, and cold adaptation techniques to increase vitality, control stress, influence the immune system, and uncover the hidden abilities of your physiology. An incredibly simple yet effective and scientifically proven way to unleash your personal potential. If you have completed one of the Wim Hof Method video courses, and have been practicing on your own, this Weekend will provide answers to your questions, questions to your answers, and take you to the next level.
Everybody can participate at their own level; no pressure, just a lot of fun! The weekend will challenge your beliefs and conditioning whether you are looking to achieve a high level of human performance, relieve symptoms related to an illness, or are just curious to find out what the Wim Hof Method is all about.
WHAT YOU GET
Accommodation at Iluka Eco Retreat 20 Shoreham Rd, Shoreham VIC 3916
Daily WHM Breathing Sessions
Daily Ice Bath Sessions
One On One Sessions
Group Hypnosis Session And Free Hypnosis Mp3 Valued At 49$
Hiking In Nature
All meals Included
Work Shop Hand Out On WHM For Future Reference
Book The Journey Of The Ice Man
Chapter 22 Biology Now
Access To Official WHM Facebook Group
Two Day's Program
09.00-10.00 Meet and Greet
10.00-10.30 Introduction -Breath Mechanics and Dynamics
10.30-11.30 Breathing through Blockages
11.30-12.00 Yoga and Flexibility Exercises
12.30-13.00 Natural Movement
13.00-14.00 Healthy Lunch ( Vegan and Gluten Free Options Available )
14.30-16.00 Big Hike In Nature
16.00-17.00 Mindfulness & Mental Preparation
17.00-18.00 Cold Exposure / Ice Bath
18.00-19.00 Q & A
19.00-20.00 Healthy Dinner ( Vegan and Gluten Free Options Available )
ABOUT SAM JAVED
As a Professional Clinical Hypnotherapist, I am dedicated to helping people improve their lives and shape their future. Since discovering the Wim Hof Method in 2010, I've come to understand that I have found a method that will not only help me improve the lives of my patients and those around me, but also my own life. First one out of Australia and Asia to learn from Wim Hof in person. I have travelled to all corners of Australia with the ICE MAN organizing events, yes taking part in ice baths and breathing exercises and learning the secrets to a happy, healthy life from the master himself. I am honoured to be the driving force behind the introduction of WHM to Australia and have started many other initiatives and programs to further the intellectual reach of the Wim Hof Method including research. Since my introduction to the Method, it has become an integral part of my life. Practicing the method every day is now an essential part of my daily routine and a crucial aspect of my therapeutic practice. Enough about me; I want to meet you and share with you what I have learned over the decade from the Man himself.
What Can You Expect From The Weekend retreat?
You'll unlock the potential of your body and mind by mastering the techniques of the Wim Hof Method. You'll literally become a 'super' version of yourself by improving your immune system and energizing your body. You'll notice improvements in all aspects of your day-to-day life. I have more than 10,000 hours of experience in influencing human behavior, coaching, and training people of all ages.
Who Should Attend?
Everyone can benefit from attending one of my Wim Hof Method programs. Health practitioners and therapists of all types will gain further insight into treatments. Sports performance coaches and athletes will unlock their potential, and anyone who wants to get more out of life will be entirely transformed by the Method. This weekend is designed for practitioners who want to deepen their practice and get out of their comfort .
Can Any One Come Along ?
While all activities require a basic level of fitness, you don't need to be an elite athlete to take part. We all take each activity at our own pace and no one will be left behind. No previous experience or training is required.
Extra info
Always feel free to e-mail me, in advance or afterward, with any questions you may have
Should you have any physical ailments, please contact me in advance
With pregnancy, we always advise starting with the method after giving birth
The breathing exercises work best on an empty stomach. You can have a good breakfast, but it's advisable to eat lightly in the morning.
Pre cold shower training is strongly advised
WHAT OTHERS ARE SAYING
Josh Komen
Sam's passion and enthusiasm for the Wim Hof Method is infectious his welcoming approach helped me to meet Wim Hof himself. As Sam has spent a lot of personal time with Wim he has all the attributes to go deep into one's self and find strength Heath and happiness we all deserve. I have had leukemia twice and had a bone marrow transplant Sam and his deep connection with the body and the Wim Hof method has allowed me to heal from the inside out. I have practiced deep meditation and breathing followed by an ice bath in one to one sessions with Sam his calm manner allowed me to get the best from his guided practice I highly recommend Sam as an instructor for anyone in pain a serious illness and or to get the best from themselves. Not many instructors have spent the one on one time with Wim Hof as Sam has. And a class teacher.
Sports Man Ranked no 1 in New Yes Zealand For 800 Meters and Silver Medalist in 2011 before a diagnosis of Leukemia. Author Best Seller Wind at my Back
Dr Marc Cohen
"I owe extreme gratitude to Sam for introducing me to Wim Hof: First by telling me about him with such detail and passion that I was compelled to wade through the plethora of online information on him and begin to practice the Wim Hof Method; and then by way of a dinner invitation where Wim and I hit it off and began a deep friendship and research collaboration.
Since then I have attended many workshops and events with Sam and have been continually impressed by his ability to hold space and his passion for sharing the Wim Hof Method with people of different ages and backgrounds. Sam has a talent for focusing people's attention and together with his hilarious dry wit, he is able to put people at ease and guide them through transformative processes that leave them buzzing and hungry for more.
As Australia's first accredited Wim Hof Method Instructor, Sam is well-placed to introduce thousands of people to Wim Hof and his Method and I have no hesitation in recommending people attend one of Sam's workshops or see him for private sessions."
MBBS(Hons), PHD, BMedSc(Hons), FAMAC, FICAE School Of Health and Biomedical Sciences RMIT University.
Therese Kerr
Wim Hof is an extraordinary man and standing beside him supporting him and everyone in their own health journey is Sam, Australia's leading Wim Hof Method accredited practitioner. Join Wim Hof and Sam as they take you on a deep spiritual journey that will have you understand how incredibly powerful and resourceful you are Truly a life-changing, transformational experience.
International Public Speaker. Organic Industry Leadership Award Winner. Wellness Ambassador. Visionary.
Experience: I have been involved with the Wim Hof Method since 2010
Qualification: I have attained Instructor level training in the Wim Hof Method, and have progressed to a point where Wim has appointed me as the program's Instructor and Head of Wim Hof Method in Australia and New Zealand
Approach: As a qualified Clinical Hypnotherapist, I bring a unique approach to the Method working with the mind-body connection.
Participants describe the training experience as life-changing, safe, fun and effective.
WHAT TO BRING
- Open heart & mind
- Deep dive motivation
- Your musical instrument if you like and bathers!
Right now, I am making time available to speak to you to talk you through the Retreat and answer any questions you may have.
Even if you end up deciding that now is not the time to attend the Retreat, I can promise that the call itself will be worthwhile to help you clarify your goals. 𝗗𝗲𝗰𝗶𝗱𝗲 𝗡𝗢𝗪 𝘁𝗼 𝗳𝗶𝗻𝗱 𝗼𝘂𝘁 𝗶𝗳 𝘁𝗵𝗲 𝗥𝗲𝘁𝗿𝗲𝗮𝘁 𝗶𝘀 𝗿𝗶𝗴𝗵𝘁 𝗳𝗼𝗿 𝘆𝗼𝘂, 𝗮𝗻𝗱 𝗿𝗲𝘀𝗲𝗿𝘃𝗲 𝘆𝗼𝘂𝗿 𝗳𝗿𝗲𝗲, 𝗽𝗿𝗶𝘃𝗮𝘁𝗲 𝗽𝗵𝗼𝗻𝗲 𝗰𝗮𝗹𝗹 𝘄𝗶𝘁𝗵 𝗺𝗲 𝗼𝗻 𝟬𝟰𝟬𝟰𝟯𝟬𝟭𝟯𝟬𝟲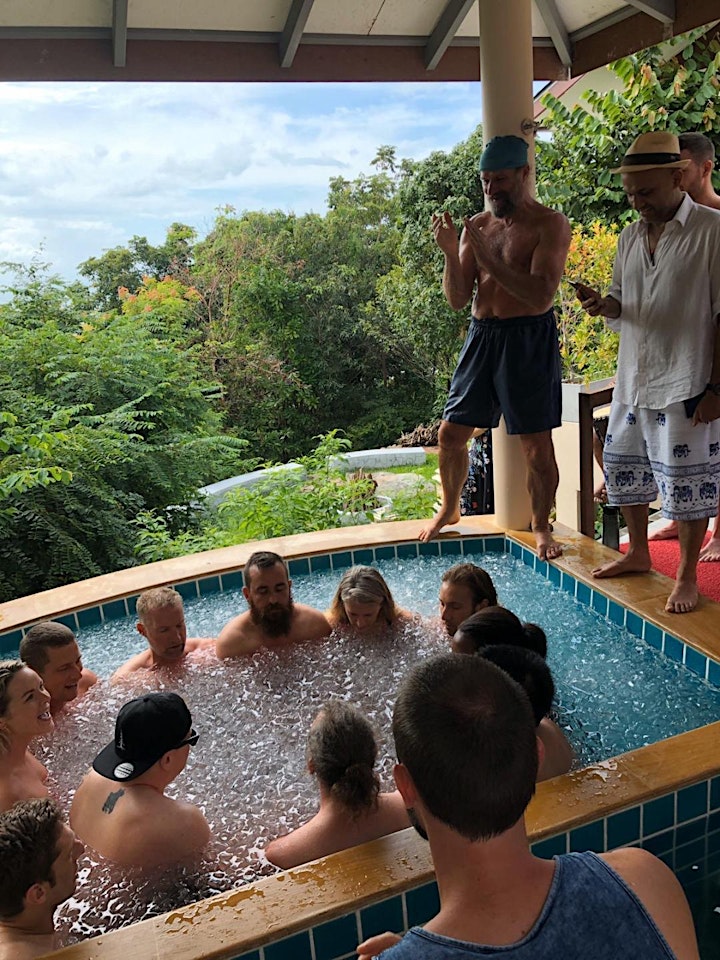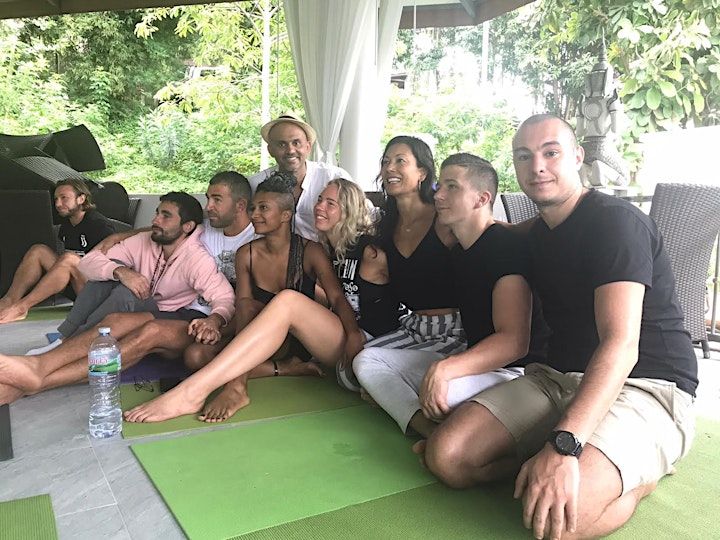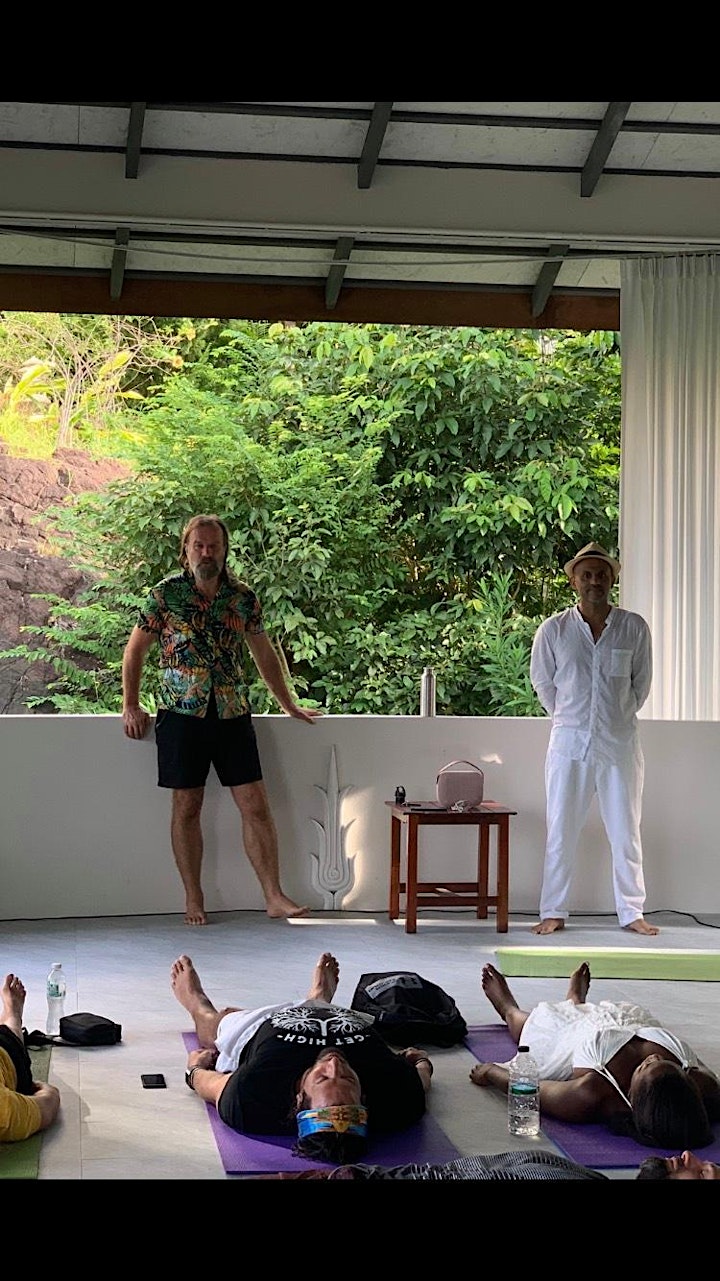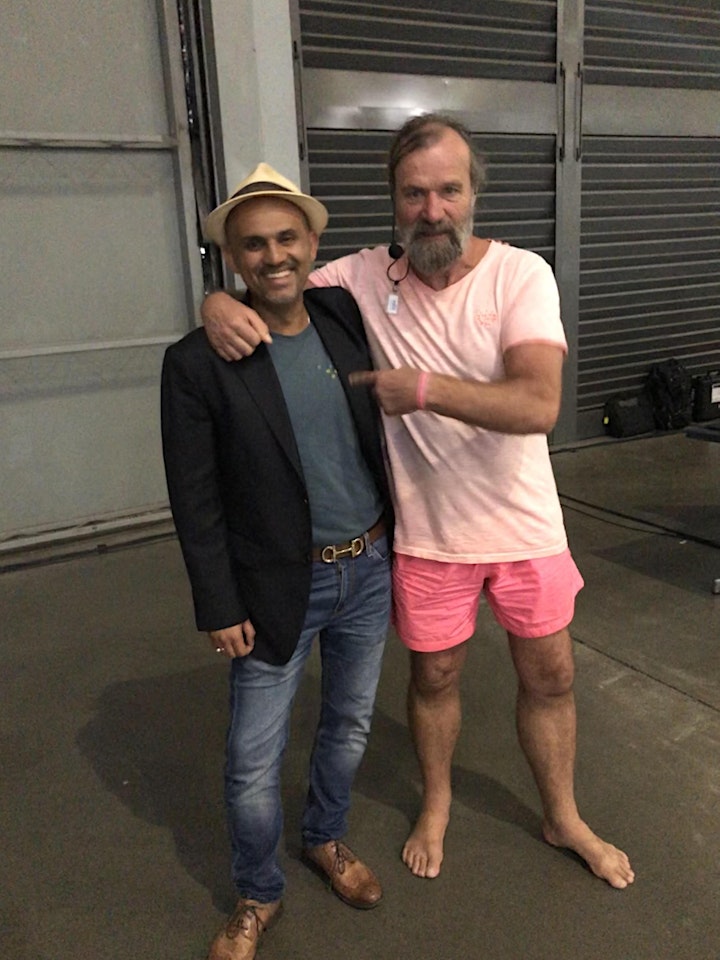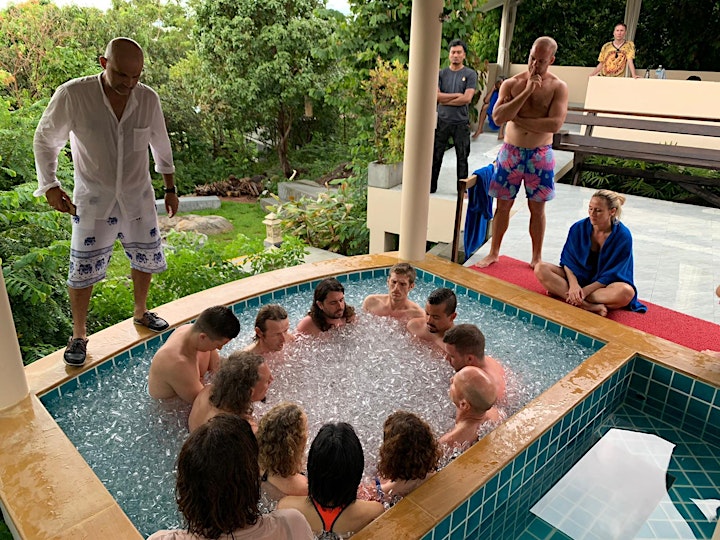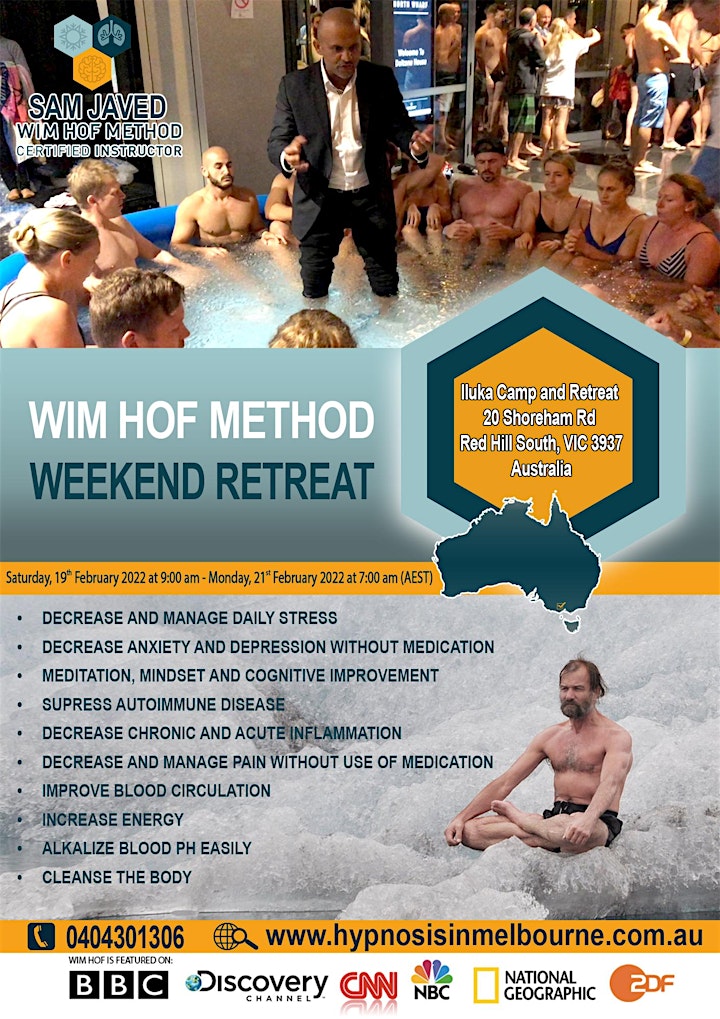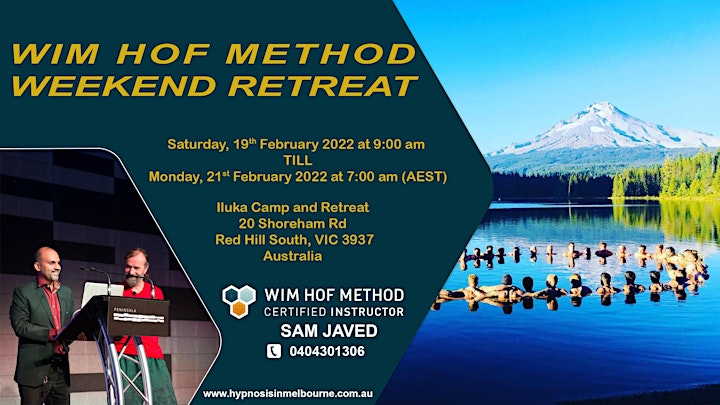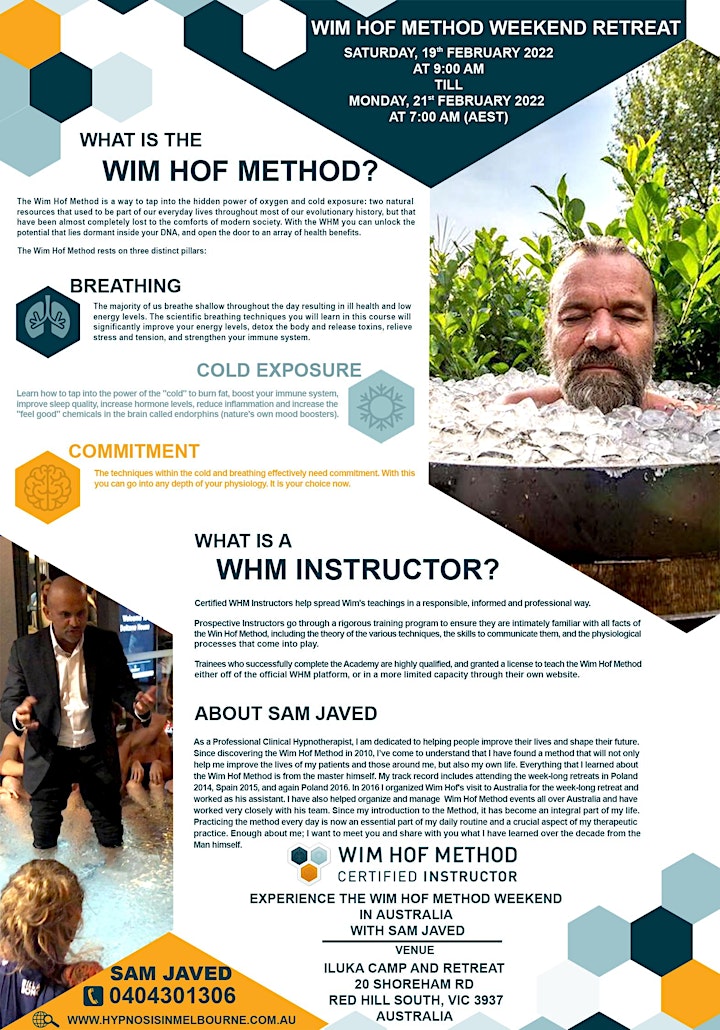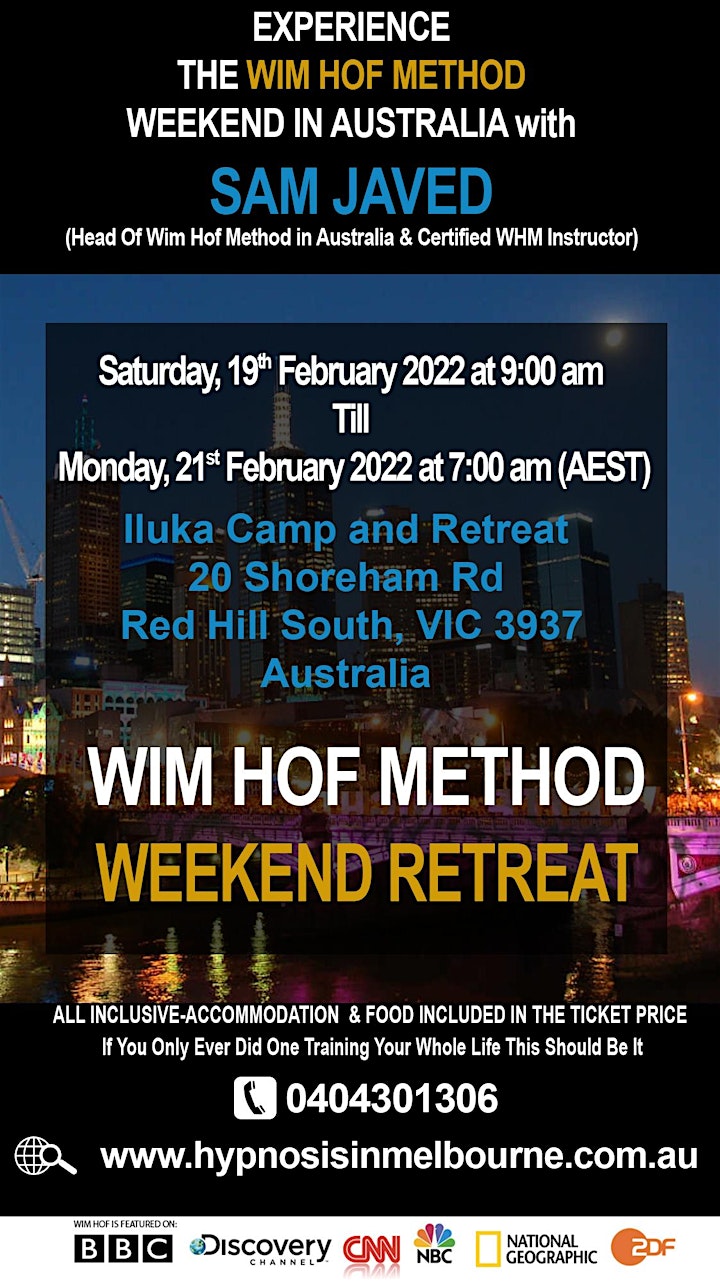 Organiser of EXPERIENCE WIM HOF METHOD WEEKEND VICTORIA 19-21st FEB with SAM JAVED
You're probably wondering, who is Samir Javed and how did I come about organising Wim Hof Method Work shop in Australia  Let me tell you a little bit about myself.  

I live in St-kilda Melbourne Australia. I'm a Professional Clinical Hypnotherapist and have accumulated vast experience in the fields of, Hypnotherapy, Counseling, Mesmerism, and Neuro Linguistic Programming.I've worked with thousands of individuals, one to one and in groups, showing them how to swiftly change their life. I'm certain that I have learned most of what I know from my clients as they've allowed me to be a part of their journeys. I'm a Member and Graduate of the Academy of Hypnotic Science with recognized and Govt accredited hypnosis qualifications. I have also qualified as a Master NLP (Neuro Linguistic Programming) trainer . I have attained my certificate of Advance Mind Dynamics from The Australian Academy of Hypnosis which specializes in the areas of hypnosis for the treatment of cancer symptoms, pain and psycho-somatic illness. I have also mastered the techniques of Magnestista junior, Magnetista Emeritus, and Quantum Physiology from Nice France and Turin Italy. 
Some of my Credentials 
Bachelor Of Business (Banking & Finance) Monash University 
Bachelor Of Arts (Economics & Statistics)     University Of Punjab
Diploma (Marketing & Management)              Victorian Institute Of Technology
Diploma Of Clinical Hypnosis                             Australian Academy Of Hypnosis
Certificate Of Hypnotherapy                              Academy Of Hypnotic Science
Certificate Of Counseling                                     Academy Of Hypnotic Science
Certificate Of Advance Mind Dynamics.      Australian Academy Of Hypnosis 
Magnetista Emeritus, Mesmerismus, Quantum Physiology Techniques Practitioner  Nouvelle Societe  de l Harmonie
Certified NLP Master Practitioner.                International Institute Of NLP
Reiki – Level I & II                                               The Institute Of Mind Sciences
First Aid Level Two                                              Box Hill TAFE
Associate member NIA                                       National Institute Of Accountants
Associate member                                                Academy Of Hypnotic Science
Associate member                                                The Australian Academy Of Hypnosis
HOWEVER WHAT I LEARNED FROM WIM HOF METHOD IN A FEW DAYS FAR EXCEEDS ANYTHING THAT I HAD LEARNED OVER MY LIFETIME
I came to know of Wim Hof in 2009 whilst studying ancient Budhism techniques for meditation , A mutual  friend introduced us and we became friends and started communicating via email, Wim was kind enough to send me a draft of his book Becoming the Ice Man, I went to Europe in 2010-11 to learn his method , but unfortunately he was not teaching the method at the time as he was too busy breaking World records , luckily his son Enahm took the initiative and organised a retreat in Poland , so I went to see Wim Hof from Melbourne Australia in October 2014 , to help over come a frozen shoulder that needed surgery and chronic Hay fever ( Rhinitis ) , after over a year I can comfortably move my shoulders with out pain, the muscles around the neck are a lot more relaxed and have a lot more energy, I am really grateful that I had the opportunity to learn the Wim Hof Method in person , over the years I have worked with thousands of clients and highly recommend this method for any one that is seeking a better mind body connection, or just want to improve the quality of life or just change some old unwanted habits.
Since then I have been to Poland one week intensive Retreat twice 2014, 2016. Spain one week retreat in 2015, and have hosted two one week retreats in Melbourne in 2016. I have spent considerable time with Wim and traveled across Australia on various adventures, he is not a guru like many people would assume , he is just ordinary man with extra ordinary determination to help others.
This is what I gathered from my experience  spending time with Wim Hof over the years , some thing you guys can experience in person in with out leaving Australia and saving thousands in travel costs .
Control over your inner nature
Wim Hof is an autodidact and taught himself how to control his heart rate, breathing and blood circulation. All these functions are regulated by the autonomic nervous system. Science tells us that the autonomic nervous system cannot be influenced by your own will, yet Wim manages to, by steering his hypothalamus (area of the brain that regulates the body temperature). Whereas the body temperature of an untrained person drops dangerously after exposure to extreme cold, Wim is able to maintain his core temperature constantly at around 37 degrees Celsius. Even after  sitting 1 hour and 52 minutes in ice, Wim's core temperature stayed the same. Scientists around the world were baffled by this exceptional performance. In the Netherlands, Prof. Maria Hopman of UMC St Radboud Nijmegen examined Wim's physiological response as he was affected by the cold, being up to his neck in a cylinder filled with ice cubes.
26 Guinness World Records
The Guinness World Record Ice Endurance feat, set at 1 hour and 52 minutes, is not Wim's only World record.  He set 26 Guinness World Records with the most exceptional and unique performances.
Through his exercises and workouts, Wim has achieved the following:
running a marathon on sandals above the Arctic circle wearing only shorts
running 1/2 a marathon barefoot above the Arctic circle wearing only shorts
officially swam under ice for 66 meters, unofficially swam under ice for 120 meters with one breath
free climbing
hanging on one finger at an altitude of 2000 meters
climbing the highest mountains on earth in only shorts
heat tests with a constant body temperature
Full marathon in the Namib desert without water consumption
All of this may seem superhuman, but Wim remains to persevere: "What I am capable of, everybody can learn".
By the time Wim reached his teenage years, he was already running barefoot through the snow, comfortably.. It was the beginning of a large series of confrontations with the cold, where every single time, limits were tested, stunning the outside world. Wim Hof (born 1959) is able to perform exceptionally, almost unnatural, on what he is focused on. Worldwide, there are people bending themselves backward over this case, especially in the scientific field. According to Wim, it's not complicated at all: WHAT I AM CAPABLE OF ANY ONE CAN LEARN !
Love 
Samir Javed