Description


Stirling Business Centre, managed by Stirling Business Association, is about providing you, the small business owner, with the necessary skills, support and connections so you can have the right focus and mindset to develop your business.
In recognition of this month's WA Small Business Day and to acknowledge the efforts of small business owners, Stirling Business Centre in Balcatta welcomes you to our Experience | Learn | Explore Open Day on Friday 26 October.
The centre will be buzzing as we welcome you to experience the work we do to help business owners achieve their business dreams, learn some valuable skills by attending one or more of our three high intensity workshops below and explore the centre as we show you around the different spaces you can utilise. Drop ins for a tour are welcome at any time.
There will be some prizes and giveaways so be sure to bring your business cards to get involved and connect.
---
9:30am - 10:15am - Where do you focus to grow your business?
---
When was the last time you reviewed the health of your business? Are you struggling to cut through the clutter to determine those high priority strategies that will achieve your goals?
Don't wait for the 'right time' to review your performance. Too often we spend months getting ready, only to have opportunities pass us by while growth and profit continue to stagnate. Join us for a highly productive 45 minute intensive session in our Initial Business Review. You will walk away with powerful insights on where to focus your energy in your business that will make a real difference, providing you clarity and focus.

In this session you will:
Use key business diagnostics to conduct a review of your key growth and profit improvement opportunities
Clarify where your business is now
Discuss your goals and vision for the business
Resulting in clear, practical outcomes for your business success:
Walk away with clarity on where to focus your activity to grow your business
Gain clarity as to your priorities
---
10:30am - 11:15am - How can you significantly increase the probability of realising business growth?
---
What is holding you back from achieving significant business success? What could prevent you from achieving the results you want and deserve? For many business owners and leaders it is their ability to successfully implement growth strategies and get change into their business in a way that sticks. Change is necessary to grow a business.
Research tells us that there is only a 30% probability that change initiatives will succeed. This is because most business people adopt a 'trial and error' approach to change which comes with a very high cost in terms of lost time, reduced confidence, wasted money and poor utilisation of resources. But you can substantially improve this probability of change success.
In this session you will:
Discover your change potential score
Explore which 8 of the change scenarious you and your team fall into
Discover strategies that can be implemented to boost your change potential
Receive a PDF report emailed to you outlining the steps to change success
This session is an ideal follow on from the focus session - when you know where to focus, you need need to know how to get it done.
---
11:30am - 12:15pm - Increasing productivity and reducing stress
---
Nearly all business owners and leaders wish for more time in their day.
It is vital to find time to work on the business, as well as within it. Getting growth moving requires time, which ideally means being more productive.
Stress unfortunately is part of modern life. It is the wear and tear our bodies experience as we adjust to our continually changing environment; it has physical and emotional effects on us and can create positive or negative feelings.
As a positive influence stress can help compel us to action; it can result in a new awareness and an exciting new perspective. As a negative influence, it can result in feelings of distrust, rejection, anger and depression, which in turn can lead to health problems.
Our goal is not to eliminate stress but to learn how to manage it and how to use it to help us. Insufficient stress acts as a depressant and may leave you feeling bored or dejected; on the other side excessive stress may leave us feeling anxious. You need to find the optimal level of stress which will motivate but not overwhelm you.
This session will explore:
Ways to be more productive
How to reduce stress
Develop a mindset to be more effective on your business growth journey


Your facilitator:
Justin Davies is an advisor, business mentor and facilitator. Justin is passionate about how the right combination of business, marketing and digital strategy can effectively and significantly grow businesses.
Justin has a unique blend of strategy, marketing and digital expertise. In addition to helping many SME business owners and leaders through Emergination, he co-founded a technology company Prezentt.com, was a CEO in the commercialisation of technology of two companies, as well as VP Marketing for another.
He has successfully run a software development company, winning business in excess of $20 million and managed individual programs of software development and strategic work in excess of $10 million. Prior to these roles, he was an Account Director in the advertising industry working with major brands such as RACWA, ANZ and Bankwest.
He is an experienced public speaker and understands how to apply smart strategic marketing and digital innovation within business. He is particularly strong at grasping concepts quickly and in turn communicating those concepts effectively.
Justin has successfully served as a director of 4 companies, 3 of which have been in non-executive roles and is a graduate of the AICD Company Directors Course. He is a non-executive Director of GolfWA.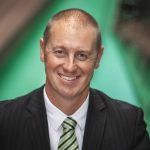 ---
Stirling Business Centre is home to Momentum - our unique and specifically designed coaching program to assist the busy entrepreneur to find the clarity in their business and help take their business to that next level. Enjoy the success you deserve to have with Momentum.
Momentum is an initiative supported by the City of Stirling and Stirling Business Centre.