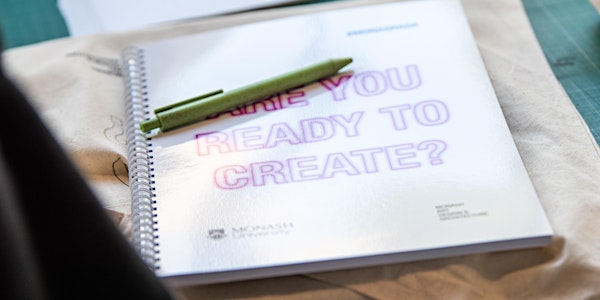 Experience Day at Monash Art, Design and Architecture
Location
Monash Art, Design & Architecture
900 Dandenong Road
Building G
Caulfield East, VIC 3145
Australia
Experience Art, Design and Architecture on our Caulfield Campus in the school holidays
About this event
You are invited to attend a series of hands-on workshops at Monash Art, Design and Architecture at our Caulfield Campus to fully get a taste of life as part of our creative community.
Students considering studying Design will have the opportunity to explore the design making processes and thinking to build on the design week activity in March. For students considering Architecture, you will be able to interact with our renowned academics to learn more about the diverse areas within Architecture when you study with us. For more information about the session please see below.
Register now to reserve your place as spaces are limited. We will run a session in the morning and a repeat session so you have the choice of choosing one of the session times that suits you.
Program:
Make possible
5 July, 10am –12.30pm and 1pm – 3.30pm (repeat session)
Building on our "Make Transformational" session in March, we will explore further into design for high school students from Years 10 to 12 considering a future in design. The session will give participants another example of the design approach unique to Monash, by engaging in a design making activity that demonstrates the transformative potential of design solutions that intersect design thinking with new technologies. Regardless of what units you've taken in high school, a design education at Monash is an opportunity to bring together creative skills and approaches intent on making a positive difference in the world.
Hands on Architecture Studio
5 July, 10am –12.30pm and 1pm – 3.30pm (repeat session)
Come to Monash, explore our facilities, and discover how to put architectural ideas to work in this hands-on studio workshop. Experience first-hand what it's like to be an architecture student putting ideas to work in the world.
learn about the studio environment and approach
meet our academic staff
work on a real life project and sites.
Join us for a series of folio enhancing activities led by Monash Fine Art academics. You'll not only learn how to build your fine art folio to apply for admission at Monash University but also have the opportunity to undertake a life drawing workshop and produce a series of drawings that you will then document for inclusion in your folio. Remember to bring a selection of your own work along with your art journal to get some hands-on assistance with your folio. We'll conclude the day with a curator-led tour of the renowned Monash University Museum of Art (MUMA). Register for this event here
You must not come to campus if you're unwell or a household contact of someone who has tested positive for COVID-19.