Learn about the science behind Tasmania's annual eagle survey: join Drs James Pay and Clare Hawkins in two live webinars
About this event
Teachers! Parents! School students of all ages! Here's a FREE opportunity from the Bookend Trust to get thoroughly engaged in authentic, accessible science. Where? Where? Wedgie! is a long term research study in which anyone can participate, tracking changes in the population size of the Tasmanian wedge-tailed eagle. Accompanying this is an Expedition Class education program.
Join zoologists Dr Clare Hawkins and Dr James Pay for two free, LIVE webinars - an introduction and a wrap-up - topping and tailing the Expedition Class online resources. Get James' personal angle on his research into wedge-tailed eagles, and Clare's stories about the Where? Where? Wedgie! surveys.
In the online resources, James and Clare take students on a 9 day scientific journey around Tasmania to learn about birds and ecology, their habits and habitats, and the science behind this year's Where? Where? Wedgie! citizen science project in May 2021. Check out the introduction to the project - meet James and Clare, and discover what Where? Where? Wedgie! 2021 is all about.
Schedule (all FREE):
9:30 am Tuesday 27 April 2021: LIVE INTRO WEBINAR (register here)
School days Wednesday 28 April - Monday 10 May 2021: Take a scientific journey around Tasmania with James and Clare, through 9 fun and fascinating Expedition Class videos, photos and discussion boards as they unfold daily (these will remain available subsequently).
After each lesson - access free teaching resources aligned to Australian Curriculum: Science and across other curriculum areas (see the school curriculum outlines on the Expedition Class lessons page).
Formulate your questions for James and Clare to answer on the next webinar...
9:30 am Tuesday 11 May 2021: LIVE Q&A WEBINAR (register here)
Next: you'll now know all you need to get involved with research yourself, through Tasmania's eagle survey, Where? Where? Wedgie! In this annual citizen science project, your observation data (getting outside) can contribute to the real investigation into the population of the Tasmanian wedge-tailed eagle. Your school can participate on Friday 14th May or Friday 28th May, and families may be inspired to participate on Saturday-Sunday 15-16 May or Saturday-Sunday 29-30 May.
Register now, here on EventBrite, for one or both of the webinars. Two days beforehand, you'll receive an email with details on how to access each webinar.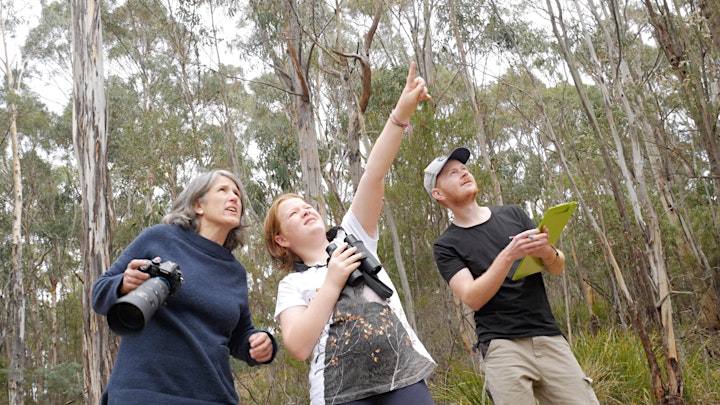 Organiser of Expedition Class - Where? Where? Wedgie! 2021
Is a not-for-profit founded in Tasmania in 2008, which inspires people of all ages and abilities to develop careers and interest in the environment, and to find positive solutions to environmental problems. Its multiple projects include NatureTrackers and Expedition Class:
NatureTrackers is the Bookend Trust's overall program of 'citizen science' projects, coordinating schools and the community to track the progress of our threatened species and better understand their needs. Where? Where? Wedgie! and Claws on the Line are the first of a suite of NatureTrackers projects planned to monitor a wide range of threatened species annually.
Expedition Class inspires and motivates students in science and environmental education through a unique model of adventure learning. By collaborating with schools and external organisations, and conducting small footprint journeys, the goal is to provide free online learning resources, school visits, and professional learning for teachers in Australia and further afield.