Location
Roslyn Oxley9 Gallery
8 Soudan Lane
Paddington, NSW 2021
Australia
Roslyn Oxley9 Gallery is delighted to present new exhibitions by artists Pierre Mukeba and Dhambit Munuŋgurr.
About this event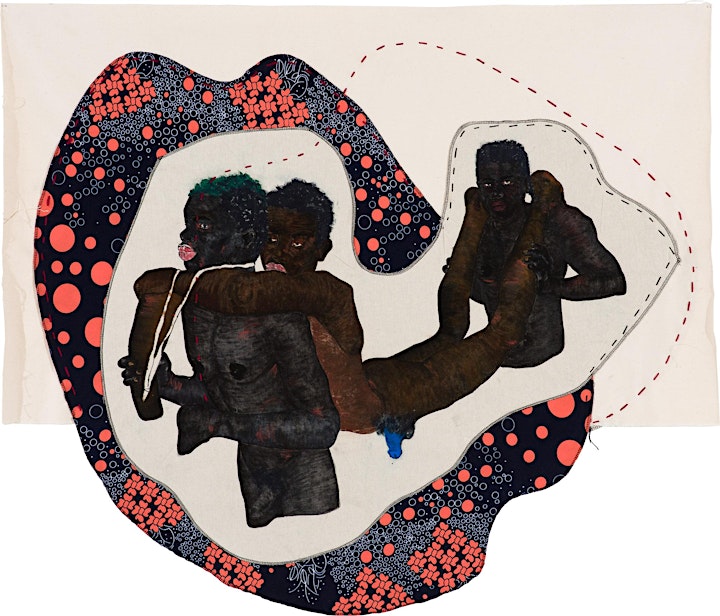 Pierre Mukeba: Amri Kumi
Roslyn Oxley9 Gallery is delighted to present Amri Kumi, an exhibition of new textile works by Pierre Mukeba.Set at an energetic pace, the rhythmic pulse of bold portraits transforms the Ten Commandments ("Amri Kumi" in Swahili) into present day stories of African culture. Within an anachronistic storyboard, Mukeba's characters are brought to life by the artist's acute technical dexterity, allowing intense emotional states to capture acts of religious sin. Dazzling vignettes of personal experiences, articles read, images absorbed, contemporary myths told by family members and current events, are interpreted into modern religious fables within sculptural windows of layered materials.
As fantasy and reality vacillate alongside each other, the rhizomatic weaving of past and present, is reflected back onto itself by the articulation of a physical frame. Stitches are reversed and reflected in these double-sided works, the density of composition echoing the complexity of the storyline. To break a Commandment is sin, but what if one was broken out of necessity, in order to survive? Sitting in a middle ground between good and evil; dark and light; heaven and hell; Mukeba offers a position on humanity that allows us to witness a space where perhaps love and forgiveness can prevail.
Pierre Mukeba was born in Bukavu, Democratic Republic of the Congo, fleeing the Civil War to Zambia then Zimbabwe before seeking asylum in Adelaide, Australia where he resided for 15 years. In 2021, Mukeba began representation with Roslyn Oxley9 Gallery which prompted his move to Sydney where he now lives and works. Mukeba has no formal art education and learnt how to create art as a refugee in Zimbabwe taught by his uncle and influenced by his grandfather who was a renowned artist in the Congo.
Mukeba's first exhibition was held in 2017 and since then he has presented solo exhibitions at Roslyn Oxley9 Gallery, Sydney (2021); Tiwani Contemporary, London (2021); and Hamilton Gallery, Brisbane (2019). He has been curated into various major group presentations across Australia including Zombie Eaters, Murray Art Museum Albury, Victoria (2022); NGV Triennial, National Gallery of Victoria, Melbourne (2020); Adelaide Biennial of Australian Art: Monster Theatres, Art Gallery of South Australia, Adelaide (2020); Vis-ability, QUT Art Museum, Brisbane (2019); and the Churchie National Emerging Art Prize, QUT Art Museum, Brisbane (2017). He was the recipient of several prestigious art prizes such as the Churchie National Emerging Art Prize, QUT Art Museum, Brisbane (2017) with his textile work James 2:10, 2017; and the Lipman Karas People's Choice Award in the Ramsay Art Prize, Art Gallery of South Australia, Adelaide (2019) with his largescale work on canvas Ride to Church, 2019.
Amri Kumi is Pierre Mukeba's second exhibition with Roslyn Oxley9 Gallery.
Image:
Pierre Mukeba, (Watenda Mabaya Waliiba) (WEZI)/A gallop (on Napoleon's Nag) across the bed of flowery thieves) Barbaric whips to kill against God's will), 2022, Kikwembe, calico, oil paint, ink, brush pen, acrylic paint, pastel, fabric on unprimed canvas, 108 x 126 cm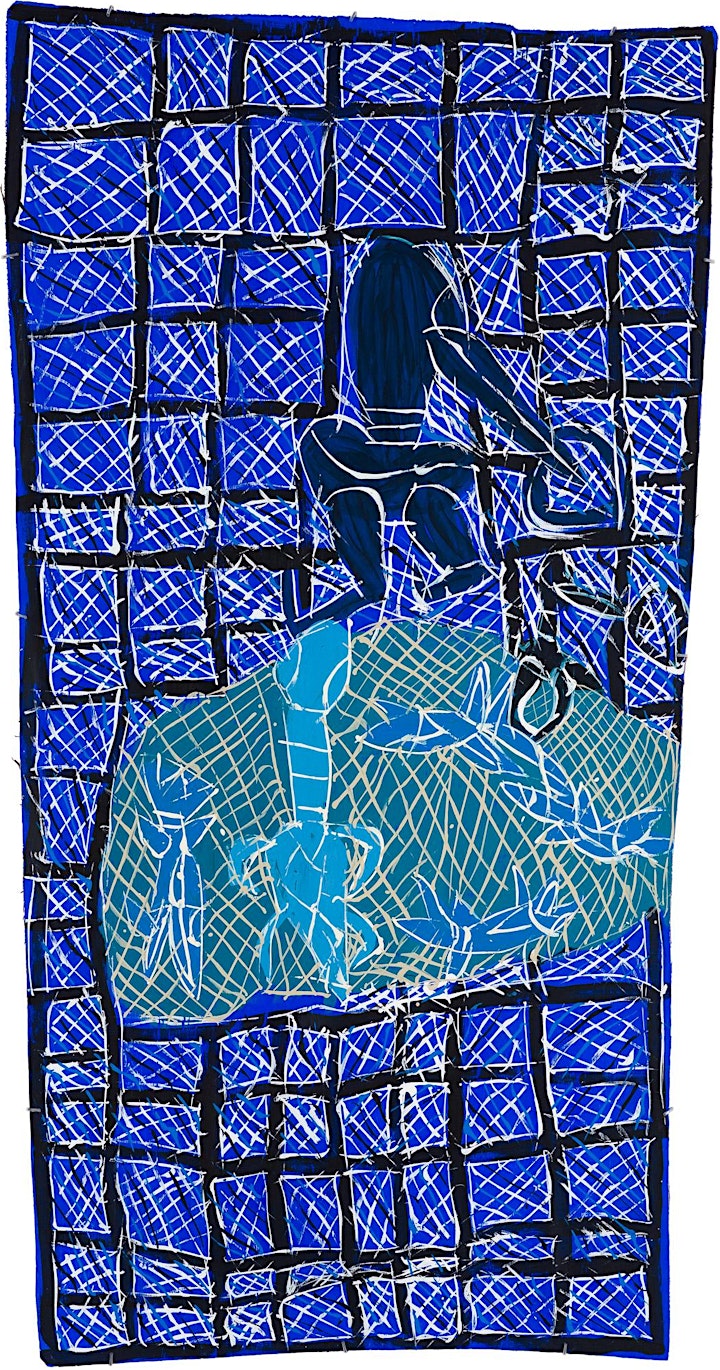 Dhambit Munuŋgurr: Healing/Ḏilthan Yolŋunha
Roslyn Oxley9 Gallery are thrilled to present Dhambit Munuŋgurr's second solo exhibition with the gallery. Within a selection of bark paintings and larrakitj (hollow poles), Munuŋgurr's distinct brushstroke and vivid palette of cobalt blue echos depictions of the sky and sea. Painting with Marwat (traditional Yolŋu hairbrush) using her non-preferred left hand, sea creatures and characters appear to float upon the surface, jostling against a vibrant background: the compelling juxtaposition of contemporary materials and traditional stories developing an unexpected signature style.
Munuŋgurr introduced non-traditional colours to her work when she started mixing ochre with acrylic paint in an effort to overcome the difficulty of grinding ochre by hand which became beyond her capability following a car accident. In doing so, she has defined her practice by the vibrancy of colour and powerful spontaneity of her mark making, to create strident, dazzling artworks.
Dhambit Munuŋgurr was born in 1968 into the Djapu clan at their homeland, Waṉḏawuy, now an outstation about 150 kilometres south of Yirrkala in north-east Arnhem Land, Northern Territory, Australia where she now lives and works. She comes from an extraordinarily rich artistic genealogy. Her grandfather, Muŋgurrawuy Yunupiŋu (c. 1904-1979) was an artist and contributor to the legendary 1963 Yirrkala Church Panels; and her father Mutitjpuy Mununggurr, and mother Gulumbu Yunupiŋu, were both celebrated Aboriginal artists, each having won first prizes at the Telstra National Aboriginal & Torres Strait Islander (NATSIA) Awards at the Museum and Art Gallery of the Northern Territory (MAGNT).
Emulating the great success of her forefathers, Munuŋgurr herself was a finalist in the 2018 and 2022 NATSIA Awards, and in 2021 she was awarded the Bark Painting Award at the 38th NATSIA Awards for her work Bees at Gängän (2021). She received similar acclaim at the Art Gallery of New South Wales being named a finalist in the Wynne Prize in 2021 and 2022.
Her immersive installation of 15 bark paintings and nine larrakitj, Can We All Have a Happy Life, at the 2020 NGV Triennial received widespread critical and curatorial acclaim. In the subsequent year, she was included in Bark Ladies: Eleven Artists from Yirrkala at the National Gallery of Victoria; an exhibition celebrating the NGV's extraordinary collection of work by Yolŋu women artists from the Buku-Larrŋgay Mulka Centre. Other notable presentations of her work include Tarnanthi, Art Gallery of South Australia, Adelaide (2020); Dhambit Munuŋgurr, Salon Project Space, Darwin (2019); Salon des Refuse 2017, Charles Darwin University Art Gallery, Darwin (2017); and Mother to Daughter: On Art and Caring for Homelands, The Cross Art Projects, Sydney (2015).
Healing/Ḏilthan Yolŋunha is Dhambit Munuŋgurr's second exhibition with Roslyn Oxley9 Gallery.
Image:
Dhambit Munuŋgurr, Djapu font at Wandawuy, 2022, 3607-22, earth pigments and acrylic on bark, 218 x 115 cm