Join us for an opening reception to celebrate the exhibitions of Pierre Mukeba and Bill Culbert
About this event
PIERRE MUKEBA:
Black Emotion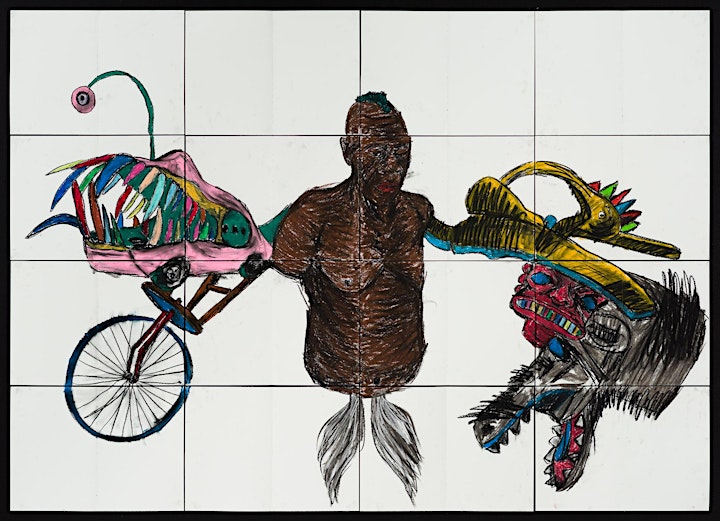 Pierre Mukeba's first drawings and paintings were made on bed sheets from a small table in his bedroom. In Black Emotion he lets go of the perfectly manipulated image to explore a personal emotional journey of a relationship breakdown through the simple, uninhibited material of black charcoal on paper. With an intensity of feeling and a freedom of movement, these raw, charged works are direct and pure expressions of the artists hand: textured, layered rhythms on paper.
Taking the viewer to the edge of both personal and collective pain through the lens of personal memory, the extraordinary experiences and people of his childhood in the Congo also emerge, dream-like. Born in Bukeva, in the eastern Democratic Republic of the Congo, seeking asylum in Australia in 2006, Mukeba weaves the stories of two cultures, from a place of both memory and imagination.
Touching on themes of brutality, violence, political and economic unrest as well as representations of Africans in contemporary culture, his potent and unique voice stirs emotion, weaving stories of the African diaspora, the refugee crisis, displacement and trauma from war into the fabric of Australia. With a poetic vibrancy and a technically astute drawing ability in Black Emotion Mukeba allows multiple-viewpoints and varied perspectives, both thematically and visually, to act as a medium between dream and reality, myth and narrative. Within the liminal world of positive and negative space, his audience are faced with the brutal truths of existence whilst simultaneously transporting them to a realm of magic, where they find at the artworks core, humanities ability to love and heal.
BILL CULBERT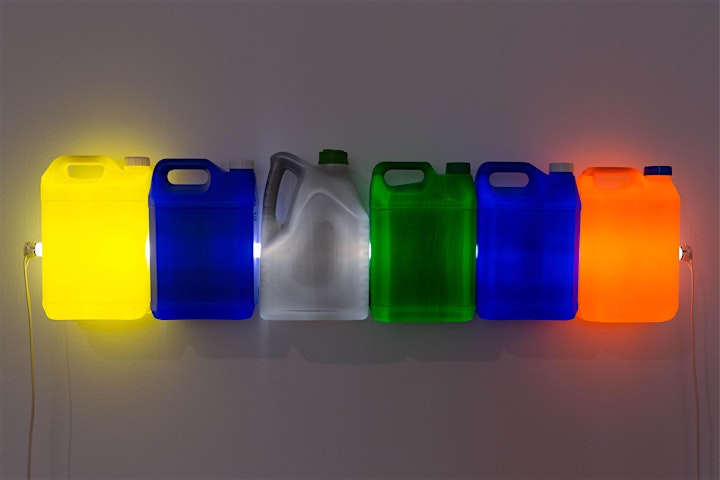 Light is colour, colour is light. I decided to go straight to light. It is a material in the same way as paint in terms of colour.
—Bill Culbert
Roslyn Oxley9 Gallery is pleased to present the first posthumous exhibition of sculptor and light installation artist Bill Culbert (1935-2019). Spanning an incredible 60-year career, the artist had more than 100 solo exhibitions worldwide. Culbert was notable for his use of light in painting, photography, sculpture and installation work, as well as his use of found and recycled materials. This exhibition comprises Culbert's iconic series Strait — a luminous line of fluorescent tubes and an eclectic mix of repurposed vessels wrapped around three adjacent walls. Culbert reunited these 'objects of my affection', as Man Ray called his versions of Duchampian ready-mades, and replaced them with a delicacy and chromatic brilliance.
Culbert's sculpture demonstrates his inventiveness with illumination, opacity, shadow, transparency and reflection with found objects. From suitcases pierced with fluorescent tubes, repurposed furniture, vast arrays of reclaimed plastic containers, Culbert celebrated common things and imbues them with poetic presence. The artist's ability to transform ordinary and often discarded materials into an extraordinary 'otherness' is uplifting. Combining light, composition and materials with a rare economy, he produced art that is surreal, lyrical and challenging in the way it invites us to revalue familiar objects and refocus our perceptions.
Bill Culbert represented New Zealand at the 55th Venice Biennale in 2013, his exhibition Front Door Out Back was displayed in the New Zealand pavilion, sited at the Istituto Santa Maria della Pietà. A solo exhibition Bill Culbert: Slow Wonder will be held at Auckland Art Gallery, New Zealand from 3 July - 10 October, 2021. He studied at Canterbury University School of Fine Arts (1953–56) and in 1957 he received a scholarship to study at the Royal College of Art in London, gaining a silver medal for painting. Since the 1960s, Culbert had held numerous solo exhibitions at major institutions in New Zealand, England, Europe, the USA and Australia, among many group exhibitions and public commissions. Notable solo exhibitions include Central Station, The Return, Andata Ritorno, Geneve (2016); Bill Culbert, Musée des Beaux-Arts de Dole, France (2015); Bill Culbert, National Art School, Sydney (2015); Light levels, Château des Adhémar, Centre d'Art Contemporain, Montélimar, France (2014); Bill Culbert: State of Light, Peer, London (2009); and Bill Culbert: Groundworks, Govett-Brewster Art Gallery, New Plymouth, New Zealand (2008). His extraordinarily diverse career has also led him to produce large public commissions over the past two decades. Notable public commissions include a large neon work for the PriceWaterhouseCoopers Tower in Auckland, and Skyline a 30-metre-long neon installation for the Millennium Dome in London.