The third biennial Footscray Art Prize is hosted at Footscray Community Arts Centre and VU at MetroWest.
About this event
The Footscray Art Prize collaborating partners - Maribyrnong City Council, Footscray Community Arts Centre, Rotary Club of Footscray and Victoria University - invite you to the exhibition opening and prize announcement for the 2021 Footscray Art Prize. 
Schedule
Young Artists Prize
138 Nicholson Street, Footscray
4:30pm - 6:00pm
Announcement at 5:00pm
Note: A maximum of 5 tickets can be booked per family. Keep in mind that the exhibition will remain on display until 7 June – attendance at the exhibition opening will be prioritised for the exhibiting artists and their immediate families.
Footscray Art Prize and Street Art Prize
Footscray Community Arts Centre
45 Moreland Street, Footscray
6:00pm - 8:00pm
Announcement at 6:30pm
On the night
This will be a COVID Safe event. Please:
Check in using the QR codes provided at each venue
Sanitise your hands upon entry
Bring a copy of your registration ticket, either printed or on your phone
Understand that we have a maximum number of people allowed in each venue at one time, and there may be a wait to enter the space if we are at capacity. Security will be monitoring numbers as people enter/exit
More information about Footscray Community Arts Centre COVID safety can be viewed on their website.
A photographer will be documenting the exhibition opening at both venues.
Exhibition
The exhibition at both venues will be on display from 7 May to 5 June. For more information, visit www.footscrayartprize.com.
Accessibility
We will have an AUSLAN interpreter at each of the prize announcements.
VU at MetroWest
Visit the VU at MetroWest website for an accessible text alternative map that lists entry points and toilets.
Footscray Community Arts Centre
An accessibility map is below. Please contact Footscray Community Arts Centre on reception@footscrayarts.com if you have any questions or specific access requirements.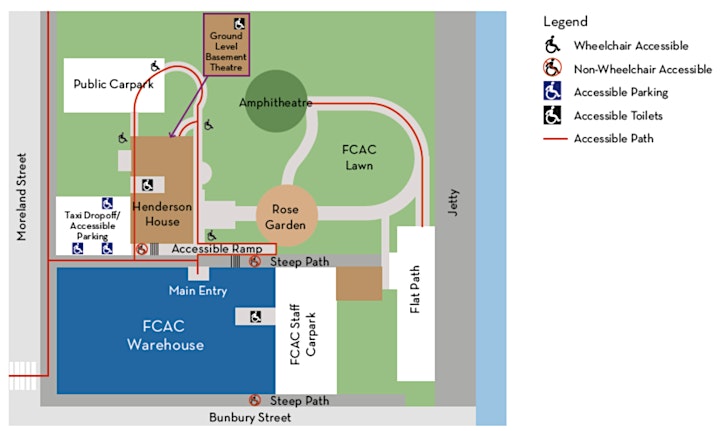 Organiser of EXHIBITION OPENING & PRIZE ANNOUNCEMENT | Footscray Art Prize 2021