2021 CCDP Art Exhibition featuring Birrunga Wiradyuri, Kane Brunjes, Stevie O'Chin, and our latest participant, Wellborn.
About this event
To welcome our latest 3-Year Creative Cultural Development Program (CCDP) participant, Wellborn, we'll be hosting an art exhibition which will also include works by Stevie O'Chin, Kane Brunjes, and Birrunga Wiradyuri.
With a format dictated by chance, 28 words were collaboratively written and drawn out to inform the 7 artworks that each artist will create.
These words are:
Dream, Belong, Exist, Mourn, White, Wind, Disturbance, Mirror, Song, Settle, Privilege, Priority, Token, Mission, Australian, Fence, Sovereign, Communicate, Mentality, Greed, Identity, Trauma, Detached, Strength, Hate, Freedom, Proud, Healing.
Mark your calendars and join us for the exhibition opening night on October 16.
Each ticket includes a complimentary drink upon arrival (non-alcoholic available), with canapés served throughout the night.
Highlighting the Native spices and ingredients found throughout Australia, expect to get a taste of what our bountiful Country has to offer:
• Mini kangaroo sausage rolls
• Crocodile tail satay skewers
• Mini lamb meatballs with bush tomato
• Grilled haloumi and bush honey figs (v) (gf)
• Sundried bush tomato and mushroom arancini (v)
• Feta mousse blinis with Davidson plum or rosella compote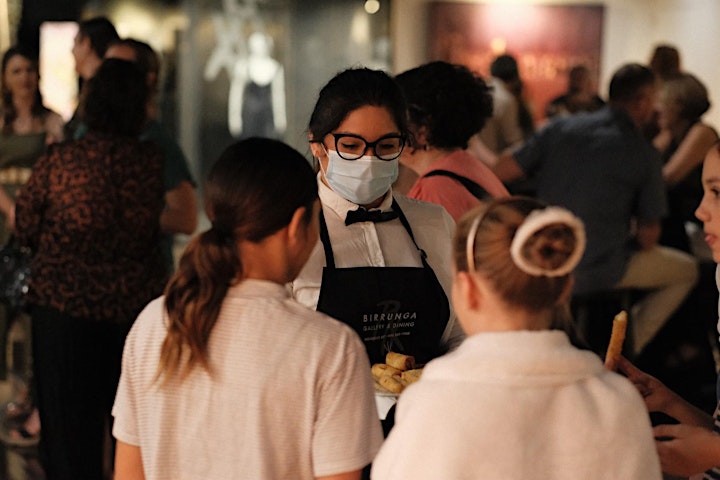 * Please indicate any dietary requirements upon checkout and we will do our best to cater to your needs.
We're excited to have a full house of resident artists and we can't wait to share the resulting artworks and stories with you!
Organiser of Exhibition Opening Night: Madhu Ngiyang (Many Stories)
Birrunga Gallery & Dining (formerly The Henderson Gallery), The Basement, 300 Adelaide Street, Brisbane City, reopened for business on a Wednesday morning, early March 2019.

The new 500m2 basement venue offers Indigenous Art exhibitions and sales; Fine Dining featuring First Nations inspired menus; Event hosting and licensed venue hire with in-house catering and specialty wine selections; Social Art classes; Regular programming for Indigenous art exhibitions, entertainment, music, poetry and much more.