Description
What would it take to ignite your sense of urgency?
What is the 'call to arms' that could drive you to create greater success? For business leaders it's time to elevate our level of creative thinking, innovation and (importantly) decisive action.
Executive Lunches are created to help busy business owners get out of their own 'space' and see their world from a different perspective.
---
Our next lunch: 23rd June 2017
About our Guest Practitioner, Professor Peter Corke: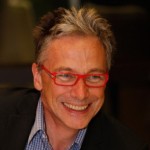 Peter is a professor of robotics at QUT and director of the Australian Centre for Robotic Vision. He wrote the textbook Robotics, Vision & Control and authored the MATLAB toolboxes for Robotics and Machine Vision. His particular area of research is in how robots can use the sense of vision to accomplish a broad range of tasks. Peter will share his experiences at the forefront of robotics development and the impact robots are having on business.
---
Should you join us for lunch?
Are you a business owner or senior manager:

In a business with 5 or more employees
Who has an interest in the Executive Lunch topic and are prepared to contribute, debate and listen to other people's points of view, and
Are open to new ideas and finding ways to stimulate innovative thinking

Yes? Then we'd love to see you at our next Executive Lunch.
Apart from the criteria above attendance is open to everyone… male or female, young or wise, business-to-business or business-to-consumer.
Of course at each Executive Lunch you will meet like-minded proactive people who run sizeable businesses. But this is not a typical business networking event. In fact we don't even expect you to 'network'. And you aren't expected to 'do business' with the people you meet. But we do hope you like them!
Just come along and be yourself.