| | |
| --- | --- |
| Executive Assistant as Relational Business Partner | |
Event Details

A new breed of partnership is emerging between Executive Assistants and the broader business. As the expectation increases for all roles to add more and more value to the bottom line, businesses are looking to leverage the opportunities, knowledge, intellectual property and partnerships held with the role of EA.
"The Executive Assistant as Relational Business Partner" is a new workshop developed by EA Australia, in conjunction with Ponte Valle, which looks to the typical relationship dynamic between EA, their Executive and the broader business, and uncovers the benefits of building the skills to become a true Relational Business Partner.
If anyone is in the position to add the greatest value as a business partner, none are better positioned than the Executive Assistant. With networks, both formal and informal, across the organisations the EA has access to information and influence well beyond to scope of a traditional silo/functional constrained role.
As this new breed of EA emerges and evolves, your job will move beyond helping your executive do her job better, to a cross-functional business partner with a special set of both technical and behavioural skills.
This one-day workshop provides insights and practical tools to increase your capability to act as a business partner. In addition, you will learn to understand your preferred behavioural style, identify the behavioural styles of others, and how to adapt to different styles and become more effective in adding value to the business. Learning will be a combination of instruction, self-assessment along with group and individual exercises.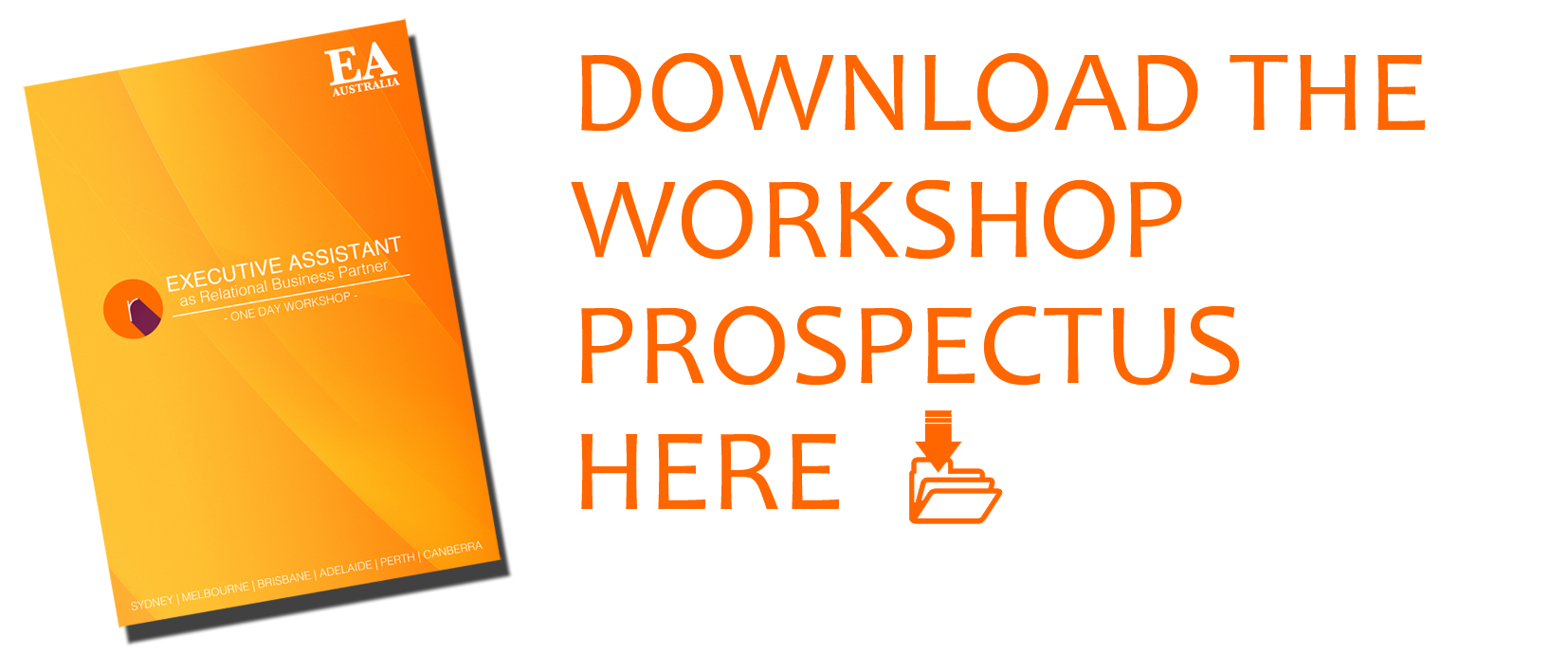 For more information please visit EA Australia at:
Web www.eaaust.com.au
Phone (02) 8091 2080

---


When & Where
SYDNEY | MELBOURNE | BRISBANE | PERTH | ADELAIDE

Australia

Organiser
Welcome to the home of EA Australia on Eventbrite
---
Lots of companies out there will offer training for the Executive Assistant, yet very few develop their product with the Executive Assistant as the start and end point for this training. But that is exactly what we do at EA Australia – you are the reason we are here.
We produce programs that are built around the needs and challenges of the EA, and help you evolve in this ever changing and increasingly complex role.
We don't do this alone. At EA Australia we partner with an amazing team of subject experts, to research and craft programs that are something different – delivering to you an experience that is challenging and creates change.
We love what we do!
Because we are trainers, we use training as a means of enabling each person, especially women, to develop themselves further, benefiting the individual, their employer, family and community.
In 2017 we have pushed our programs even further, they are challenging and fresh and respect the complexity and importance of your role. Delivered by our amazing facilitators, it is going to be an exciting year. View the 2017 course schedule here.