Description
Examining Behaviour in OSHC: A Distinct Perspective
Social and Emotional Well Being Among Staff Through Self-Realisation
An Out of School Hours Care (OSHC) Specific Masterclass.
Firefly HR are excited to announce that Saurubh Malviya from We Belong Education is coming to Sydney for his first Masterclass sessions!
As an OSHC professional himself, from his experience, Saurubh has noticed that one of the major stress factors among educators exists due to the void in the understanding of children's behaviour (what to do in those moments when we don't know what to do).
Saurubh will be delivering content on:
Assist educators in expanding their understanding of children's needs and their behaviour holistically.

Delve into the social and emotional competencies of children and educators.

Distinguish between Restorative and Punitive practices, working to acquire new 'language' around viewing children's behaviour.
As OSHC professionals ourselves at Firefly HR, we too know the profession we work in and are looking forward to bringing Saurubh from We Belong Education to you.
Book in for this OSHC specific Masterclass to gain valuable professional development that can be used practically in your OSHC service with one of the most uncertain areas, behaviour, and to network with other OSHC professionals.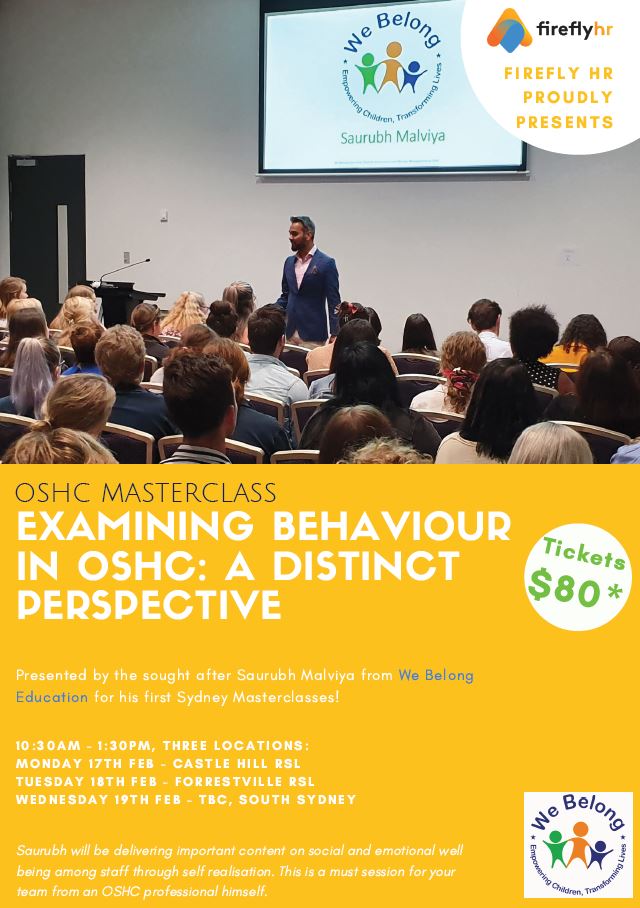 More indepth information on content for Saurubh's Masterclass:
This presentation will assist staff members in expanding their understanding of children's needs and their behaviour holistically. Several theories have been put forth to explain children's behaviour, some being more popular than others. Professionals across the field seem to be in
agreement that one perspective may simply not answer all the questions.

Saurubh will share a few major theoretical perspectives on social and emotional competencies among children and staff members. The triangulation of these approaches builds a platform that educators can use to critically reflect on their own actions and behaviours thereby creating a deeper understanding of children's actions and behaviours. This fosters a healthy environment of positive interaction among staff members and children.
Furthermore, this deeper understanding of the "self" assists in enhancing the communication culture of an entire service or organisation.

Saurubh will further expand on this understanding and distinguish between Restorative and Punitive practices, working to acquire new "language" around viewing children's behaviour. This will influence the way educators perceive and engage children's and their own behaviours, thereby enabling them to efficiently manage challenging situations.
This workshop also caters for a very important issue of staff members' overall wellbeing; one of my core beliefs. On completion of the workshop educators will leave feeling touched, moved and inspired; for this is a beautiful arena and opportunity to transform children lives.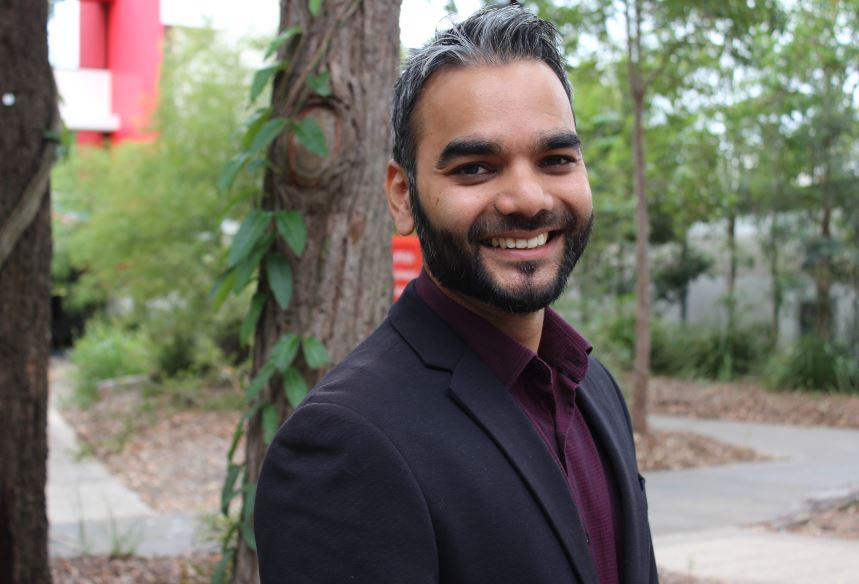 About Saurubh from We Belong Education:
Saurubh Malviya is a PhD candidate and university instructor with a passion for exploring and cultivating a holistic approach towards the development of children and educators.
After completing his Masters of Teaching, he worked as a classroom teacher for 5 years, an OSHC coordinator for 10 years and a tertiary educator for more than 5 years. His current path of inquiry has led him to investigating learning opportunities for children in OSHC settings through his PhD.
As a university lecturer Saurubh has received recognition of excellence in teaching for the last 3 years. His passion for education and his unique approach to teaching has been widely recognised by his students and peers.
Saurubh assisted his service to win several awards along with managing the service to exceed the standards of the National Quality Framework. He has consulted for various services and assisted them in achieving their goals.
Saurubh's familiarity with contemporary theories on child development allows him to approach and apply distinct methodology, facilitating theoretically supported pedagogical practices at education and care services.
Saurubh's expertise in the field of education and care is widely recognised by both national and international communities. He has had the opportunity to speak at several conferences, presenting and discussing several issues concerning children growth and development.
More Information:
Frequently Asked Questions:
What are my transport/parking options for getting to and from the event?
There is plenty of free parking on site.
What should I bring to the event?
Your enthusiasm and a passion to learn new ways to look at how we deal with behaviour in OSHC.
What's the refund policy?
Sorry, there are no refunds for this event unless it is cancelled by the provider or for any other unforseen circumstances.
Do I have to bring my printed ticket to the event?
No you don't, why not get sustainable and have your ticket on your phone instead?
Is my registration fee or ticket transferrable?
Yes, can't attend? Sorry to hear and we'll miss you, but not to worry - you can transfer your ticket to another educator.
How come the flyer says $80 but I am being charged more?
Good pick up! The Masterclass is only $80, however the higher price you see at check out is due to additional charges of GST and Eventbrite's fees.
How can I contact the organiser with any questions?
Want to know anything? Give us an email on info@fireflyhr.com.au