Sales Have Ended
Ticket sales have ended
The EF4 Conference ticket sales has ended.
Sales Have Ended
Ticket sales have ended
The EF4 Conference ticket sales has ended.
The EF4 Conference covers a number of themes: Renewable H2, Energy Conversion & Storage, Adv. Capacitor, IRN-FACES and ECR in Energy.
About this Event
The EF4 CONFERENCE is NOW Postponed.
The 4th Energy Future Conference and Exhibition to be held from 27 to 29 May 2020 in Colombo theatre at UNSW, will bring together scientist, engineers, academia, investors, industry, and policymakers to discuss the latest advances in energy technology and re-think business as usual to develop a new economy based on untapped resources including renewables.The 4th Conference series will consist of a number of themes toward this goal on:
The conference will also be the framework for:
and the official launch of the International French-Australian Research Network on Energy Conversion and Storage (IRN-FACES). The Network is a framework for innovation on energy materials and their integration into functional system between eight CNRS French laboratories, accompanied by their supporting universities, and four Australian universities. As part of this inaugural launch, IRN-FACES will host its first Doctoral Training School (25 - 29 May 2020)
The 4th Energy Future conference is also the home of the Energy Industry Innovation Day on the 29 May 2020 focusing on the topic:
Hydrogen: Should Australia pursue a future as a bulk export superpower?
Join the thought leaders, industry experts, academia to discuss the latest technology in energy industry. We hope to see you in Sydney in May 2020!​
Important dates:
Abstract submission deadline: 29 Feb 2020
Early bird registration deadline: 30 March 2020
Conference dates: 27- 29 May 2020
IRN-FACES Training School: 25-29 May 2020
Innovation in Energy Industry Day: 29 May 2020
ECR in Energy Symposium: 29 May 2020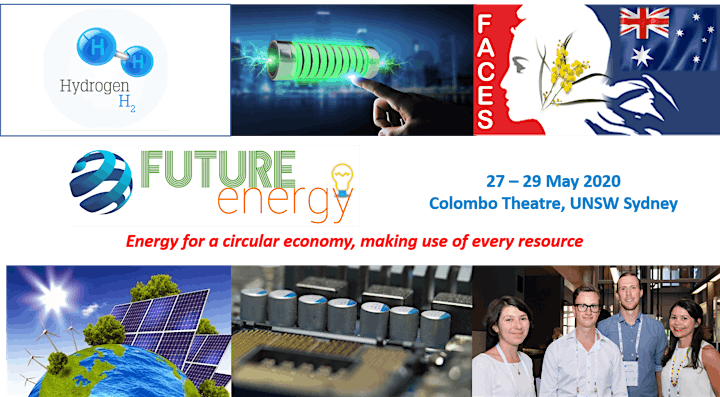 Call for Abstracts
The 4th Energy Future Conference 2020 invites you to submit abstracts for presentations within the symposium program. Submissions will be considered for oral or poster presentations and can be made via the submission portal.
Please check each symposium page to see which topics are covered:
Future Hydrogen/Renewable Hydrogen Symposium
Energy Conversion Symposium
Energy Storage Symposium
Advanced Supercapacitor Symposium
ECR in Energy Symposium
IRN-FACES Training School
Industry Innovation Day
Please note that accepted abstracts will only be accepted if the author has registered and paid the registration by the deadlines.