Description
Alumni & Friends of Monash Law
Exclusively for our valued Alumni and friends, this Masterclass is an exciting opportunity to take part in a Law Masters elective for professional development.
Learn about the origin, development and current status of human rights protection in Europe.
CLASS DATES: 15, 17, 22 & 24 May 2017
CLASS TIME: 9.00am - 4.30pm
Dual Delivery Mode
This is a dual delivery mode program, meaning attendees from the Alumni & Friends Program and Law Masters students share the classroom experience. Alumni & Friends attendees are not enrolled as students and do not complete unit assessment for credit.
Overview
This Masterclass will focus on the European Convention on Human Rights and Fundamental Freedoms, which has established the most sophisticated and successful regional system of human rights protection in the world.
The European Court of Human Rights, based in Strasbourg, France, holds to account member states for violations of the rights and freedoms guaranteed by the Convention to over 800 million persons.
The Masterclass concentrates on the European Union and how, on the basis of a few EU Treaty provisions (now reinforced by the Charter of Fundamental Rights), the Court of Justice has fashioned a comprehensive and dynamic system of judicial protection.
Outcomes
On completion, you will be able to:
Apply knowledge and understanding of the European Convention of Human Rights, the case law of the European Court of Human Rights and the Convention's place within the constitutional and political structure of Europe;

Investigate, analyse and synthesise debates surrounding controversial issues arising under European human rights law;

Conduct research into issues relating to how the European Court of Human Rights has consistently updated the obligations on member states in the light of changing circumstances, especially social and cultural values; and

Use cognitive, technical and creative skills to apply general human rights legal principles to specific problems.
Who should attend:
This course is appropriate for any type of professional, whether you're a generalist seeking an introduction to the subject or a specialist who desires to consider advanced topics.
24 CPD units
Please check with your CPD scheme to confirm how many units you can accrue.
---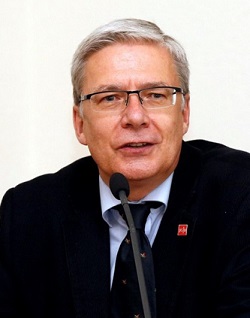 Presenter: Professor Udo Fink
Professor Fink studied law at the University of Saarland from 1978 to 1984. From 1985 to 1990 he was a research assistant at the seminar for international law of the University of the Saarland and promoted the "Selbstbestimmung und Selbstkötung" ("self-determination and self-killing") in 1991 with the Dr. Eduard Martin Prize from the University of Saarland Jurisprudence. In 1996, he qualified in Cologne with the work "Collective Peacekeeping". Since 2000 he has been a professor at the University of Mainz. Professor Fink is a guest lecturer at Trinity College Dublin, and since 2002 Director of the School of German and Polish Law at the Jagiellonian University of Cracow. Other guest lecturers were Louis D. Brandeins School of Law, Louisville, Kentucky (2002), University of Macau (2005) and Lewis & Clarke Law School, Portland, Oregon (2011). Since 2011 he is deputy director of the Mainz Media Institute.
---
More Information
Nina Massara
P: +613 9903 8528
Single Unit Study
Please visit the Monash Postgraduate Law website if you wish to enrol in this class as a single unit enrolment for university credit or award. (Eligibility criteria apply.)