Description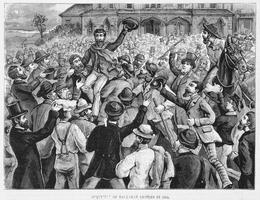 The Eureka Stockade of 3 December 1854 remains Australia's only armed uprising and resulted in the deaths of approximately 30 diggers and 4 soldiers. Subsequently, 13 of the rioters were tried for treason in February and March of 1855. The trials were both sensational and hugely significant; the first trial drew a crowd of over 10,000 people to the Court to hear the verdict.
Come and experience this landmark event as it happened, 160 years on. Join BottledSnail and the Supreme Court of Victoria for a re-enactment of the Trial of Timothy Hayes.
Thrill to the cross examination! Be astonished by the evidence presented at the Trial! Express amazement at 19th century court repartee!
Organiser of EUREKA: Democracy on Trial