Description
The development in recent years of the CRISR-Cas9 genome editing tool has sharply brought into focus ethical considerations around it use. The primary reason for this is that this technique results in less error, is more simple and less costly to use than previous techniques. Consequently, there has been rapid and widespread adoption of the tool in many research laboratories across the world. This has resulted in widespread concerns that the technique is being used far too soon ahead of considerations of safety and careful oversight governing its use.
These ethical concerns were touched upon in the sold out first Convergence Science Network event of 2018, where Professor Jennifer Doudna, a co-inventor of CRSPS-Cas9, and Assistant Professor Kevon Esvelt of MIT shared their views on the science and ethics of this technology. While there was general consensus that non-inheritable changes in a human genome are ethically acceptable, the ability to alter the germline, for humans and crops, resulting in changes that are inheritable by future generations, was contentious.
Due to popular demand, we are holding a special event on Tuesday 22 May, to have an in-depth discussion on the ethics of genome editing. We will hear from a bioethicist about this issue and will be followed by a panel discussion and audience participation. Dr Christopher Gyngell, from the Murdoch Children's Research Institute and the University of Melbourne, will provide an overview of the ethics of genome editing, after which he will join a panel including Professor Philip Batterham, a leading geneticist at the University of Melbourne who uses CRISPR in researching how insects are impacted by insecticides and Louise Sales, from the Friends of the Earth, who has coordinated campaigns on this issue. The discussion will be moderated by Natasha Mitchell of ABC Radio.
This conversation is intended to provide the interested public with greater information and views about the ethical issues surrounding genome editing in order to assist in shaping our understanding and our personal position on this important issue. How do we bring an ethical consideration to genome editing? How do we decide what is ethically right or wrong? How does a community decide what restrictions, if any, are to be placed on the use of this technology?
The issue of genome editing will very likely gain greater visibility among the scientific, policy-making and legislative communities and the public more broadly. Reaching a public consensus will take many years, so events such as this will be a small step in the task of engaging the public and striving to build consensus.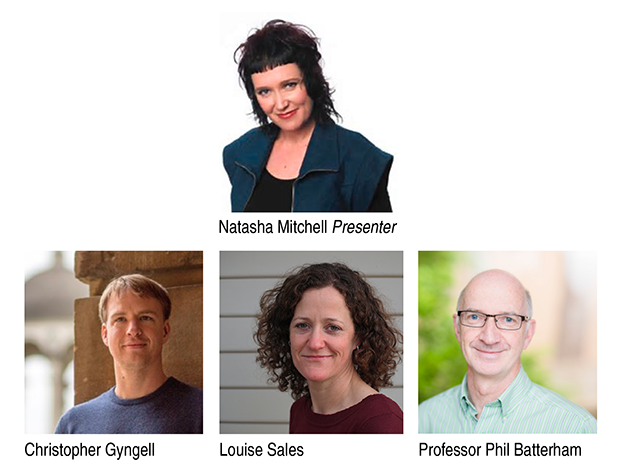 Christopher Gyngell is a Research Fellow in Biomedical Ethics at the Murdoch Children's Research Institute and the University of Melbourne. His research interests lie primarily in the ethical implications of biotechnologies and the philosophy of health and disease. Chris was previously a Marie Sklodowska-Curie Fellow at the University of Oxford. Chris was awarded his PhD in Philosophy from the Australian National University in 2015. Before undertaking his PhD, Chris completed a Master's degree in Applied Ethics and an honours degree in Genetics.
Professor Phil Batterham completed a BSc(Hons) at LaTrobe University and a PhD in Genetics at Monash University. Following two years of postdoctoral research at Syracuse University (USA), he came to the University of Melbourne as a Research Fellow before being appointed as a Lecturer in Genetics. In rising to the level of Professor, Phil has served the University as Associate Dean (Science) – Communications and Development and Provost's Fellow – Student Experience. Phil has been recognized at the national level for his research, teaching and science communication. The Genetics Society of AustralAsia awarded him the MJD White Medal for research excellence in Genetics. Phil was also awarded the Carrick Citation for his 'exceptional record in the supervision, support and career mentoring of research higher degree students' and he has been a five time finalist in the Eureka Prize for Public Communication of Science. Phil has organized several major international conferences including the International Congress of Genetics (2003) and a UN Conference on Global Health (2010). He is the current President of the International Genetics Federation. Phil's lab has been using CRISPR over the last few years in order to understand how insects are impacted by insecticides.
Louise Sales has coordinated Friends of the Earth's Emerging Tech Project since 2012 and campaigns for a precautionary and equitable approach to new technologies such as genome editing and synthetic biology. She has an Honors degree in Biology and a Masters degree in Biodiversity and Conservation. She has over a decade's experience campaigning on technology issues for a range of NGOs and has written extensively for both Greenpeace and Friends of the Earth on genetic engineering and gene editing.
Natasha Mitchell is a multi-award winning ABC journalist, broadcaster and podcaster and has presented flagship programs including the national, daily morning show, Life Matters (2012-16), and was founding presenter & producer of the popular science, psychology and culture program, All in the Mind (2002-12), on ABC Radio National (ABC RN). She hosts ABC RN's new science, technology and culture program, Science Friction. She served as a board member and vice president of the World Federation of Science Journalists (2009-13). Natasha has an engineering degree with first class honours from Monash University, and a postgraduate diploma in science communication from the Australian National University. She regularly facilitates events, debates and public forums around Australia, including three science dialogues with the Dalai Lama and leading scientists.
This is a free event but places are strictly limited – we invite you to register early for what is shaping up to be an important public opportunity to hear divergent views and to have your say on an issue that affects all of us.
Date:
Tuesday, 22 May 2018
Time:
6.15pm – 7.45pm
Venue:
Melbourne Convention and Exhibition Centre
Room 109 Level 1
1 Convention Centre Place South Wharf