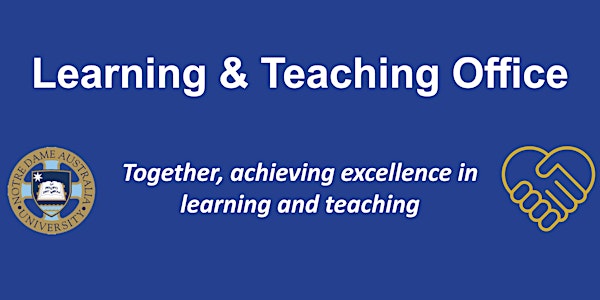 Essential Sessionals Webinar: Celebrating sessional teaching academics
This 45 minute webinar will discuss support, provide insights into teaching practices & introduce resources to assist you in your practice.
About this event
Essential Sessionals Webinar : Celebrating sessional teaching academics
45 minutes – Tuesday, 26 July 2022 at 10:00 to 10:45am AWST/12:00noon to 12:45pm AEST
Join us via Zoom https://notredame-au.zoom.us/j/84350533413 Password 027002
The Learning and Teaching Office invites all sessional academics to this short webinar, whether you are new or have worked at Notre Dame before. The goals of the webinar is to:
Celebrate our sessional teaching colleagues and create an opportunity for you to meet each other.
Outline the support that the LTO can provide and introduce our continuing professional learning (CPL) programs, networks, and resources.
Provide you with insights into the teaching practices of our experienced sessional academics.
Provide the opportunity to start up a community of learners where you can come together regularly to connect, share what you learn, ask for guidance/resources about challenges you might be facing.
We look forward to seeing you.
The LTO Team