ERINAKI Stavroula Thomopoulos & Con Kalamaras- Pay as you feel event (PAYF)
TWO SITTINGS 9.15 sitting and 10.30 sitting BOOKED OUT
About this event
PLEASE NOTE CHANGES FOR THIS EVENT DUE TO CAPACITY RESTRICTIONS
TWO SITTINGS
A Message from Open Studio Music Venue :
Hello everyone, 

We have found the best solution for this event this time so that you can all see the show. 
Con has agreed to do two sittings on this night between 9.15 pm and 11.15 pm

The first sitting will be at 9.15.pm - 10 pm and is now booked out for those in Eirene Tsolidis Noyce group, she will email and be in touch with you
for an arrival time to meet in the courtyard before the show.
The second sitting will be at 10.30pm - 11.15 pm with the remainder of you who have booked.
Those in the second sitting are welcome to arrive at 9 pm and sit in the courtyard where you will then switch into the bar for the 2nd set. You will hear the music but won't be able to see the act.
Apologies again for this change, but it is the best solution for this weekend as we await more news on capacity restrictions. 
Please email me here if you have any questions or concerns or if you wish to cancel this time and re-book for the next show in July. 
openstudio.enquiries@gmail.com 
ERINAKI makes its debut performance at the cultural capital that is Open Studio in Northcote.
Local Hellenic starlet Stavroula Thomopoulos & Con Kalamaras team up to present a first of many intimate performances. Fusing hardened Rebetika, elegant Smyrneika and nostalgic Palia Laika, ERINAKI will take you to another time, another place.
Using contemporary elements, the essence of Asia Minor, the Athens of old and a peppering of Melburnian optimism, this is a performance not to be missed.
LATE SHOW - PAY AS YOU FEEL EVENT (PAYF)
How these events work at Open Studio.
You can pay as you feel on arrival at the bar or through the Mr Yum QR code. Seats and standing room available from 8.30 pm or earlier, depending on how busy we are for the early show.
All pay as you feel event bookings are held for 10 minutes only after show start time, after which they are released for walk ins. Thanks for understanding.
Please note Open Studio has a NO scan NO entry policy.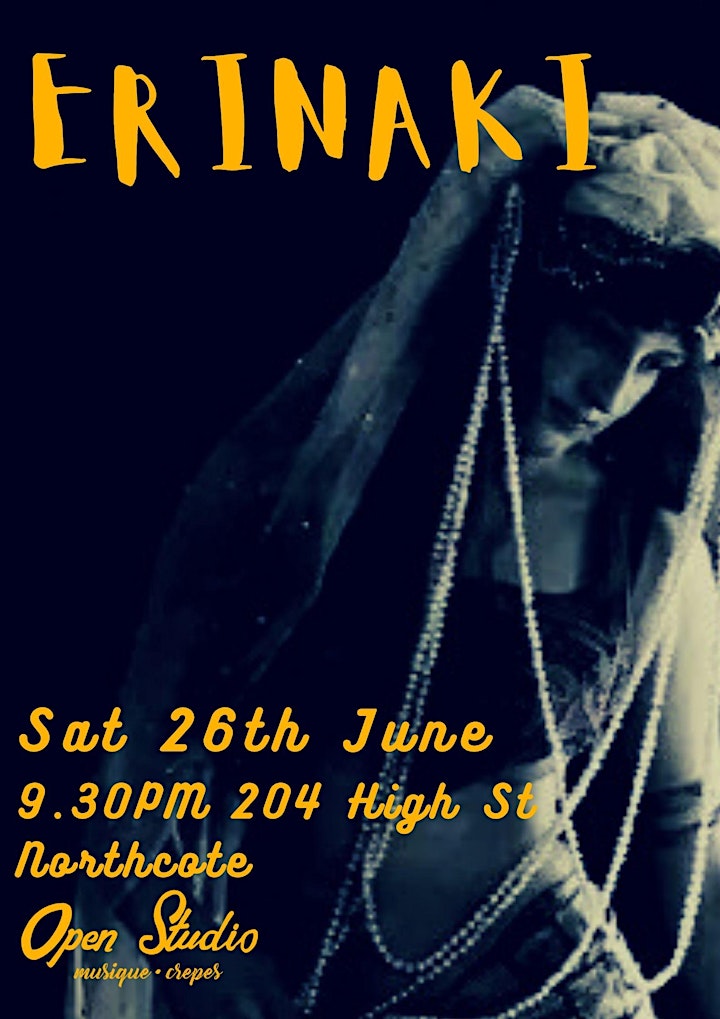 Organiser of ERINAKI Stavroula Thomopoulos & Con Kalamaras- Pay as you feel event (PAYF)