Eric Bridgeman in conversation with Stephen Zagala | Australians in PNG
Description
Join exhibiting artist Eric Bridgeman and MGA Senior Curator Stephen Zagala as they discuss the exhibition 'The fight' and its context within 'Australians in PNG'.
2-3pm Saturday 9 September
---
Australians in PNG highlights the ongoing importance of Papua New Guinea as a subject in the history of Australian photography. Featuring major new bodies of work by Eric Bridgeman, Stephen Dupont and Sonia Payes, this suite of exhibitions, Eric Bridgeman: The fight, Stephen Dupont: Piksa Niugini and Sonia Payes: Terra mysteria acknowledges the complexity and significance of Australia's involvement with its closest neighbour.
---
Eric Bridgeman's recent work revolves around the painted battle shields that were once central to men's culture in the Wahgi Valley of the PNG highlands. The various tribes that live around the Wahgi River have a long history of engaging in intergroup battles, as a means of dealing with disputes and maintaining social order. The painted battle shields were an important feature of this ritualised form of Melanesian politics. As well as providing protection, the painted shields functioned as both personal insignia (symbolising the owner's identity) and as optical devices for distracting and confusing opponents. Having inherited the rite to design ritual shields from his grandfather, who was a respected warrior, Bridgeman has worked with his family and friends in the Highlands to revitalise the shields within a contemporary context.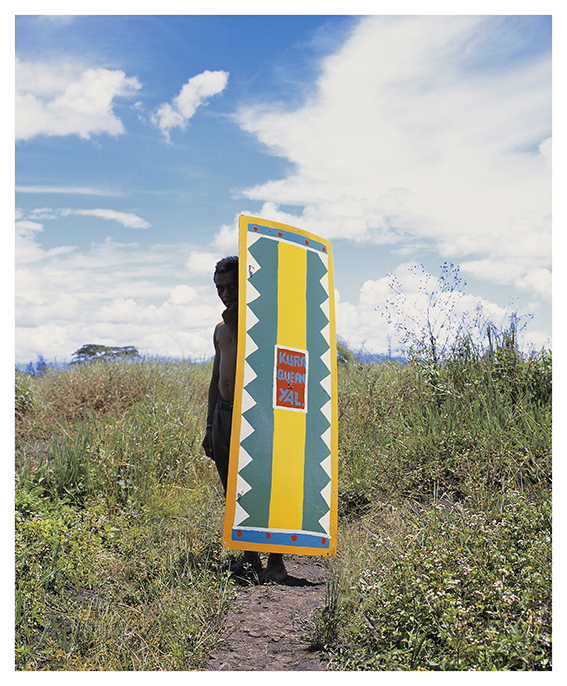 Eric BRIDGEMAN
Rowell 2017 from the series Sign
pigment ink-jet print 110.0 x 90.0 cm
reproduction courtesy of the artist, Andrew Baker (Brisbane), and Gallerysmith (Melbourne)