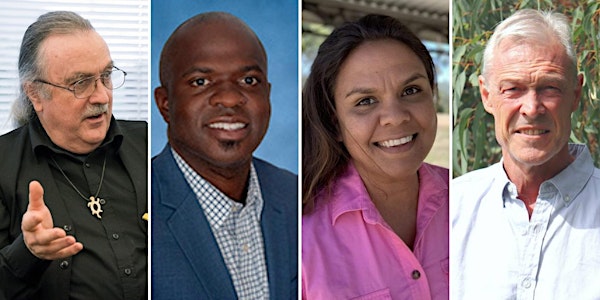 Equity, Justice and Indigenous-Settler Relations in Food Systems Governance
Equity, Justice and Indigenous-Settler Relations in Food Systems Governance in Canada, Australia, and the United States
About this event
Equity, Justice and Indigenous-Settler Relations in Food Systems Governance in Canada, Australia, and the United States
Tuesday 14 June, 7-9.30pm – Ottawa, Canada (EDT)
Wednesday 15 June, 9.30-11am – Sydney, Australia (AEST)
Wednesday 15 June, 7.30-11am – Perth, Australia (AWST)
This event will explore the issues of equity and inclusion, as well as Indigenous/settler relations, in food system governance, comparing the three national contexts of Canada, the US, and Australia.
In this context, food systems governance includes, but is not limited to, policy, laws, and regulations that shape and influence the nature and orientation of our food systems. It also includes the implicit practices, customs and assumptions related to who and what are considered part of the food system, who should be included in decision-making, and in what ways.
Themes to be explored include:
What does 'equity', 'inclusion' and 'participation' in food policy governance by Black, Indigenous and People of Colour (BIPOC) mean for these communities?
How does the presence (or absence) of treaties impact Indigenous Peoples' participation in food system governance? Are there effective models of engagement and collaboration with Indigenous communities in food system governance?
How can the role of BIPOC communities and organisations in food system governance be strengthened?
Agenda
7.30-7.35pm (AWST) – Welcome to Country
7.35-8.05pm – Panel presentation
8.05-8.25pm – Panel invited to respond to pre-set questions
8.25-8.50pm – Q&A with the audience
8.55-9.00pm – Closing remarks
Speakers
Larry McDermott, Member, Shabot Obaadjiwan First Nation, and Executive Director, Plenty Canada
Darriel Harris, Johns Hopkins Centre for a Livable Future, Baltimore, Maryland
Madeline Anderson, Yued descendant born in Whaduk country and Noongar Land Enterprises Group Board Member
Alan Beattie, CEO, Noongar Land Enterprises Group
Chair
Dr Belinda Reeve, Senior Lecturer, The University of Sydney Law School
WEDNESDAY 15 JUNE, 9.30 - 11am AEST
Tuesday 14 June, 7-9.30pm – Ottawa, Canada (Eastern Daylight Time)
Wednesday 15 June 9.30-11am – Sydney, Australia (Australian Eastern Standard Time)
Wednesday 15 June 7.30-11am – Perth, Australia (Australian Western Standard Time)
This event is being held online only.
This event is hosted by Sydney Health Law at The University of Sydney Law School.