Event Information
Location
The Nest Creative Space
76/82 Botany Road
Alexandria
Sydney, NSW 2015
Australia
Refund Policy
Contact the organiser to request a refund.
About this Event
As we welcome in the Autumn Equinox and the new season, join us for an evening of nourishing yoga, meditation, music and food.
Each year, we experience two equinoxes and two solstices – the tipping points of each season. At these times, there is a perfect balance between day and night. Honouring the autumn equinox can help you to bring balance, abundance, and gratitude to your life.
Join Louise Cargo and Louise Paiti as they share their insight, experience and passion with you and their belief in the power of the collective and their calling to create a community through Yoga .
The Event
6:30pm - 6:50pm - Introduction, reflection and introspection
6:50pm 7:30pm - Yoga practice
7:30pm - 7:50pm - relaxation and meditation
7:50pm - 8:30pm - Sharing food together
About Louise Cargo
Louise Cargo is the founder of 'The Return To Wellness', which aims to help people return to a greater feeling of wellness. Having worked in the corporate world for almost 15 years, Louise understands the challenge of working a stressful job, hectic lifestyle and sustaining a healthy body and mind.
Through yoga, meditation and pranayama she rediscovered her calmness. She completed 750 hours of yoga teacher training and now works part-time in the corporate world and teaches yoga to people that crave that inner peace and balance in their life.
Louise is passionate about helping others find physical and mental health through the practice of yoga and lifestyle changes, adapting them to meet the goals of the individual. She designs one-on-one personal yoga practices as well as teaches group classes.
About Louise Paiti
Louise Paiti is a Kiwi-Cook Islander who works within the complimentary fields of Physiotherapy, Polynesian Bodywork and Yoga. Returning to Australia recently after 3 years living in Rarotonga producing destination films for Cook Islands Tourism, her love of her country is evident. She hosts Yoga and Bodywork retreats in Australia and the Cook Islands.
Louise combines in-depth Physiotherapy knowledge of anatomy, bio-mechanics and rehabilitation with the ancient principles of Yoga and Polynesian Bodywork - a deeply nourishing massage for relaxation, release and healing - to create a potent system for addressing the physical, mental and emotional needs of her clients. She is also a passionate educator and proponent of breath-work as a means to calm our nervous systems and our busy minds.
The Nest Creative Space
The Nest is a cultural incubator for artists, makers and innovators! It is more like a bespoke artists retreat than a generic creative space. Around every corner you'll find carefully curated styling from Founders, Missy and Daniel's private collection of furniture, vintage wares and commissioned artworks. Missy's botanical obsession is reflected throughout the warm sun-drenched areas of the nest making this a sanctuary for the city.
Please note: mats available on request.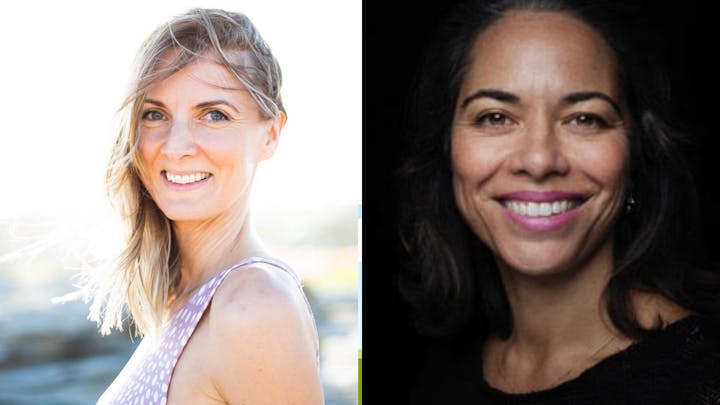 Louise Cargo and Louise Paiti.
Date and Time
Location
The Nest Creative Space
76/82 Botany Road
Alexandria
Sydney, NSW 2015
Australia
Refund Policy
Contact the organiser to request a refund.