Epistemologies of women of colour in art for social change
CIDRN SEMINAR - "Nobody gets to rewrite these things; these are my histories": Epistemologies of women of colour in art for social change
About this event
Dr Pilar Kasat (Curtin University)
Art for Social Change (ASC) is a community-based creative practice associated with social justice and the empowerment of communities. Inspired by thinkers from the Global South, these emancipatory practices have become broadly accepted, seen as contributing to community participation, and as a way of engaging with minoritised communities. This paper focuses on the processes of ASC in the context of a colonial settler society and women of colour. From a feminist perspective from the Global South and using case studies across different geographies that centre of women of colour, this paper examines how ASC unfolds at the intersection of complex racial relations, where art making and story-telling shape unique possibilities for personal and community connection.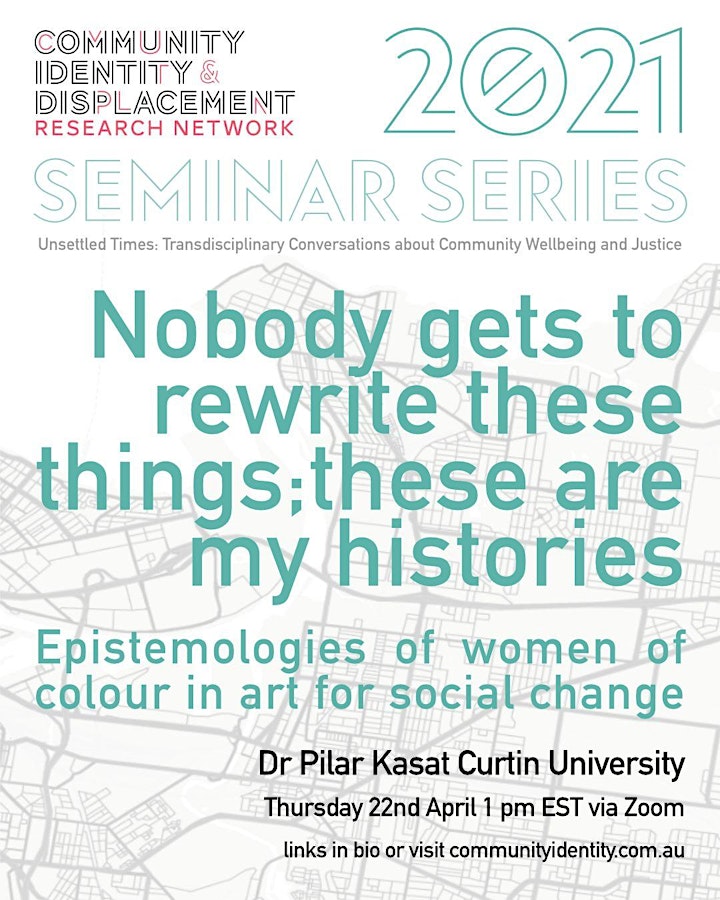 Organiser of Epistemologies of women of colour in art for social change
The Community, Identity and Displacement Research Network (CIDRN) is a public intellectual space where research activities are encouraged and promoted. This broad network aims to draw together and foster scholarly investigation of new diasporas and changing meanings of displacement and identity. It is an intellectual space where new questions about indigeneity, racism, refugees, sense of place, social inclusion, social justice, transnationalism and xenophobia can be raised, debated and discussed.
Research activities associated with the CIDRN will cover a range of disciplinary and multidisciplinary perspectives. The network will also explore and enable new theoretical and methodological interventions around issues of identity, displacement and community in a global and local context.
Given that this network is concerned with the social and political dynamics of a sense of place, we are particularly interested in work focusing on Melbourne's West. This locality, with its rich history of migration and diversity provides an important site for the investigation of displacement, identity, community and change and the interaction between the local and global.