20km open water paddle from Point Roadnight, Anglesea to Fishermans beach, Torquay.
About this Event
We are excited to bring you The Great Ocean Paddle on Saturday 6th February 2021!
The Great Ocean Paddle 2021 is a fast paced 20km downwind race along the iconic Victorian Surf Coast and is the only Victorian ocean paddling event on the Australian Ocean Racing Series calendar!
Grab your ski, SUP, outrigger or paddle board and join us on the Great Ocean Road for Victoria's premier ocean paddling marathon.
Traverse the iconic surf breaks of Bells Breach, Winkipop and Torquay and experience one of the world's most spectacular downwind paddle race.
Course:
Start Location - Point Roadknight, Anglesea
Race Briefing - 9.45am
Wave 1 race start - 10am
Wave 2 race start - 10.15am
Finish - Fisherman's Beach, Torquay
The race will start at Point Roadknight, Anglesea and will finish at Fishermans Beach, Torquay. Please note the course may be reversed pending weather conditions.
The race will follow the coastline. The race may be rescheduled to Sunday 7 February 2021 if necessary due to safety requirements. We suggest you keep both days available to race.
Presentations:
5pm, Bomboras Pop Up Bar, Fisherman's Beach, Torquay (47 The Esplanade, Torquay, above The Salty Dog Cafe)
Can I hire a ski or kayak for the event?
Yes! Please email info@peakadventure.com.au or phone 0409 786 237 to arrange an appropriate craft to hire.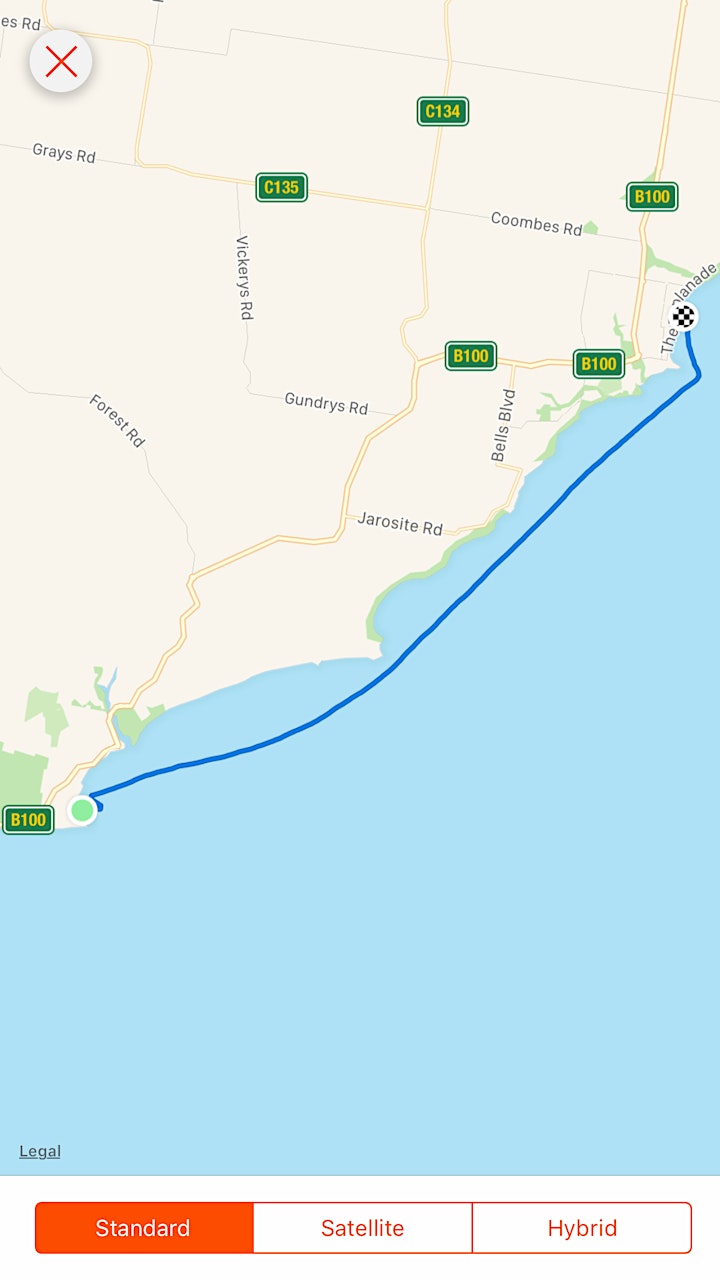 When do I Check-In for the race?
Saturday 6th February - 6.30am - 8.30am, Fishermans Beach, Torquay
Please advise race organisers at check in if you are commencing in Wave A or Wave B.
All ski's and outriggers are automatically allocated to commence in Wave B, unless you request otherwise.
To be eligible to race each competitor must check in at the registration table at the above time.
To be eligible to race you MUST bring your mandatory gear to check-in.
Your PFD, mobile phone waterproof case, and flare will be tagged with your race number, name and phone number at Check-In.
What Mandatory Gear must I carry during the race?
Each competitor must present the following mandatory gear at check-in and carry this gear during the race:
- Boat leash (which must be attached to you and your craft during the race)
- Flare (A limited number of flares will be available for purchase on race day for $30)
- PFD
- Mobile phone in a waterproof case
- Hi-vis clothing
- Hi-vis hat
We highly recommend you carry a PLB (Personal Locator Beacon) and enough food and water for the length of the race and wear sunscreen and appropriate clothing.
How do I get to the start line after race Check-In?
If you would like to be dropped off at the start line for the Classis Course at Point Roadknight, please book a seat on the shuttle bus ($20 cash per person). Please email info@peakadventure.com.au by 5pm Friday January 29th 2021 to secure your spot.
How do I get my craft to the start line?
If you would like assistance transporting your craft from registration to the start line of the Classic Course (Point Roadknight, Anglesea) we can provide transportation for you for $10, please book via eventbrite
What time is Race Briefing?
Classic Course - 9.45am at the start location (Point Roadknight unless the course is reversed).
You must attend the race briefing to be eligible to race.
Please attend Race Briefing to make sure you receive all important race updates.
Is there a staggered start?
Not this year. One mass start.
How is water safety managed?
Water Safety will be provided by Torquay Marine Rescue Service to ensure your enjoyment and safety throughout the race. A spotter will be located at Point Addis. For your safety cut-off time will apply here. If you pull out of the race you must advise the race organisers at your earliest convenience.
The Torquay Marine Rescue Service (TMRS) is a volunteer body located on the Surf Coast in Victoria, Australia. TMRS works closely with the neighbouring Surf Coast Marine Rescue Services, as well as Victoria Police and the Rescue Helicopter Service. TMRS is overseen by the Victoria Police Rescue Coordination Centre located at Williamstown Victoria.
TMRS is primarily focused on ocean rescue of persons and/or vessels, including (but not limited to) fishing boats, yachts, windsurfers / kite surfers, surfers, swimmers and kayaks.
TMRS is also involved in a safety capacity in community events such as the Danger 1000 Swim Race, Anaconda Race, Dragon Boat Race and other smaller events.
TMRS assisted with the provision of water safety at the Villawood Properties Great Ocean Paddle 2018 event, and we are pleased to be working with them again in 2019.
A Risk Management Plan is in place for the event.
If you fall out more than 3 times in 10 minutes water safety will escort you to land, where you will be responsible for organising your own pick-up. Your safety, and the safety of the rest of the field, is our main priority, thus your ski will only be taken to land if safe to do so, otherwise it will be your responsibility to collect your ski.
Who do I advise if I pull out of the race?
If you pull out of the race you must advise the Event Manager asap. Send a message to 0409786237 with your full name advising you have pulled out. We suggest you save this number in your phone before race day. This number will also be on the safety tags attached to your mobile phone case, pfd and wrist at race check in.
Where are presentations?
After your epic experience on the water we invite you to join us at Bomboras Pop Up Bar from 5pm for presentations and celebrations!
This is your time to sit back, relax and share stories from your Epic Kayaks Australia Great Ocean Paddle 2021 race experience!
We look forward to help you bask in the glory of competing the Epic Kayaks Australia Great Ocean Paddle 2020!
How do I volunteer to be part of the Peak Adventure team on the day?
If you would like to join the action and hang out with the Peak Adventure crew for the day, please email info@peakadventure.com.au.
We will provide you with dinner and a great day out on the Surf Coast!
How can I contact the organiser with any questions?
Email info@peakadventure.com.au or Jarad Kohlar on 0409 786 237