Environmental forensics – utilisation of established and evolving techniques – Sydney

Tuesday, 24 November 2015 from 8:30 am to 5:00 pm (AEDT)
Event Details
Presenter: Prof. Paul Philp, University of Oklahoma, Norman, OK, USA

Workshop outline: The concept of environmental forensics has evolved significantly over the years. Essentially it is concerned with establishing the relationship between a contaminant in the environment and its suspected source(s), or point of release. Such contaminants include a wide range of compounds or mixtures of compounds. They may be volatile compounds such as benzene or chlorinated solvents, complex crude oil mixtures, or refined products. They may be present as free product, dissolved in water, adsorbed on soil particles, or present in the vapour phase. A wide variety of techniques exist to characterise and establish their potential relationship with possible sources. The standard EPA methods are of little use for this purpose, since they are directed towards obtaining concentration data for specific contaminants.
Prof. Philp will cover the following three topics:
Analytical techniques for environmental forensics
Forensic investigations typically make use of fingerprinting tools in a tiered approach. Preliminary characterisation is undertaken by gas chromatography (GC) followed by more detailed gas chromatography-mass spectrometry (GCMS) analyses. The fingerprints, or chromatograms, obtained in this manner often provide sufficient information to determine possible relationships between contaminant and possible release points. However there are also many cases where the resulting GC and GCMS data are ambiguous and possibly misleading. In such cases it is possible to go to a more specialised tier of analyses and utilise the stable isotope composition of individual compounds in the contaminant. This is particularly valuable for single-component contaminants, such as MTBE, BTEX, or PCE, where GC and GCMS are of virtually no use for correlation or source differentiation. Gas Chromatography Isotope Ratio Mass Spectrometry (GCIRMS), however, shows much more promise and has been used to both differentiate sources of such contaminants (e.g. PCE/TCE) and study natural attenuation at the contaminated sites.
Application of stable isotopes in age dating studies
Early applications of stable isotopes to environmental problems were limited to carbon and hydrogen isotopes. Chlorine isotopes can now be routinely measured for most of the common chlorinated groundwater contaminants and in the not too distant future bromine isotopes will also be routinely available. This introduces the possibility of a 3D isotope approach for both source correlations and attenuation studies. Stable isotopes, including Cl, are well suited for use in the rapidly emerging area of vapour intrusion studies to differentiate indoor sources of contaminants vs. subsurface contaminants.
Application of fingerprinting techniques for monitoring natural attenuation
Finally the use of the various fingerprinting techniques for monitoring attenuation at sites undergoing remediation will be discussed. The combined use of the stable isotopes, GC and GCMS can be extremely valuable tools monitoring remediation as well as determination of the onset of natural attenuation. Methods being developed for the incorporation of the isotope data into reactive transport models will also be discussed.
Draft schedule for the day
Time

Topic

8.30 am

Registration

 9:00 am

Introduction

Environmental Forensics vs Conventional EPA type Environmental Monitoring Studies

 9:45 am

Basic analytical techniques;

Understanding compositional differences in refined products and using this information in forensic studies;

Chlorinated solvents; 

Gasolines;

Additives;

Coal tars;

PCBs; and

Other compounds

10.30 am

Coffee break

10.45 am

Environmental forensics and Age dating studies

12.30 pm

Lunch

1:00 pm

The Role of Stable Isotopes in Environmental Forensics

3:00 pm

Coffee break

3.15 pm

The Role of Stable Isotopes in Environmental Forensics - continued…

5.00pm

Close
About the presenter
Prof. Philp has been associated with the University of Oklahoma for 31 years. He has published over 350 papers on a variety of topics related to petroleum geochemistry and environmental geochemistry. In the context of this proposal the geochemistry laboratory and the University of Oklahoma has been one of the lading laboratories in developing the use of CSIA in environmental studies and has published many articles on this approach. His laboratory has all the necessary equipment for undertaking this project and the collaboration with the GRDA will provide all the necessary samples and genetic data.
Location
Room ELI 226, University of Newcastle (Sydney campus), Level 2, 55 Elizabeth Street, Sydney, NSW 2000
Cost
This Seminar costs $500.00 (exc. GST) for CRC CARE Participants and $600.00 (exc. GST) for others.
CRC CARE Participant organisations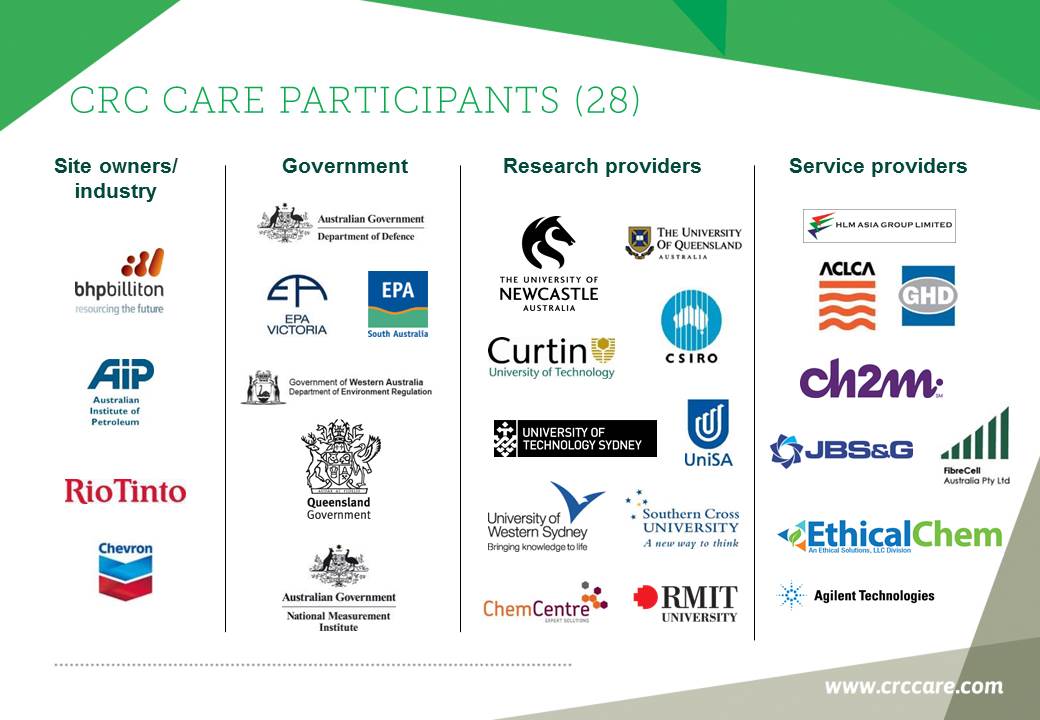 Have questions about Environmental forensics – utilisation of established and evolving techniques – Sydney?
Contact CRC CARE
Attendee List
Sort by:

Date

|

First Name

|

Surname
When & Where

University of Newcastle (Sydney campus), Room ELI 226, Level 2
55 Elizabeth Street
Sydney, NSW 2000
Australia

Tuesday, 24 November 2015 from 8:30 am to 5:00 pm (AEDT)
Add to my calendar
Environmental forensics – utilisation of established and evolving techniques – Sydney