JOIN US FOR A WEBINAR ABOUT THE ENVIRONMENT, AQUATIC BIRDS, PLANT HEALTH, DIGITAL TECHNOLOGIES AND SOUNDSCAPES WITH JO AND KIM
About this event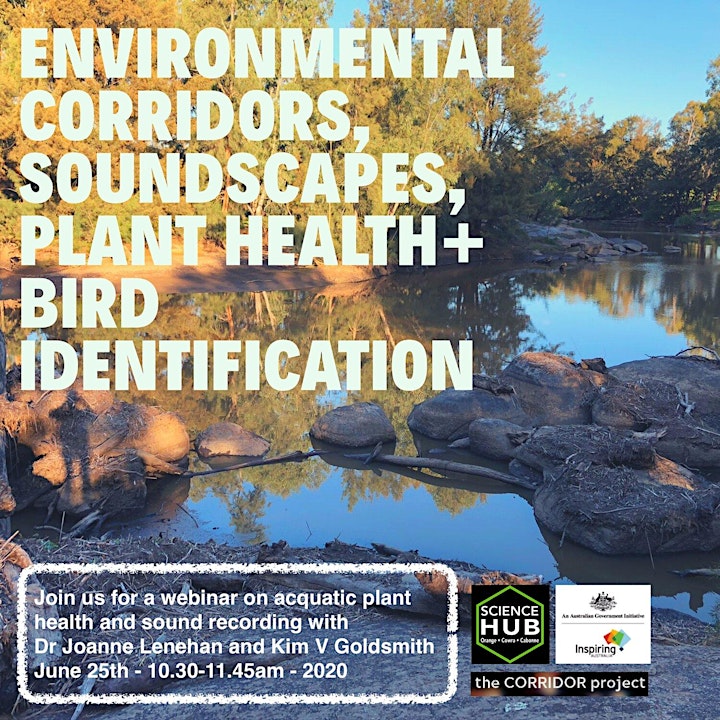 Environmental corridors, soundscapes, plant + bird identification relative to monitoring techniques, habitat and waterways a collaborative workshop in the field Webinar with Dr. Jo Lenehan + sound recordist Kim V Goldsmith.
Did you know this year the United Nations General Assembly declared 2020 the International Year of Plant Health (IYPH) they state "The year is a once in a lifetimeopportunity to raise global awareness on how protecting plant health can help end hunger,reduce poverty, protect the environment, and boost economic development"
Come and join us for a webinar with Orange Cowra Cabonne Science Hub for a series of online presentations and videos relating to plant health, technologies and the environment.
Our first webinar will be a co-presentation with water ecologist Dr. Jo Lenehan, and soundrecordist Kim V Goldsmith, moderated by Phoebe Cowdery. Kim and Jo will be discussing monitoring techniques, plant and animal habitat, and waterways. The focus will be on Jo's extensive knowledge of waterbirds, and aquatic plant health, with Kim discussing how she uses sound recording in her field work, assisted by broad range of technologies addressing how this is applied to environmental data capture and techniques in producingsoundscapes.
Supported by:
Orange Cowra Cabonne Science Hub
Organiser of Environmental corridors, soundscapes, plant + bird identification
The CORRIDOR project is a multidisciplinary arts organisation providing a regional platform for residency, education, cultural pursuits, environmental and scientific initiatives or research, where alternative methodologies can be explored and developed. The CORRIDOR project provides a space for the creative industries in regional NSW Australia to accommodate residencies, projects, workshops and exhibitions.